Master of Public Health Program
Program Overview
Located on the Lubbock and Abilene campuses and administered by the Graduate School of Biomedical Sciences, the Julia Jones Matthews Department of Public Health offers the Master of Public Health (MPH) degree program and the Certificate in Public Health. The training emphasizes the knowledge and skills of core public health fields and the integration and application of those fields to public health practice. The MPH will provide students with the knowledge, skills, and values needed to succeed in careers that bridge medicine and public health.
Traditional Two Year Track
Year 1, Fall
GSPH 5230 Scientific Writing and Communication in Public Health
GSPH 5304 Introduction to Social and Behavioral Sciences
GSPH 5311 Introduction to Biostatistics
GSPH 5313 Introduction to Public Health
GSBS 5101 Responsible Conduct of Research
Total Credit Hours: 12
Year 1, Spring
GSPH 5307 Introduction to Epidemiology
GSPH 5309 Basic Environmental Health Sciences
GSPH 5310 Management and Policy Scienes
GSPH 5334 Community Based Research Methods
Total Credit Hours: 12
Year 1, Summer
GSPH 5319 Applied Practice Experience
Total Credit Hours: 3
Year 2, Fall
GSPH 5110 Seminar in Leadership and Management
GSPH 5229 Issues in Rural Health
2 Elective Courses
Total Credit Hours: 9
Year 2, Spring
GSPH 5399 Integrated Learning Experience
2 Elective Courses
Total Credit Hours: 9
Current tuition information can be found here or by contacting Student Business Services from 8:30 a.m. to 4 p.m. CST at (806) 743-7867 for detailed fee information, including out-of-state tuition. The estimated cost of the program can be found here.

Click here to download the current program guidelines.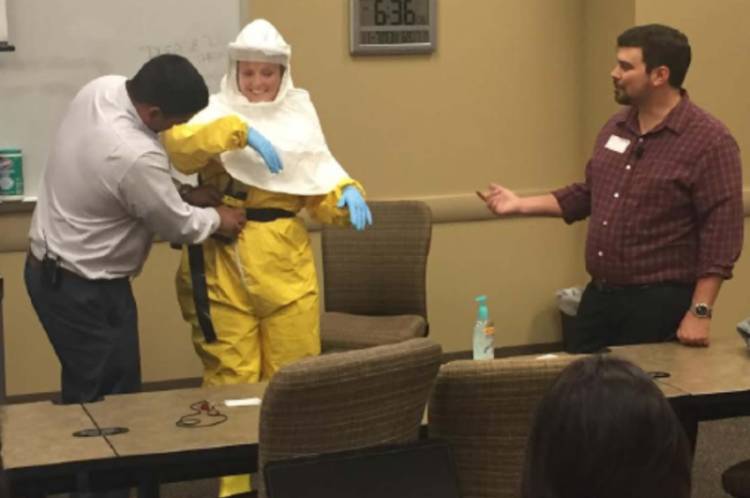 Why a Master's Degree in Public Health?
Pursuing a Master of Public Health enables you to approach complex issues from a population perspective, using evidence-based solutions to improve health outcomes for communities and individuals. By choosing the Master of Public Health program at Texas Tech University Health Sciences Center, you gain comprehensive public health training. Students will earn a general MPH degree without a specific major area.
The MPH program will prepare health professionals to practice skillful and evidence-based preventive public health; conduct and communicate research that informs the diverse fields within public health; and provide interdisciplinary expertise in the service of academic, professional and community-based public health organizations.
The MPH degree plan includes a core set of requirements that focus on the five (5) Core Disciplines in Public Health: Biostatistics; Environmental Health; Epidemiology; Health Policy Management; and Social and Behavioral Sciences.
Admission Requirements
Requirements for admission are flexible and there are no minimum GPA or test score requirements. All applications are reviewed in a holistic manner, with no single factor determining a student's admission.
Students may have a Bachelor's degree in any field from an accredited college or university.


Medical students interested in the MD/MPH dual degree program must submit an application to both programs. The TMDSAS application will not be accepted by the GSBS. Note that the deadline for applications may differ for each program. Please be aware of this and meet all deadlines for each program
Average GPA of students offered admission is 3.4
Average MCAT of students offered admission is 502.
Average GRE of students offered admission is over 310.
Application Information


Deadlines
| Semester | Application Deadline | Campus |
| --- | --- | --- |
| Fall | June 1 | Lubbock/Abilene/Online |
| Spring | October 1 | Lubbock/Abilene/Online |
| Summer | April 1 | Lubbock/Abilene/Online |
How to Apply
Applications must be completed at Bioraider. It is the responsibility of the applicant to make sure that their application is complete by the application deadline to be considered for admission. Incomplete applications will not be reviewed for admission. .
Everything you ever wanted lies on the other side of fear.
Theresa Byrd, DrPh.
Department Chair Department of Public Health