Bachelor of Science in Clinical Laboratory Science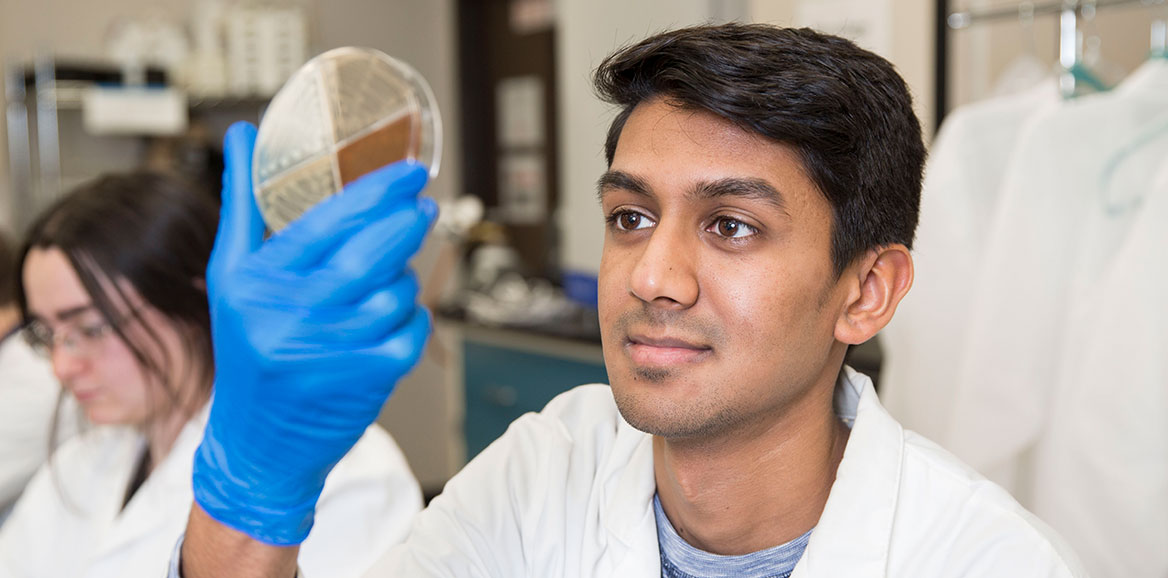 What is Clinical Laboratory Science?
Clinical laboratory science is the study and practice of diagnostic laboratory medicine and is one of the most dynamic professions in health care today. Clinical laboratory scientists analyze body tissues, fluids, and other substances using complex instrumentation, sophisticated techniques, and specialized knowledge. As key members of the patient care process, clinical lab scientists provide 70% of the critical objective information for diagnosis,
treatment, and preventative health care.
About the Bachelor of Science in Clinical Laboratory Science
The TTUHSC Bachelor of Science Clinical Laboratory Science is a fully accredited, 2+2 degree program that trains you in clinical laboratory skills and techniques, with the option of choosing from three areas of special focus:
The Standard Option prepares you for a career primarily in a clinical setting such as a
hospital, physician's office, laboratory, or a reference laboratory.
The Pre-Med Option prepares you for pursuing graduate education in medical school, osteopathic school, veterinary school, or research graduate programs.
The Pre-Physician Assistant Option prepares you to pursue graduate education in physician assistant studies.
In our training lab facility, you will develop advanced clinical laboratory skills using some of the most complex, state-of-the-art instruments available.
For students who already hold a bachelor's degree, online options for a second degree and a certificate program in clinical laboratory science are also available.
The Bachelor of Science in Clinical Laboratory Science is accredited by the National Accrediting Agency for Clinical Laboratory Sciences (NAACLS).
Learn how to apply to the Bachelor of Science in Clinical Laboratory Science.
My time and experience in the CLS program has benefitted me greatly, especially as I pursue my master's degree and future career as a physician assistant. I entered PA school well prepared because of my background in CLS. The curriculum in the program covers a wide range of topics that I have encountered again in PA school, which has made learning and studying easier. The CLS program is fast paced in the amount of information that is taught and tested. This made the transition to the rigorous study and pace of PA school much smoother for me. Ordering and interpreting labs is a very important part of practicing medicine, and knowing how to do this has given me an advantage and a confidence that others did not have. The practical, hands on experience that you receive in the CLS program provides a unique advantage compared to traditional degrees. The opportunity to do a preceptorship in CLS prepared me greatly for the transition to clinical rotations in PA school.
I am so glad that I had the opportunity to be a part of the CLS program. I cannot imagine a better experience or degree to prepare me for PA school.
Katie Black, MLS(ASCP)
current PA student Clinical Laboratory Science, Traditional
Medical Laboratory Scientist Certification
To work in a clinical laboratory, you must be certified as a Medical Laboratory Scientist (MLS). As a graduate of the program, you will be eligible to sit for the Medical Laboratory Scientist national certification exam administered by the American Society of Clinical Pathology (ASCP) Board of Certification.
For the past three years, TTUHSC students in the Bachelor of Science in Clinical Laboratory Science program had a graduation rate of 93%
For the past three years, our students had a MLS (ASCP) certification pass rate of 91%.
For the past three years, 97% of our graduates found employment in the field or a closely related field within one year of graduation.
Careers in Clinical Laboratory Science
Clinical laboratory scientists (CLS), also called medical laboratory scientists (MLS) or medical technologists (MT), work primarily in hospitals, physician's offices, and reference laboratories. As a clinical lab scientist, you will perform many routine and complex tests that help the physician diagnose and treat a patient. As a clinical laboratory professional, you don't have much contact with patients; instead, you will work closely with physicians, researchers and other health care professionals in disease investigation, consultation, and interpretation of laboratory results.
Clinical laboratory scientists may work in:
Hospitals.
Medical and diagnostic laboratories.
Research facilities.
Physician offices.
If you like science, particularly lab work, and you want to be a crucial member of the health care team, the clinical laboratory profession may be for you. We welcome you to come and visit our facility and learn first-hand about the type of work performed in a clinical laboratory.
As a result of changes in population demographics and the increasing need to use laboratory techniques to diagnose medical conditions like cancer and type 2 diabetes, The Bureau of Labor Statistics (BLS) Occupational Outlook Handbook projects that jobs for clinical laboratory scientists will increase by about 13% through 2026, faster than average for all professions.
The BLS notes that laboratory technologists typically need a bachelor's degree.
For more information about a career as a clinical laboratory scientist visit the ASCP website.
The Clinical Laboratory Science Curriculum
The curriculum of the TTUHSC Bachelor of Science in Clinical Laboratory Science program consists of 131-132 hours of academic education. Classes include:
Clinical Bacteriology.
Molecular Diagnostics.
Clinical Chemistry.
Parasitology/Mycology.
Laboratory Management.
Successful completion of the program culminates in the Bachelor of Science in Clinical Laboratory Science degree.
Learn more about classes, research, and laboratory requirements.