Second Degree & Certificate Programs in Clinical Laboratory Science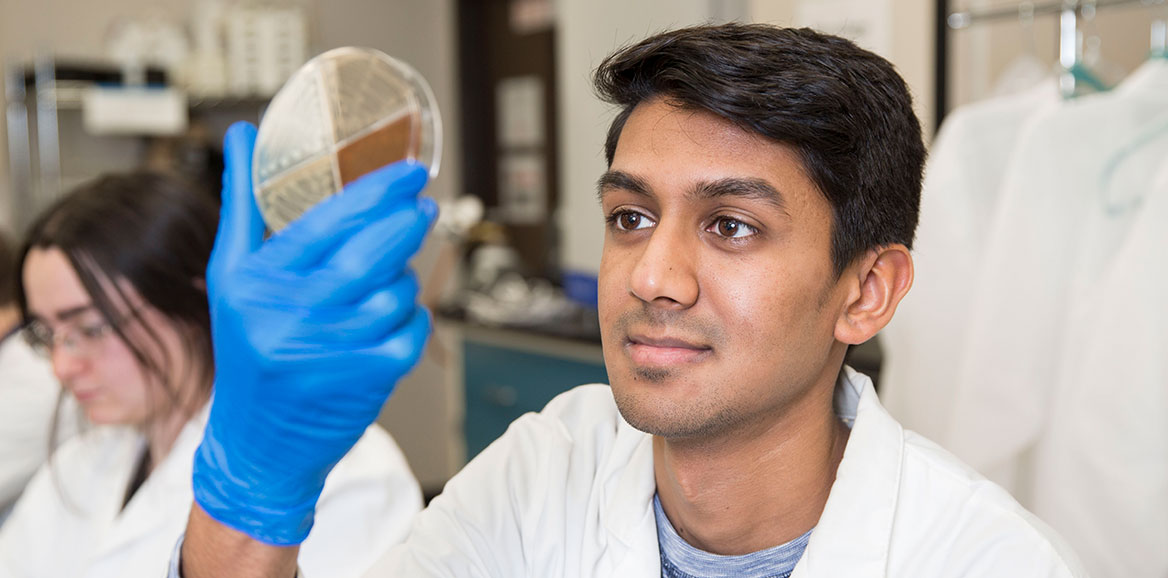 About the Clinical Laboratory Science Second Degree and Certificate Programs
The Clinical Laboratory Science Program at Texas Tech University Health Sciences Center offers both a second bachelor's degree and a clinical laboratory science certificate program in an online hybrid format combining distance education with on site laboratory sessions. Both the second degree and certificate options are accredited 12-month programs for students who have completed a four-year bachelor's degree from an accredited university and who now wish to obtain a second bachelor's degree in clinical lab science or acquire additional training to work in the field of medical laboratory science.
Each program combines online lectures and instructional material with a six-day laboratory session conducted on-site at the end of each of the first two semesters. For either program, you will be required to complete a clinical preceptorship in an affiliated laboratory.
While the coursework for both programs is the same, the prerequisite requirements for the clinical laboratory science post-baccalaureate certificate and the second degree bachelor's programs are different. Please review carefully the prerequisites for each program prior to applying. You may apply to more than one program and you will be considered for the program for which you meet the requirements.
For complete information about prerequisites and other program requirements, please visit the program admissions page.
The Second Degree and Certificate Curriculum
The curriculum of both the TTUHSC CLS Second Degree and Certificate Program consists of 35 hours of academic education combining online class instruction and on site laboratory experience. Classes include:
Clinical Immunology
Foundations of Clinical Microbiology
Clinical Laboratory Practice
Principles of Molecular Diagnostics
Advanced Microbiology
The Texas Tech University Health Sciences Center (TTUHSC) has been approved by the Texas Higher Education Coordinating Board to participate in the National Council for State Authorization Reciprocity Agreements (NC-SARA). NC-SARA is a voluntary, regional approach to state oversight of postsecondary distance education.
Explore our curriculum and research and on-site laboratory requirements.
Clinical Laboratory Science Certification
When you successfully complete the requirements of either the second degree or certificate in clinical laboratory science you are eligible to sit for the national Medical Laboratory Scientist (MLS) certification examination administered by the American Society of Clinical Pathology (ASCP) Board of Certification.
For the past three years, TTUHSC students in the CLS traditional and Second Degree / Certificate Combined had a graduation rate of 93%.
Our students consistently score above the national average on the MLS (ASCP) certification exam; for the past three years, our students' first-time pass rate was 91%.
For the past three years, 96% of our graduates found employment in the field or a closely related field within one year of graduation.
"Following the completion of my undergraduate degree, I was gifted with the opportunity to attend the Clinical Laboratory Science Program at the Texas Tech University Health Sciences Center. Many physicians have limited exposure to clinical laboratories within their medical career and therefore, fail to see how clinical laboratories impact healthcare service in the hospital. Due to my unique experience at the Texas Tech University Health Sciences Center, I have had the pleasure of learning the significance of the laboratory within the hospital setting and how intricately it shapes patient care.
I started my healthcare career out of college as a laboratory assistant in Amarillo. During my time there, I discovered remarkable ways to help serve the population, and learn the duties of a laboratory technologist. I wanted to pursue a career and found the Clinical Laboratory Science one-year online second degree program at Texas Tech University Health Sciences Center and I have been on a riveting journey ever since. The program prepares you to be an experienced member of any hospital laboratory across the United States.
The program begins with classes on immunology and builds a sturdy foundation in hemostasis, clinical chemistry, and clinical microbiology during the first semester. These courses are taught by clinical laboratory professionals that love what they do and practice what they teach. In your second semester, you attend courses on advanced hematology, advanced microbiology, molecular diagnostics, and immunohematology. There is no doubt that after finishing your summer preceptorship in an officially licensed hospital laboratory, you can apply the knowledge you gained and achieve success anywhere. The content in the program is vast, but so incredibly intertwined among different topics that you leave not only with a degree, but with confidence in the clinical laboratory setting.
The program is rigorous, but is dedicated to preparing you for a career in clinical laboratory science and other healthcare fields. The foundation this program helped me build and the intensity of the program has now served me well through two years of medical school. The subjects we covered like microbiology, immunology, and hematology are now being reaffirmed and amplified. The workload of a medical student is not unlike the demands you will encounter in this one year program; and I have confidence that any medical student would benefit so much from having this clinical laboratory science program under their belt. "
Connor Hamous
current Medical student Clinical Laboratory Science, Online