Post-Master's Pediatric Primary Care Nurse Practitioner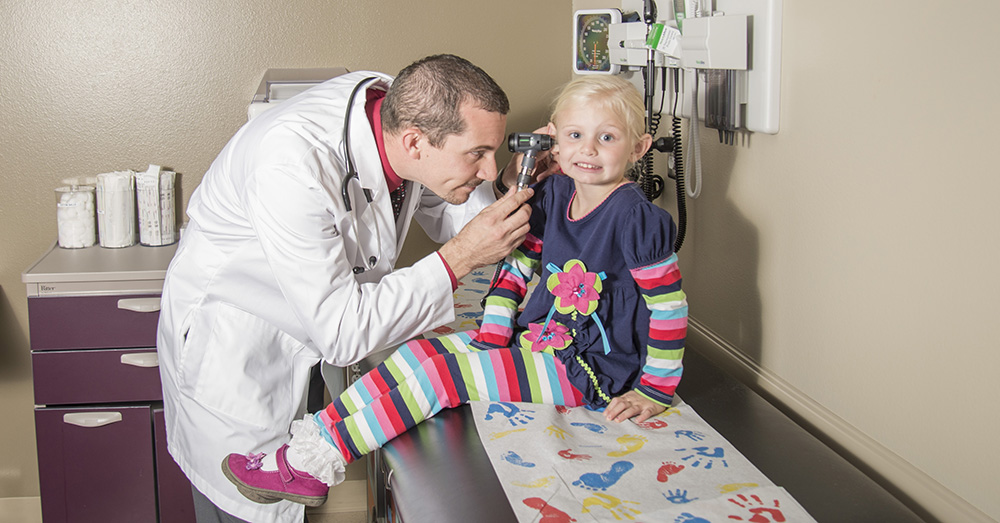 Texas Tech University Health Sciences Center is closely monitoring the ongoing COVID-19 (Coronavirus) situation. At this time, we anticipate that summer courses and programs will proceed as scheduled. We will stay in close communication with incoming summer students in the event of any changes. Any updates will be provided via email and posted on our New Student Orientation website. We encourage you to visit our TTUHSC Coronavirus resource website throughout the COVID-19 pandemic.
Program Overview
The Master of Science in Nursing Pediatric Nurse Practitioner Track (PNP) prepares graduates to assume the role of a healthcare provider dedicated to improving children's health. Pediatric Nurse Practitioners serve children and families in an extensive range of practice settings providing for well and ill children of all ages. Some of the services of Pediatric Nurse Practitioners include well-child examinations, routine developmental screenings, diagnoses and treatment of common childhood illnesses, childhood immunizations, school physicals and health maintenance care. The PNP is an online track that requires occasional travel to the Lubbock campus.
A Post-Master's Pediatric Nurse Practitioner Certificate is available to those who currently hold a Master of Science in Nursing and wish to assume a specialized role in children's health care.
Upon completion of course requirements, and one (1) year experience, graduates of the Masters and Post-Master's Programs are eligible to sit for the Pediatric Nurse Certification Board (PNCB) Exam and the American Nurses Credentialing Center (ANCC) Exam.
Disclaimer: Due to changing regulations, the TTUHSC SON Graduate Programs cannot guarantee at the time of submission of an application that we can accept students from a particular state. At this time, we are unable to accept students living in the following states – Arizona, California, Louisiana, New York, Oregon, and Washington.
The Post-Master's PNP Certificate is completed in 37 semester credit hours.
For transcript post-master evaluation, email unofficial/official transcripts to Veronica Sifuentes prior to applying to ensure all applicants are applying to start in the correct semester since some courses may qualify for transfer credit.
Financial aid (student loans, grants, scholarships) are available upon admittance to the School of Nursing. Additional information may be found at the Financial Aid Office website or by calling 806-743-3025.
Admission Requirements
All applicants will be reviewed in an individual and holistic manner. No single factor will determine a student's admission. The Program Chair and appropriate committee carefully evaluate all qualified applicants with regard to the applicants' potential for successful completion of the program.
The Graduate Department Chair and/or Program Director will review the applicant's previous academic preparation and/or competency in required courses in order to award transfer credit. Any deficiencies will be met by enrollment in required courses.
Generally, credits earned at an accredited college or university are accepted for transfer credit provided course content is equivalent. A grade below B is not acceptable for transfer credit.
IMPORTANT NOTE FOR APPLICANTS WHO ATTENDED A COLLEGE OR UNIVERSITY IN SPRING 2020
An explanation of how TTUHSC School of Nursing considers courses in which a student earns grades of Pass (P), Fail(F), Credit (CR) or No Credit (NC) is outlined below:
Official transcripts with courses awarded with P or CR during the SPRING 2020 semester can be used to meet prerequisite course requirements and will not be used in calculating either the cumulative or science GPA for admissions.
TTUHSC SON reserves the right to determine how, and if, courses awarded with P or CR during any semester, outside of spring 2020, will be calculated into a GPA and/or considered for transfer credit.
Official transcripts with courses awarded with a Fail (F) or No Credit (NC) during any semester cannot be used to meet prerequisite course requirements
---
Valid unencumbered RN License

Master of Science in Nursing degree from a regionally accredited college or university with nursing program accreditation from the Commission on Collegiate Nursing Education (CCNE) or from the American Commission for Education in Nursing (ACEN), formerly the National League for Nursing Accrediting Commission (NLNAC)

A minimum GPA of 3.0 (4.0 scale) in all graduate level course work

Advanced Cardiac Life Support (ACLS) or Pediatric Advanced Live Support (PALS) certification for FNP, GNP, PNP, or ACNP tracks

Personal Statement/Essay (maximum of 500 words)

Professional letters of reference (3). Family members, friends, ministers, are not considered a professional reference

Official transcript for the MSN degree. (NOTE: all transcripts must be from a regionally accredited college or university with nursing program accreditation from the Commission on Collegiate Nursing Education (CCNE), or from the American Commission for Education in Nursing (ACEN), formerly the National League for Nursing Accrediting Commission (NLNAC)

Official transcripts from all other previously attended institutions of higher education.

Applicants with a nursing transcript from a foreign university are to submit an official course-by-course evaluation from CGFNS. If the coursework is not related to a nursing degree, the applicant must submit an official course-by-course evaluation from one of the four agencies listed here.
Computer Literacy: defined as an understanding of the capabilities and limitations of a computer and how to use them wisely within clinical workflow and for scholarly work. Applicants must complete the TTUHSC SON Computer Literacy Test located at http://nursing.ttuhsc.edu/skills/

prior to applying

TOEFL Scores – Applicants from a country where the primary language is not English must provide evidence of achieving a total score of 84 or higher with a speaking score of 26 or higher and a writing score of 27 or higher on the TOEFL iBT. This may only be waived if the student has received a degree from an accredited college/university in one of the listed countries: Australia, Canada (except the Province of Quebec), Commonwealth Caribbean countries (including Anguilla, Antigua, the Bahamas, Barbados, Belize, British Virgin Islands, Bermuda, Cayman Islands, Dominic, Grenada, Guyana, Jamaica, Montserrat, St. Kitts and Nevis, St. Lucia, St. Vincent, Trinidad and Tobago, Turks and Caicos Islands), Republic of Ireland, Liberia, New Zealand, United Kingdom (England, Scotland, Northern Ireland, and Wales), United States.
Evidence of leadership in nursing (Professional organizations, committees, etc.)
Potential for leadership in an advanced role as evidenced by reference letters
Professional nursing work experience
Diversity of work or life experience (For example: experience with other cultures, study/travel/work abroad, community service, military service, degree in other field, volunteerism or other related extracurricular activities)
Curriculum vitae/resume which includes educational background, honors, nursing experience, professional membership(s), and community service
Permanent resident of Texas or TTUHSC service area/county or TTUHSC campus location
First generation college student
Fluent in a language in addition to English
Required to have two (2) years of RN pediatric experience prior to admission. For applicants to the PNP Acute Care track, RN pediatric experience in critical care, ER, or acute care is preferred

PALS certification

Response to Track specific essay questions
Application
It is the responsibility of the applicant to make sure that their application is complete: Application Instructions
| Admission Term | Application Open | Application Deadline |
| --- | --- | --- |
| Fall | November 1 of previous year | February 15 |
| Spring | May 1 of previous year | August 1 of previous year |
| Summer | November 1 of previous year | February 15 |
It is to your advantage to include as much information as possible in your application including any certifications you may have (i.e. BLS, ACLS, PALS, CCRN, etc.), information on any professional nursing organizations of you may be a member, current and previous work experience. Additional tips can be found by reviewing Tips for Successful Applications to the MSN Program.
Ensure that all required application documents are received by the deadline. It is the responsibility of the applicant, not that of TTUHSC, to make sure that your application is complete and submitted. We will not contact you for missing items.
I

f you do not already have your MSN degree and are interested in applying for the MSN program, you will need to follow a different application process which is outlined on the websites for the

MSN Tracks

.