"Leadership and learning are indispensable to each other." ~ John F. Kennedy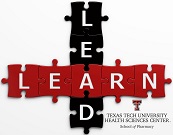 It is the job of the Office of Professional Affairs not only to assist students with navigating the professional elements of their educational experience at the School of Pharmacy -- as well as preparing them for seeking a career upon graduation -- but also to help them become the leaders of tomorrow that Pharmacy will require.
Leadership is a facet of Professionalism that touches all aspects of the Pharmacy profession, and the TTUHSC School of Pharmacy seeks to produce generations of leaders that will propel the profession forward in the years to come.
Each student, educator and administrator at the TTUHSC School of Pharmacy is a puzzle piece coming together to create an image of what Pharmacy should become in the years ahead.
To this end, our entering students take the Oath of a Pharmacist when receiving their White Coat, and we as elders in their Pharmacy Community seek to remind them of its vital tenants every day...
Oath of a Pharmacist
"I promise to devote myself to a lifetime of service to others through the profession of pharmacy.
In fulfilling this vow:
I will consider the welfare of humanity and relief of human suffering my primary concerns.
I will apply my knowledge, experience, and skills to the best of my ability to assure optimal outcomes for my patients.
I will respect and protect all personal and health information entrusted to me.
I accept the lifelong obligation to improve my professional knowledge and competence.
I will hold myself and my colleagues to the highest principles of moral, ethical and legal conduct.
I will embrace and advocate changes that improve patient care.
I will utilize my knowledge, skills, experiences, and values to fulfilling my obligation to educate and train the next generation of pharmacists.
I take these vows voluntarily with the full realization of the responsibility with which I am entrusted by the public."
Download here.
Thoughts and Advice on Leadership