Graduate Medical Sciences
Program Overview
The M.S. in Biomedical Sciences (Graduate Medical Sciences track), located on the Lubbock campus, is a 2-year non-thesis Master of Science degree offered through the Graduate School of Biomedical Sciences. It is designed for students whose goal is a teaching career in the anatomical sciences, or who need additional preparation for medical school. Students take courses in the anatomical and physiological sciences with the first year medical students and in modern instructional methods and design, and will participate in the teaching mission of the medical school as teaching assistants.
Year 1, Fall
GGMS 5001 Gross Anatomy
GGMS 5002 Biology of Cells and Tissues
Total Credit Hours: 11
Year 1, Spring
GMBP 5904 Systems Physiology
GGMS 5110 Surgical Gross Anatomy or GGMS 5006 Advanced Dissection Skills
Total Credit Hours: 10 or 12
Year 2, Fall
GGMS 5004 Advanced Training in Histology
GGMS 5005 Advanced Training in Anatomy
GGMS 7000 Research (Begin Project)
Total Credit Hours: 9
Year 2, Spring
GGMS 5099 Topics in Graduate Medical Sciences
"Advanced Training in Physiology"
GGMS 5310 Educational Project in Biomedical Sciences
GBCM 6320 Advanced Cell Biology
GGMS 7000 Research (Complete Project)
GSBS 5101 Responsible Conduct of Research
Total Credit Hours: 9
Electives
GGMS 5007 Advanced Ultrasound Skills
GGMS 5115 Intro to Functional Neuroanatomy
GGMS 5120 How People Learn
GSBS 5099 Topics in Biomedical Sciences
"Advanced Training in Clinical Skills"
Current tuition information can be found here or by contacting Student Business Services from 8:30 a.m. to 4 p.m. CST at (806) 743-7867 for detailed fee information, including out-of-state tuition.

Due to the intensity of the Graduate Medical Sciences program, it is strongly recommended that students do not seek employment for the duration of enrollment in the program.
Click here to download the current program guidelines.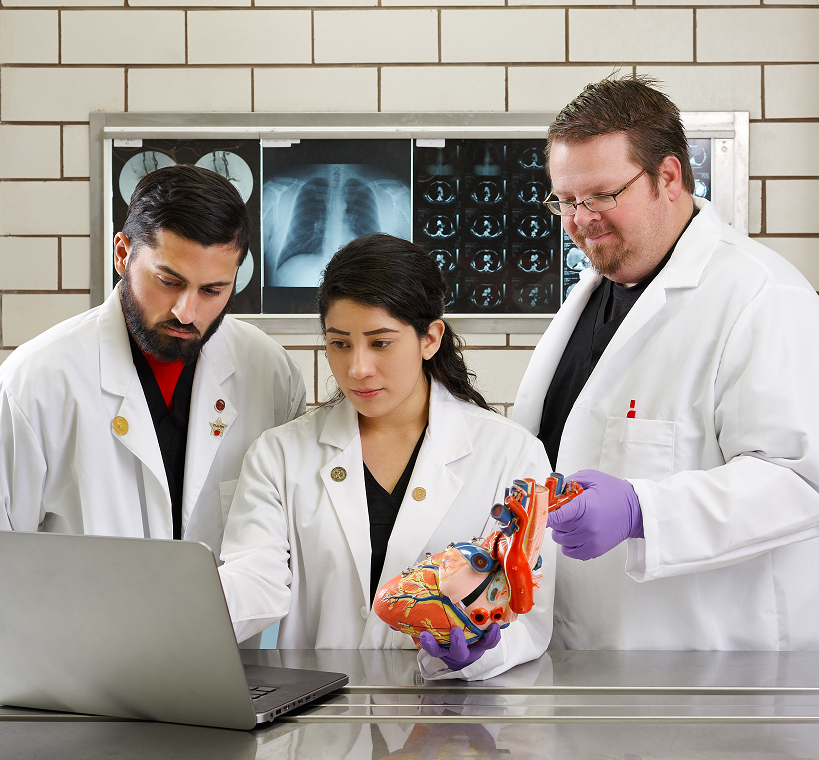 Education Project
As part of the Graduate Medical Sciences program, students design and carry out a medical education project under the director of a Graduate Medical Sciences faculty mentor. The projects are designed according to the needs of the School of Medicine curriculum and the student's interests. Projects are presented during the Graduate School of Biomedical Sciences annual Student Research Week and again at the end of the second year. Examples of past projects include: self-directed learning units, interprofessional education workshops, or creating additional educational materials for the curriculum.
Admission Requirements
Requirements for admission are flexible and there are no minimum GPA or test score requirements. All applications are reviewed in a holistic manner, with no single factor determining a student's admission.
Students may have a Bachelor's degree in any field but must include typical science courses (Chemistry, Biology, Zoology/Animal Science, etc.). A strong science background is encouraged. This program will not fulfill undergraduate medical school prerequisites.

Prior to admission, applicants must have completed the School of Medicine pre-requisite courses, including Biochemistry.



| | |
| --- | --- |
| Course | Hours |
| General Biology or Zoology | 6 |
| Biology Labs | 2 |
| Upper Division Biology* | 6 |
| General Chemistry* | 6 |
| General Chemistry Labs | 2 |
| Organic Chemistry | 6 |
| Organic Chemistry Labs | 2 |
| Physics | 6 |
| Physics Labs | 2 |
| Biochemistry* | 3 |
| Statistics | 3 |
| Total | 44 |

* Biochemistry can be used to replace 3 hours of these required credits.
Average GPA of students offered admission is 3.5
Average MCAT of students offered admission is 504.
Average GRE of students offered admission is 314.
Application Information


Deadlines
| Semester | Application Open | Application Deadline | Campus |
| --- | --- | --- | --- |
| Fall Only | September 1 | March 1 | Lubbock |
How to Apply
Applications must be completed at Bioraider. It is the responsibility of the applicant to make sure that their application is complete by the application deadline to be considered for admission. Incomplete applications will not be reviewed for admission. The program only reviews complete applications after the application deadline.
Perfection is not attainable, but if we chase perfection, we can catch excellence
Vince Lombardi