We are proud of the accomplishments of our alumni and love to spotlight everything our former students have done with the education they received at the TTUHSC School of Pharmacy. We encourage submissions of alumni success stories to our media department at maegan.seymour@ttuhsc.edu.
DFW alumna wins national award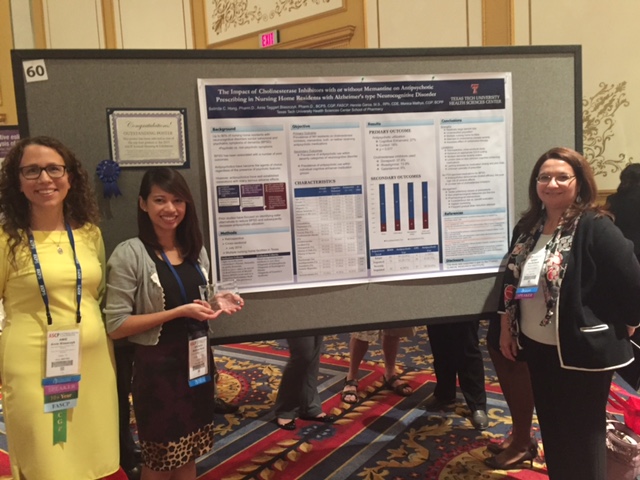 Belinda Hong, Pharm.D., a PGY2 geriatrics
residency program alumna from the Dallas/Fort Worth (DFW) campus, won the Best Poster Award at the American Society of Consultant Pharmacists' 2015 Annual Meeting Oct. 30-Nov. 1 in Las Vegas. Hong, who is a clinical geriatrics pharmacist for Evolution Health, L.L.C., presented her residency research project, titled, "The Impact of Cholinesterase Inhibitors with or without Memantine on Antipsychotic Prescribing in Nursing Home Residents with Alzheimer's type Neurocognitive Disorder" as a poster at the event.
Hong's collaborators on the poster included SOP Assistant Professors Monica Mathys, Pharm.D., and Amie Blaszczyk, Pharm.D., from the DFW campus and Hennie Garza, M.S., R.Ph., director of pharmacy for Senior Care Centers in Dallas.
Abilene student, alumna named to PDC posts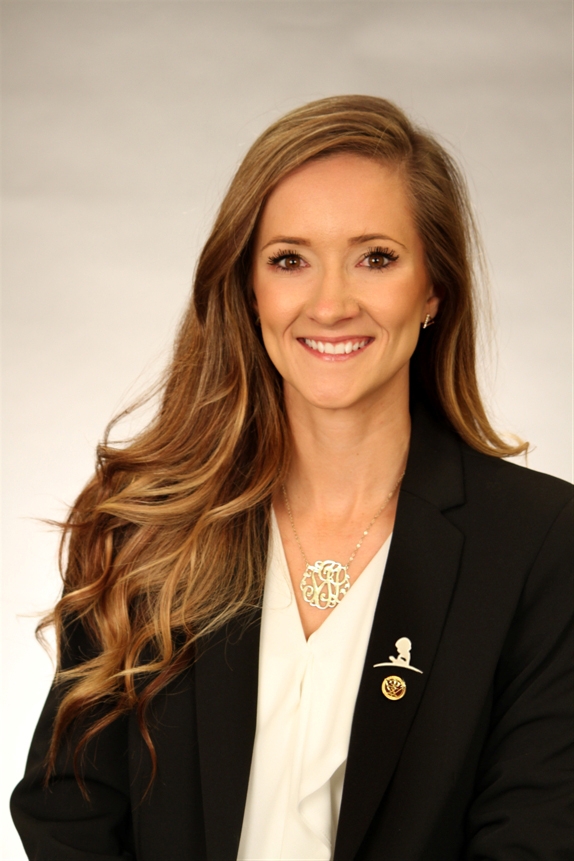 A current SOP student and an alumna, both from the Abilene campus, were elected to serve Phi Delta Chi (PDC) at the pharmacy fraternity's 70th Grand Council meeting in Albuquerque. Megan Fenney, a P4, was elected by regional delegates to serve as PDC's South Central Regional Correspondent. During her one-year term, Fenney will be responsible for communication between the national office and the region and for ensuring all 12 region chapters are participating at the highest level possible.
In addition, Tiffany Johnson (Class of '13) was elected to a PDC national office and will serve a two-year term as the organization's Grand Vice President for Collegiate Affairs. One of Johnson's primary tasks will be to work with all PDC collegiate chapters to expand the professional fraternity's membership. She will also help PDC promote its Collegiate Chapter Standards, organize and coordinate material judging for PDC's Achievement Award Program and supervise the activities of the group's regional collegiate affairs directors.
SOP Alum Named Pharmacist of the Year in South Dakota
SOP alumnus Tadd Hellwig, class of 2006, an associate professor at the South Dakota State University (SDSU) College of Pharmacy, received the 2014 Pharmacist of the Year award from the South Dakota Society of Health-System Pharmacists.
Hellwig provides didactic teaching for second- and third-year SDSU pharmacy students at the SDSU campus and at the University Center in Sioux Falls, South Dakota. He also serves as an internal medicine preceptor to fourth-year SDSU pharmacy students through his rotation site at Sanford Health. Hellwig served the previous two years as a South Dakota representative to the American Society of Health-System Pharmacists' House of Delegates.
Alumni Association Creates Scholarship
In 2011, the School of Pharmacy Alumni Association board launched its effort to endow a scholarship. Their efforts to raise funds were ultimately successful, and the SOP Alumni Pioneers Scholarship was established. This year, Hannah Lenamon, a P2 in Abilene, was chosen as the first recipient of the Alumni Pioneers Scholarship.
For Lenamon, pharmacy school is a solution to a lifelong conflict. As a self-described math and science nerd who has always enjoyed helping those in need, she said she was drawn to the health care field. However, the squeamish feeling she experienced around blood, severely ill people and hospitals counterbalanced that desire.
"I went to church with a community pharmacist, and after discussing aspects of the field with him, I knew that becoming a pharmacist was what I wanted to do," Lenamon said. "I want to be that friendly face people see when they are ill, and become the face they can trust to help them get well."
Lenamon was born in Waco and raised 20 minutes southwest in McGregor, a small town of roughly 5,000 people. She graduated as the McGregor High School valedictorian in 2011 and attended Texas Tech University. While in Lubbock, she majored in chemistry, enrolled in the Honors College and joined Gamma Beta Phi.
Although she didn't graduate, she did complete her pharmacy pre-requisites and became more comfortable with her roots. By the time she completed her pre-requisites, Lenamon said she realized she had a plan for her future. "After attending TTU and becoming a true Red Raider at heart, I knew that TTUHSC was where I wanted to attend pharmacy school, no matter what it took.
"Being a small-town country girl," she added, "I knew the Abilene campus would be the perfect fit for me so I could be closer to home and succeed in pharmacy school."
Lenamon said receiving the Alumni Pioneers Scholarships meant a great deal to her as she continued the transition to pharmacy school. She added she was surprised to learn she met the qualifications for the scholarship and honored to be considered by the alumni who previously walked in her shoes during their time at the SOP.
"I believe that this endowment/scholarship is a great way to give back to the school that helped shape the alumni into the pharmacists they are today," Lenamon said. "And because the alumni have helped me in fulfilling my dreams, and the dreams of many other students, I know that I will be giving back to the endowment to help support future students after I graduate."
Lenamon said she came to the SOP hoping to some day work in a retail setting as an independent pharmacist. Her experiences thus far in pharmacy school, along with her continued interest in veterinary pharmacy, have further focused her career interests.
"I would prefer to work in a retail pharmacy that does compounding, and, further into the future, I want to be able to own or be a partner in an independent pharmacy and specialize in veterinary compounding," she said. "Now that I have been able to explore these fields of pharmacy, and being from a small farming and ranching community, I feel that I could succeed someday in opening my own independent pharmacy and catering to that type of community by compounding veterinary medications."
As she gets closer to reaching her goals, Lenamon shad she has become increasingly aware of the important role a scholarship can play in relieving some of the pressure that comes with pharmacy school. "This scholarship has helped me to pay for some of my bills, tuition and groceries throughout the semester," she said.
"It has also lifted the burden of having to take out more loans off of my shoulders. I believe I can speak for all students going through stresses of pharmacy school when I say it's a fact that scholarships like the Alumni Pioneers Scholarship help to relieve the added stress and questions of 'How am I going to pay for school?' I am beyond grateful to the alumni for making that possible."
We want to thank and recognize the alumni who have given to this endowment:
Alisia Baker Sutton
Hong Brod
Nathan Buerkle
Carl Carruthers
Amy Cave
Shalyn Cox
Sonya Crouch
Leslie Cutright
Kerry Daniel
Rekha Daniel
Bonnie Dugie
Omar Espericueta
Shawn & Stefani Gautreaux
Theresa Gerst
Lee Ann Hampton
Thaddaus Hellwig
Jason Heuerman
Jennifer Hillman
Alisa Hirschberg
Melanie Huf
Boris Loffe
Mark Land
ValerieLevi- Derrick
Gail Lowry
Melinda Marks
Traci Metting
Adriana Montemayor
Sarah Mureeba
Jennifer Nelson
Jessica Njoku
Sidney Phillips
Sara Robison
Josh & Tiffany Rodgers
Jefferson Sheng
Wesley &
Meghann Skalak
Shauna Smith
Brandon Sucher
Laurie Wheeler
Amanda Williams
Tyler Wood