Presidential Communications

Dear TTUHSC Community,
Today's Town Hall is specifically for our faculty; however, I encourage everyone to participate as I'm certain we will all come away with useful tips.
Many of our faculty members embraced distance teaching out of necessity for safety and well-being because of the coronavirus pandemic. Amy Moore, DNP, APRN, FNP-C, and Rebecca Sametz, Ph.D., CRC, LPC, ETS, both have extensive experience in teaching online and will be sharing their best practices.
Presidential Town Hall, hosted by
3 p.m. Thursday, April 23
Amy Moore
DNP, APRN, FNP-C
Amy Moore, DNP, APRN, FNP-C, is the director of the School of Nursing Global Health Program and an associate professor of nursing. She began her nursing career in 1985 and has taught in the School of Nursing since 2004. Teaching online, Dr. Moore has initiated innovative strategies to engage students in meaningful education, producing multiple skills, scenarios, and information videos, light board presentations, and Voice Thread presentations. She also has served on the Technology Assisted Learning Committee since 2014, addressing strategic initiatives for online education.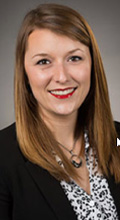 Rebecca Sametz
Ph.D., CRC, LPC, ETS
Rebecca Sametz, Ph.D., CRC, LPC, ETS, is the program director and an assistant professor of clinical rehabilitation counseling in the School of Health Professions Department of Clinical Counseling and Mental Health. Dr. Sametz has been teaching in the clinical rehabilitation counseling distance-education program since 2017 and has over five years of experience teaching online courses. She is well-versed in various online platforms such as Blackboard, Sakai, and Canvas. Within her courses, she uses innovative technology platforms such as Zoom, Panopto, Light Board, and iSpring to provide an engaging learning environment for students.
Please feel free to share your questions in advance by emailing them to president@ttuhsc.edu. You will also have an opportunity to ask questions during the live event.
Remember, if you are not able to attend the Town Hall, recordings and Q&As of each segment are available on the website. Future topics are posted on the Events calendar and listed in the daily Announcements email digest.
Warmest regards,

Lori Rice-Spearman, Ph.D.
Interim President and Provost
Texas Tech University Health Sciences Center