Presidential Communications

TTUHSC Community,
StatlineTV is now hosting the Presidential Town Hall meetings at 3 p.m. on Tuesdays and Thursdays. Tune in for updates in place of the weekly online segment.
Please join us today for "Working Remotely: Best Practices, Tips and Tricks" presented by Jason Weber and Justin Louder, Ed.D.
Presidential Town Hall Meeting, hosted by
3 p.m. Tuesday, April 7
Jason Weber
Jason Weber is associate vice president of People Development for Texas Tech University Health Sciences Center.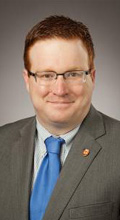 Justin Louder, Ed.D.
Justin Louder, Ed.D., is associate vice provost and interim superintendent of the eLearning & Academic Partnerships at Texas Tech University.
We want to bring you information from a variety of our experts so that you may make informed decisions about your health and safety and that of your families and communities. Recordings of each Town Hall, as well as Q&As, are available on the website. Upcoming topics will be posted to the Events calendar and listed in the daily Announcements email digest.

Thank you for your participation!
Warmest regards,

Lori Rice-Spearman, Ph.D.
Interim President and Provost
Texas Tech University Health Sciences Center