Presidential Communications

Dear TTUHSC Community,
Please join us for today's Presidential Town Hall as Toby Brooks, Ph.D., and Mimi Zumwalt, M.D., share expert tips for your health and well-being.
Presidential Town Hall Meeting, hosted by
3 p.m. Thursday, April 9
Toby Brooks, Ph.D.
Toby Brooks, Ph.D., is an associate professor in the School of Health Professions and program director of the school's Master of Athletic Training program. In addition, he serves as an adjunct instructor for the Texas Tech University Department of Kinesiology and is a certified strength and conditioning specialist.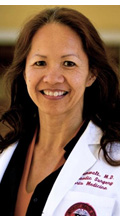 Mimi Zumwalt, M.D.
Mimi Zumwalt, M.D., is a tenured professor in the School of Medicine Department of Orthopaedic Surgery and Rehabilitation, director of the Sports Medicine Division in the Department of Family Medicine and a clinical adjunct in the School of Health Professions Department of Rehabilitation Sciences. Dr. Zumwalt is also an ACSM certified exercise leader/HIIT trainer and fitness consultant/competitor.
The recordings of each Town Hall, as well as Q&As, are available on the website. Upcoming topics will be posted to the Events calendar and listed in the daily Announcements email digest.
I look forward to these breaks in my daily routine, and I never fail to learn something that I can use to make each day better. Thank you to our entire TTUHSC team for living our BEYOND SERVICE value as we each do our part to flatten the curve.
Warmest regards,

Lori Rice-Spearman, Ph.D.
Interim President and Provost
Texas Tech University Health Sciences Center