As a health sciences center, we have a responsibility to our communities to set a positive example in responding to the ongoing public health crisis.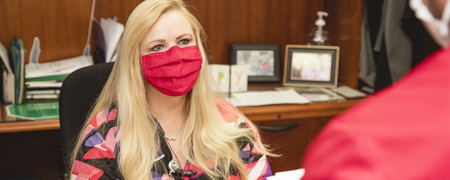 Facial Coverings


Requirement
In accordance with Gov. Greg Abbott's Executive Order No. GA-29 and the Texas Tech University System Facial Covering Policy (Facial Covering Policy), the university requires that all TTUHSC students, team members (faculty, staff and residents), visitors, vendors and contractors wear protective face coverings on TTUHSC campuses and other university facilities. For more information about face covering guidelines visit the CDC website.
Additionally, all TTUHSC team members with patient contact will follow all personal protective equipment (PPE) requirements, depending on the circumstances, as designated by their supervisor or program director.
Accountability
The TTUHSC One Team value shapes our culture so that all team members are held accountable for their decisions and actions and the Kindhearted value shaped our culture so that all team members treat one another with compassion and respect. Our values are inherent in our commitment to helping control the spread of COVID-19 by wearing protective face coverings.
The requirement to wear a face covering is in place to protect the well-being and safety of the TTUHSC community. Therefore, failure to comply with the Facial Covering Policy is inconsistent with our values and will subject any TTUHSC team member to applicable disciplinary processes as set forth in the TTU System Regulations, TTUHSC Operating Policies, House Staff Policies and Procedures and the Student Handbook. These processes may include verbal warnings, written warnings, two-day suspension without pay and/or the initiation of termination from employment or program.
If a team member observes another member of the TTUHSC community not following the Facial Covering Policy, please assume good intentions and either remind the individual of the Facial Covering Policy in a kindhearted manner or inform your supervisor, program director or associate dean for student affairs, as applicable, of your observation. Upon receiving a report, supervisors, program directors or associate deans will:
reach out to the team member and take appropriate disciplinary action once there has been an opportunity to provide education about the requirement, if the team member reports directly to them, or
reach out to the team member's supervising authority to notify the supervisor of the reported concern.
The education and disciplinary processes referenced above will be the responsibility of the team member's supervisor or program director as applicable. If the identity of the individual not following the Facial Covering Policy is not known, supervisors will provide a report to their respective Human Resources (HR) campus director for further follow up.
Although failure to comply with the Facial Covering Policy may lead to disciplinary action, efforts will first be made to educate members of the TTUHSC community. Additionally, any visitor, vendor or contractor who fails to abide by the Facial Covering Policy will be asked to leave the facilities until they wear an appropriate facial covering.
TTUHSC is committed to the education of the community concerning the need for face coverings to contain the spread of this disease. Students may contact their respective student affairs leaders with any questions. Accomodation requests in regard to the Facial Covering Policy should be directed to Student Disability Services.