Ready to Apply?
The first step toward becoming a student at Texas Tech University Health Sciences Center is determining which professional career you are interested in pursuing, as the application process is different for each school.
Our admissions team within each school will help you explore the world of health care, and guide you as you plan your path and prepare your application. Our schools will provide you with the highest quality education, along with all of the tools, support and mentoring you will need to have a tremendously rewarding life in the health care field.
What Do You Want to Study?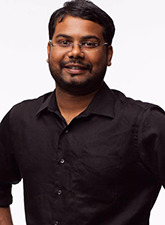 Leaving a Legacy
TTUHSC Students Celebrate Commencement
Monish Makena grew up in India in a group home of about 60 people including family. The relatively shy student would become fascinated in research. That journey would lead him to the Texas Tech University Health Sciences Center and leave a legacy for other students. MORE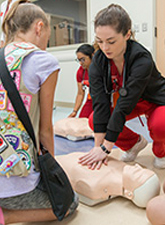 TTUHSC & Me: All That I Can Be
The Texas Tech University Health Sciences Center F. Marie Hall SimLife Center always is open for tours for prospective students, but recently it opened its doors to a very important clientele – Girl Scouts. As a way to encourage girls to pursue careers in health care, the F. Marie Hall SimLife Center invited the Girl Scouts of the Texas Oklahoma Plains to tour the F. Marie Hall SimLife Center to learn about the human body and health care, earning their own honorary "TTUHSC and Me: All That I Can Be" patch. More