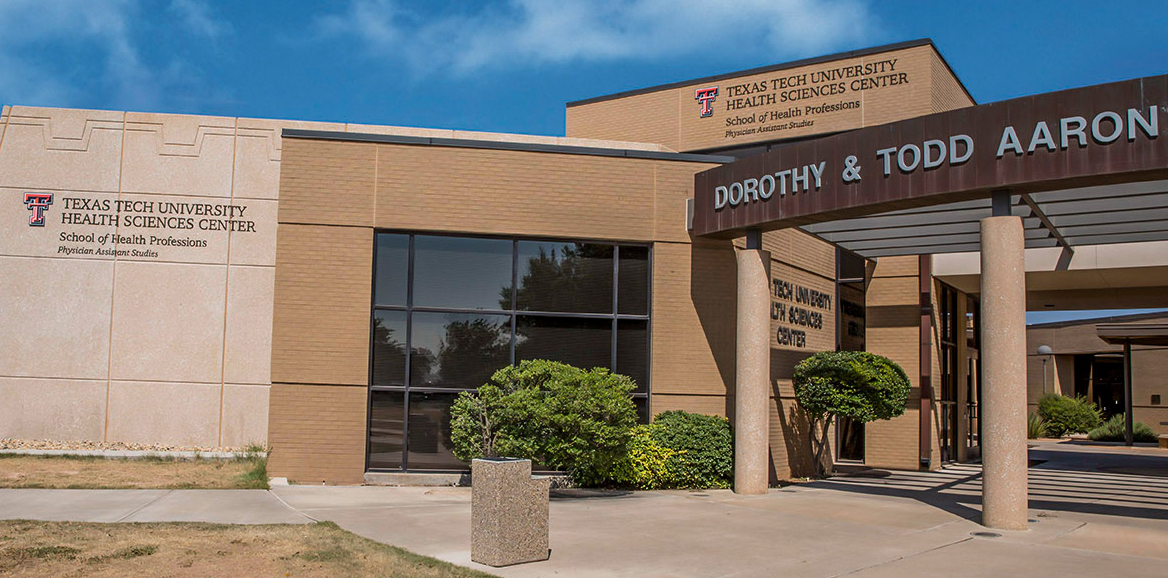 TTUHSC at the Permian Basin was established in 1979 in the basement of the Medical Center Hospital. Midland is home to Texas Tech Physicians, the Behavioral Health Clinic, the School of Health Professions Physician Assistant Program and the Laura W. Bush Institute for Women's Health Jenna Welch Women's Center.
Started in 1999, the primary mission of the Physician Assistant Program is to train physician assistants to provide clinical opportunities in primary care in rural and underserved populations in West Texas. The Physician Assistant Program currently has 112 students, all of whom began their education at Midland.
TTUHSC Midland/Odessa Schools
Midland is home to the Physician Assistant program within the School of Health Professions. The PA program is dedicated to educating students to meet the challenges of providing high quality health care to patients in the underserved areas of West Texas. The Physician Assistant program has consistently maintained a five year, first time pass on their licensure exam at or above the national average of 95 percent, with the most recent class scoring a perfect 100% first-time pass rate. MORE
School of Health Professions Office of Admissions and Student Affairs
The Permian Basin regional campus, located in Odessa, has been established as a graduate medical education site and now is home to residencies in Internal Medicine, Family and Community Medicine and Obstetrics and Gynecology as well as clinical rotations and patient care in the departments of General Surgery, Psychiatry and Pediatrics. We provide medical education to third and fourth year medical students in all six core specialties including family medicine, internal medicine, obstetrics and gynecology, pediatrics, psychiatry and surgery. MORE
School of Medicine Programs
Doctor of Medicine/Master of Business Administration (M.D./MBA (Health Organization Management)
Doctor of Jurisprudence / Medical Dual Degree
Doctor of Medicine / Master of Biomedical Sciences (M.D./M.S.)
Doctor of Medicine / Master of Public Health (M.D./M.PH.)
Family Medicine Accelerated Track (FMAT)
Fellowship Programs
Medical Doctor (M.D.)
Medical Humanities (Certificate)
Residency Programs
Office of Admissions and Diversity
Students from the School of Nursing Traditional Undergraduate Program and Accelerated Nontraditional Undergraduate Program, which includes the Second Degree BSN Track and Veterans BSN Track, perform clinical rotations at Midland Memorial Hospital. The School of Nursing also provides a doctoral prepared nurse researcher for Midland Memorial Hospital, and is also on the forefront of mental health and healthy Midland initiatives. MORE
School of Nursing Undergraduate Programs
Traditional Undergraduate| RN to BSN | Accelerated BSN (Second Degree and VBSN)
School of Nursing Graduate Programs
Masters | Post-Masters | DNP
Partnerships in the Community
TTUHSC has residency-training programs with Midland Memorial Hospital in the departments of OB-GYN, Internal Medicine and Surgery. Residents also serve at the new Texas Tech Physicians Psychiatry clinic. Resident physicians in Midland receive a large amount of personal attention from private and TTUHSC faculty in a friendly and cooperative educational setting. Several of them at graduation decided to make Midland their place to live and practice
Texas Tech Physicians has seen more than 20,000 patients in Midland from September 2016 to August 2017. More than 18 percent of practicing physicians in Midland graduated from TTUHSC School of Medicine or completed their residency at TTUHSC. More than 50 percent of School of Medicine graduates remain in West Texas within 75 miles of Midland.


Patient Care
Texas Tech Physicians operates at 301 N. Avenue N. (adjacent to Midland Memorial Hospital). Family and Community Medicine, Obstetrics and Gynecology, Internal Medicine and Behavioral Health services are available. For more information contact 432.620.5800. This facility is also home to the Jenna Welch Women's Center of the Laura W. Bush Institute for Women. More
Emergency Preparedness
In the event of an emergency, the campus specific page will be updated with information about the nature of the incident, how to remain safe and, after the event, the point at which safety has been restored.