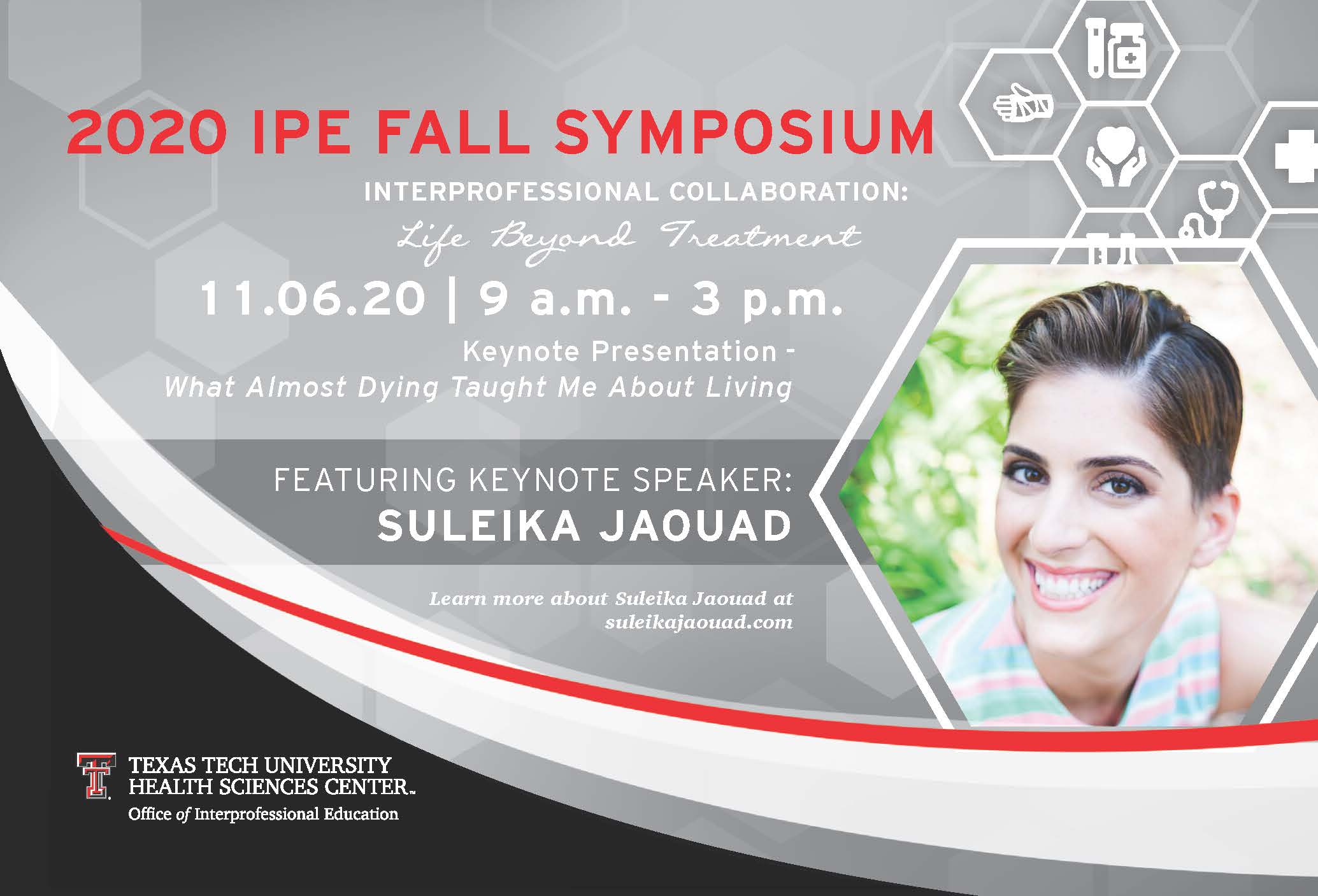 Registration will open 9-1-2020
2020 IPE Fall Symposium
November 6, 2020 9:00 am - 3:00 pm
This year's symposium topic is Interprofessional Collaboration: Life Beyond Treatment.
Keynote Session 1:
What Almost Dying Taught Me About Living - Suleika Jaouad
Humans are living longer than ever before. Many people now survive illnesses and injuries that would've killed our grandparents and parents. Throughout our lives, we travel between the two kingdoms of the sick and the well, spending much of our lives somewhere between the two. In this provocative talk, Emmy award-winning New York Times journalist Suleika Jaouad challenges us to stop seeing our health as binary — sick and healthy, well and unwell, whole and broken. Jaouad shares a firsthand account of navigating the healthcare system as a young cancer survivor, and the inspiring and entirely unexpected lessons learned in recovery. Her unique perspective will change the way you think about what it means to live and to be well in the 21st century.
"The hardest part of my cancer experience began once the cancer was gone." Her keynote was share insight and inspire healthcare providers to think beyond the divide between "sick" and "well," posing the question of how do you begin again when life is interrupted?
Suleika Jaouad is an Emmy Award-winning writer, speaker, cancer survivor and educator. Born in New York City to a Tunisian father and a Swiss mother, Suleika Jaouad's career aspirations as a foreign correspondent were cut short when, at age 22, she was diagnosed with leukemia. She began writing the acclaimed New York Times column and video series "Life, Interrupted" from the front lines of her hospital bed, and has since become a fierce advocate for those living with illness and chronic pain. Her first book Between Two Kingdoms, is forthcoming from Random House in May 2020 and now available for pre-order.
For more information on Suleika click here.
Keynote Session 2:
information coming soon ...
---
The morning session of the 2020 IPE Fall Symposium will be broadcast to all TTUHSC campuses from the Lubbock Memorial Civic Center.
Each TTUHSC campus will host a case based learning activity for all students during the afternoon session.
---
The IPE Fall Symposium is a registered TTUHSC IPE Learning Activity and participating students who attend the afternoon session will receive a certificate for their attendance and credit towards graduation.