Texas Association of Advisors for the Health Professions
February 7th - 9th 2019
Welcome to the TAAHP Annual Conference
This year, we're celebrating 50 years of excellence in pre-health advising. TAAHP is an opportunity to network, collaborate and promote the efforts of those involved in helping shape the future of healthcare for Texas.
We hope you enjoy the conference and leave prepared to directly impact the future of healthcare.
About
TAAHP is a state network of health professions advisors and staff of health professions schools working to promote excellence in pre-health professions advising. Our reach stretches across the state of Texas to promote excellence in pre-health professions advising.
Mission
The purpose of TAAHP is to advance undergraduate education for all the health professions, further the development of health science curricula, facilitate the exchange and dissemination of information and conduct educational meetings.
Keynote Speaker
Tedd Mitchell, M.D.
Chancellor, Texas Tech University System
President, Texas Tech University Health Sciences Center
Mitchell became the eighth president of the Texas Tech University Health Sciences Center (TTUHSC) on May 17, 2010.
As its longest serving president, he has successfully led a period of record growth in enrollment, academic excellence, and physical expansion on all campuses. Texas Tech University Health Sciences Center now graduates more health care professionals than any other health related institution in Texas.
Mitchell has launched initiatives for interprofessional concentration around the university's five schools – Biomedical Sciences, Health Professions, Medicine, Nursing, and Pharmacy – and promoted programs to support novel research and creative endeavors such as the Department of Public Health which will eventually become the School of Public Health. Under his leadership, the university remains financially strong while maintaining low tuition rates.
Keynote Panel
Brandt Schneider, Ph.D.
Dean - Graduate School of Biomedical Sciences
Schneider has served as the dean of the Graduate School of Biomedical Sciences since 2013 and has been a faculty member at TTUHSC since 1999.
He is a tenured professor in the Departments of Medical Education and Cell Biology and Biochemistry and has served on over 30 graduate thesis committees. During this time, his research on the role of cell cycle control and cell growth on aging has been supported by 25 research grants.
---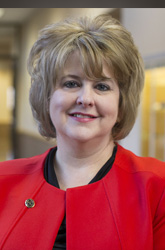 Lori Rice-Spearman, Ph.D., Dean
School of Health Professions
LRice-Spearman has been the Dean of the Texas Tech Health Sciences Center School of Health Profession since January 2016.
TTUHSC School of Health Professions is one of the largest health professions schools in the nation. In total, Rice-Spearman has contributed to the TTUHSC mission for over thirty years. Her professional experience also includes serving as an accreditation reviewer and site visitor for the National Accrediting Agency for Clinical Laboratory Sciences and the Commission on Accreditation for Physical Therapy Education.
---
Michael Evans
Dean – School of Nursing
Evans is dean, professor and holds the University Medical Center Endowed Chair for Excellence in Nursing at the Texas Tech University Health Sciences Center School of Nursing since 2012.
Prior to coming to Texas Tech, he was the president and CEO of Barnes-Jewish College and founding dean of the Goldfarb School of Nursing in St. Louis. He was in hospital administration for 25 years before his career bridged to academic administration. Evans has been honored as a distinguished alumnus by the University of Texas Health Science Center at Houston School of Nursing and by the University of Texas at Austin School of Nursing.
---
Charles Seifert, Pharm.D.
Regional Dean – School of Pharmacy
Seifert was one of the first board certified pharmacotherapy specialists in the nation and is a fellow of the American College of Clinical Pharmacy.
Currently, he is professor of pharmacy practice, senior executive associate dean, and the founding regional dean for Lubbock programs with the School of Pharmacy at Texas Tech University Health Sciences Center. He has over 120 published journal articles, book chapters, abstracts, and newspaper and magazine articles. Seifert has received numerous awards for his teaching, practice, service and research.
---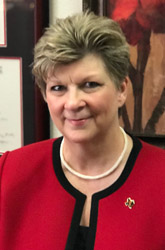 Karla Chapman, Ph.D.
Associate Academic Dean – School of Nursing
Chapman is currently serving as an associate academic dean with the Texas Tech University Health Sciences Center School of Nursing.
She not only provides direction and oversight for the Education Technology Department, Recruitment, Alumni Relations, Career Center, Advising, Admissions, Enrollment Management and Students Affairs. She also serves on a variety of institutional committees which benefits the institution as a whole. Prior to her career in academia, she has over 18 years in serving non-profit organizations as an executive director, VP of operations, VP of health care and policy, interim president/CEO, chief professional officer and/or board of directors.
---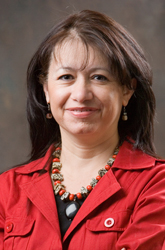 Debra Flores, Ph.D.
Director of T-CORE – Rural Health
Flores is adjunct faculty for the School of Nursing and the MPH program at TTUHSC.
She is managing director for West Texas Area Health Education Center (WTxAHEC) which she provides oversight to six centers in 118 counties. Over the past 32 years, her experiences have ranged from working as a Licensed Vocational Nurse in an acute care setting to manager of state and federal programs at the community level and federally qualified health centers. Dr. Flores has a been instrumental in the implementation of Community Health Workers in the Lubbock Area.
---
Billy Philips, Jr., Ph.D.
Executive Vice President – Rural Health
Philips is the executive vice president and director for the F. Marie Hall Institute for Rural and Community Health at Texas Tech University Health Sciences Center.
Philips' work focuses on improving the health and well-being of the communities of Texas and beyond using innovative and scholarly research, advanced use of technology, and comprehensive education and outreach. Since joining the Institute in 2009, the staff has grown from 14 to more than 50 members and housed innovated grant projects. He is an established NIH investigator and author of numerous books, peer-reviewed articles, and other scholarly works in community based research and chronic diseases.