What is Audiology?
Audiology is the science and medical practice that focuses on hearing and its related disorders. Audiologists are licensed health care professionals who diagnose and treat hearing or balance problems in adults and children. Using the best available current technology and medical science, audiologists perform specialized diagnostic tests to evaluate hearing and balance-related disorders and determine an appropriate course of treatment.
About the Doctor of Audiology (Au.D.) Program
The Texas Tech University Health Sciences Center Doctor of Audiology degree (Au.D.) consists of four years of graduate work and is offered on the Lubbock, Texas campus.
Although the schedule varies by semester, as a graduate student, you will typically attend class two days a week and have clinic one to two days a week in the first three years of the program. The fourth year consists of a full-time externship experience.
SEPT. 1


Application open
NOV. 1
FEB. 15


Application deadline
FALL


Program Start Term
While you are required to take a predetermined set of courses each semester, you will have the opportunity to focus on a particular area of interest with your choice of placement for the clinical practicum experience.
A unique feature of the TTUHSC program is the diversity of the clinical and research experiences available throughout your studies, including at the TTUHSC Speech and Hearing Clinic, community-based clinics, public school programs, local private practices, and other medical, rehabilitative, and educational facilities outside the Lubbock community.
An Experienced Faculty and Individualized Mentoring
The Texas Tech University School of Health Professions Doctor of Audiology program is committed to being at the forefront of education for future audiology professionals. We keep each class size small enough so that you benefit fully from individualized mentoring by our highly experienced faculty.
Our faculty have a wide variety of research and clinical interests including psychoacoustics, balance function, cochlear implants, amplification, signal processing, educational audiology, rehabilitation and counseling, and selective auditory attention.
As a graduate student, you will have opportunities to volunteer in research labs, participate in active research, complete part-time paid employment in a lab, and/or complete clinical research project.
The department also sponsors a chapter of the Student Academy of Audiology (SAA). This national audiology student group hosts community service events throughout the year to support individuals with hearing loss and to educate the local community on hearing and balance concerns.
The Doctor of Audiology (Au.D.) education program in audiology (residential) at Texas Tech University Health Sciences Center is accredited by the Council on Academic Accreditation in Audiology and Speech-Language Pathology of the American Speech-Language-Hearing Association (ASHA).
2200 Research Boulevard #310
Rockville, Maryland 20850
800-498-2071 or 301-296-5700
"At TTUHSC, I always felt like more than just a number. Strong relationships with students and faculty were easy to build with the environment fostered here. Good people are the university's greatest asset leading to my academic and clinical success."
Rebecca Martin, Au.D.
TTUHSC Graduate 2019 Audiology
Doctor of Audiology Certification
As a graduate of the program, you will be eligible to sit for the Praxis Examination in Audiology , a key component of the American Speech Language-Hearing Association (ASHA) certification standards.
For the past three years, TTUHSC students in the Doctor of Audiology program had an average graduation rate of 90%.
For the past three years, our students' Praxis Audiology test first-time pass rate was 86%. By graduation, 100% of graduates have passed the national exam over the last three years.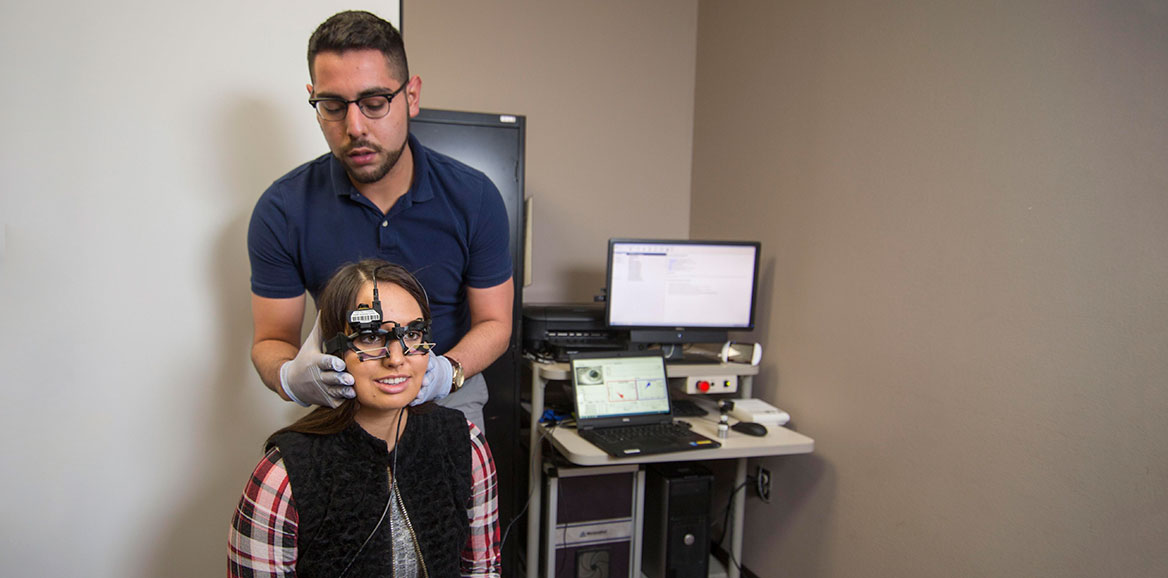 Careers in Audiology
Career opportunities include diagnosing and treating individuals with hearing or balance problems and working in prevention and field research. Professional work environments are varied, including hospitals, schools, private practices, industry, medical offices, and universities. In these environments, audiologists work with patients from birth throughout adulthood.
Our graduates work in clinical experiences all across the United States in local school districts, major medical centers, in conjunction with physician practices, in independent private practices, and in industrial settings.
With the demographic shifts of an aging population and the hearing-related issues that often brings, the need for trained, licensed audiologists is increasing. The Bureau of Labor Statistics (BLS) Occupational Outlook Handbook projects that employment of audiologists will grow 21% from 2016 to 2026, much faster than the average for all occupations.
Although specific licensing requirements vary by state, you must have a doctoral degree and be licensed to practice as an audiologist.
For more information about a career as an audiologist visit the ASHA website.
The Doctor of Audiology Curriculum
The professional curriculum of the TTUHSC Au.D. program consists of 10-11 semesters of academic and clinical education. A minimum of 101 credit hours is required for graduation.
The first three years of the Au.D. program combines academic coursework and clinical practicum experience that begins during your first year. You'll take part in clinical experiences in the TTUHSC Speech-Language and Hearing Clinic, local externship placements, and facilities outside the Lubbock community.
Classes in the academic portion of the program include:
Fundamentals of Sound and Auditory System.
Pediatric Audiology.
Audiology Practice Management.
Implantable Devices in Audiology.
Auditory Electrophysiology.
After completing your first three years of coursework, in the fourth year of the program you'll focus on an advanced clinical placement. Placement for this clinical experience is made in conjunction with the clinical coordinator and program director for audiology and will be based on your clinical area of interest and your clinical plan of study. This placement often takes place outside of the Lubbock community.
Successful completion of the program culminates in the Doctor of Audiology (Au.D.) degree.
Explore our curriculum, research and laboratory requirements.