Doctor of Physical Therapy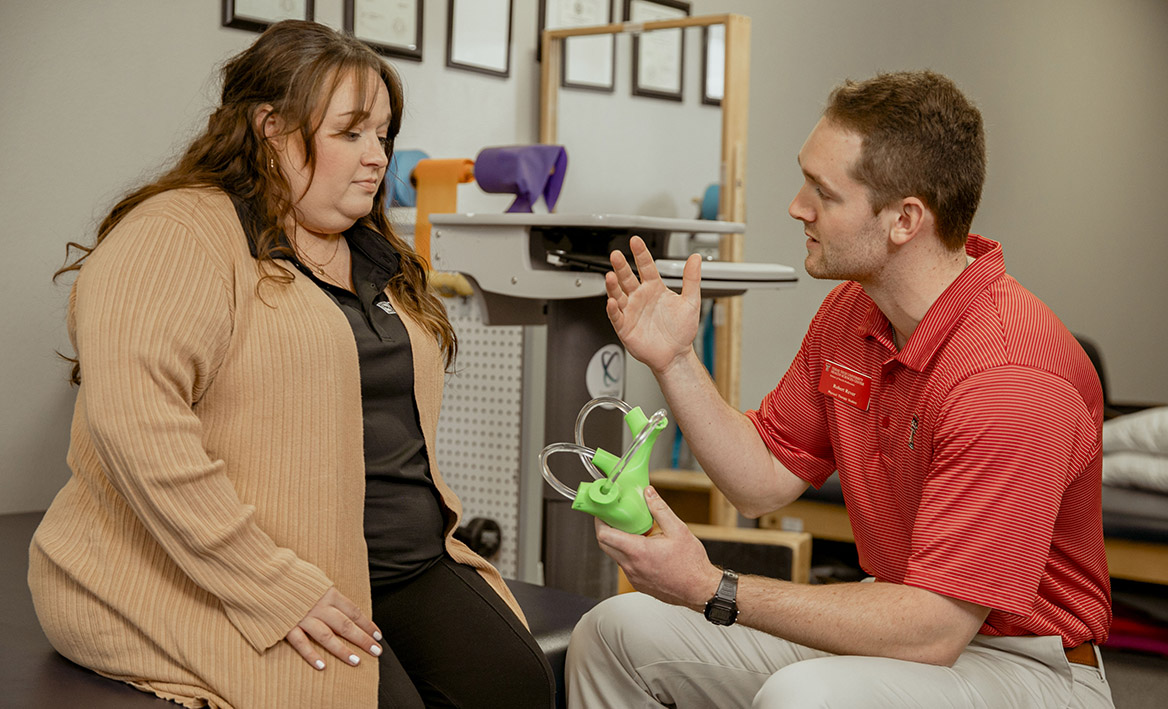 What Is Physical Therapy?
Physical therapy is the specialized branch of rehabilitative health care that aims to preserve, improve and restore physical movement and function that has been impaired by disease, aging, congenital disorder or injury.
What Does a Physical Therapist Do?
The American Physical Therapy Association (APTA) defines physical therapists as "movement experts." A physical therapist uses specialized therapy techniques, assistive devices, massage, electrotherapy, exercises as well as education and training to help patients of all ages develop, regain, or maintain their physical abilities and improve the quality of their daily lives.
Physical therapists provide patient care as part of the health care team, supervising physical therapy assistants and working in collaboration with primary care physicians, surgeons, medical specialists, and other health care professionals.
About the Doctor of Physical Therapy Program
The mission of the Doctor of Physical Therapy (DPT) program at Texas Tech University Health Sciences Center is to educate you to be highly skilled, evidence-based physical therapist who improves the health of your patients through the application of clinical skills, collaboration with other health care professionals, and commitment to life-long learning and community service.
JUNE 15


Application Open
NOV. 1


Extended Application Deadline
SUMMER


Program Start Term
Our goal at TTUHSC DPT program is to be nationally recognized for excellence in education, scholarship, and service to the community and physical therapy profession. The Doctor of Physical Therapy Program was ranked as the #1 DPT Program in the United States for three consecutive years (2016-2018), based largely on student satisfaction surveys.
The DPT program is offered on three campuses: Lubbock, Amarillo, and Odessa. The physical facilities at the three campuses offer modern, high-tech teaching and laboratory equipment designed to facilitate an optimal learning environment while you are in the program.
A Research-Centered Physical Therapy Faculty
Our faculty in the DPT program are committed to teaching, research, and service. The Center for Rehabilitation Research, within the School of Health Professions, consists of four clinical research laboratories (Clinical Biomechanics, Clinical Postural Control, Clinical Musculoskeletal, and Clinical Anatomy). This center serves as one of many resources for faculty to productively pursue scholarship.
For more detailed information or answers to questions directly related to the DPT program or curriculum, please visit our FAQ page.
The Doctor of Physical Therapy Program at the Texas Tech University Health Sciences Center is accredited by the Commission on Accreditation in Physical Therapy Education (CAPTE).
CAPTE
3030 Potomac Ave., Suite 100
Alexandria, Virginia 22305-3085
703-706-3245
accreditation@apta.org

If needing to contact the program/institution directly:

Kerry Gilbert
806-743-4525
kerry.gilbert@ttuhsc.edu
Doctor of Physical Therapy Licensure and Program Outcomes
As a graduate of the program, you will be eligible to sit for the National Physical Therapy Licensure Examination (NPTE) and apply for state licensure. In order to receive a license to practice physical therapy, you must pass the national licensing examination.
For the past two years of complete data (2022 and 2023), students in the TTUHSC DPT program have achieved the following outcomes:
Graduation rate: 98.6%
First-time pass rate on the NPTE: 94%
Ultimate pass rate on the NPTE: 99%
Employment rate in the field within six months of passing the national licensure examination: 100%


Careers in Physical Therapy
Physical therapists practice in numerous settings and work with individuals with a wide variety of diagnoses. Physical therapists may be found practicing in hospitals, in-patient rehabilitation facilities, nursing homes, hospices, schools, early childhood intervention, outpatient physical therapy clinics, occupational health, sport, and home-health care settings.
Physical therapists use different types of physical therapy techniques and incorporate exercise prescription to address movement dysfunction and promote increased independence, wellness, and quality of life for patients of every age.
Physical therapists commonly evaluate and treat patients for a variety of conditions, including:
Musculoskeletal congenital malformations, injury, or conditions such as arthritis, sprains, strains, and disc herniations.
Neuromuscular conditions like stroke, head injury, spinal cord injury, Parkinson's disease, and multiple sclerosis.
Pediatric conditions like muscular dystrophy, cerebral palsy, and developmental delays.
Cardiopulmonary conditions like post-heart attack rehabilitation, COPD, cystic fibrosis, and pneumonia.
Some physical therapists may choose to specialize, for example, in pediatric or geriatric physical therapy, cardiac and pulmonary rehabilitation, or amputee rehabilitation, to name just a few.
With an aging population that is staying active much longer, and a need to treat patients with mobility problems resulting from chronic conditions such as diabetes, the need for licensed physical therapists continues to grow. The Bureau of Labor Statistics (BLS) Occupational Outlook Handbook projects that jobs for physical therapists will increase by 28% through 2026, putting it among the fastest-growing occupations in the U.S.
To practice as a professional, you must have a DPT degree and all states require that physical therapists be licensed.
For more information about a career as a physical therapist, visit the American Physical Therapy Association (APTA) website.
The Doctor of Physical Therapy Curriculum
The Doctor of Physical Therapy (DPT) Program is a three-year entry-level professional program that combines academic instruction with both clinical experiences and clinical internships.
Classes include:
Biomechanics.
Pharmacology.
Therapeutic Exercise.
Neuromuscular Physical Therapist Practice.
Orthotics and Prosthetics.
Successful completion of the program culminates in the Doctor of Physical Therapy degree.
Explore our curriculum, research, and clinical requirements.
Students need to know that we truly care about them and want them to succeed. Their successes make us, as faculty, very proud!
Wade Redman, Ph.D., MBA, MT (ASCP)
Department Chair Laboratory Sciences and Primary Care