Master of Athletic Training
What is Athletic Training?
The profession of athletic training (AT) focuses on patient-centered care through injury and illness prevention and wellness promotion, examination, assessment and diagnosis, immediate and emergency care, therapeutic intervention, healthcare administration, and professional responsibility. AT is a recognized health care profession through the American Medical Association (AMA), Health Resources Services Administration (HRSA), and the Department of Health and Human Services (HHS).
What is an Athletic Trainer?
Athletic trainers provide medical services to all types of patients—not just those in the athletic or sports setting. ATs work in all health care settings, including occupational health, performing arts, military/armed forces, hospitals and medical centers, physician clinical practices, rehabilitation centers, secondary schools, youth sport programs, community recreation programs, civil service police and fire departments, professional sports, college and university athletics programs, and international sports and recreation programs. Athletic trainers provide health care everywhere.
ATs are highly qualified, multi-skilled health care professionals who render service or treatment, under the direction of or in collaboration with a physician, in accordance with their education, training, and the state's statutes, rules, and regulations. As a part of the health care team, services provided by athletic trainers include primary care, injury and illness prevention, wellness promotion and education, emergent care, examination and clinical diagnosis, therapeutic intervention and rehabilitation of injuries and medical conditions.
-National Athletic Trainers' Association
About the Master of Athletic Training
As an athletic trainer (AT), you are an integral member of the health care team, providing a continuum of care while working under the direction of, or in collaboration with, a licensed physician.
The Texas Tech University Health Sciences Center, School of Health Professions Master of Athletic Training (MAT) program is designed to provide you with a high-quality, interprofessional, and evidence-based education necessary to build a strong foundation for a career in athletic training.
The athletic training master's program at TTUHSC is one of recognized excellence, preparing you to be an AT who demonstrates professional skills, makes significant contributions to the profession through patient care and a commitment to learning, and who works to improve the health of individuals and communities.
SEPT. 1


Application open
APRIL 1


Application deadline
SUMMER


Term program start
Comprehensive Athletic Trainer Education
In the MAT program, you will join a community of students who come from a variety of backgrounds and educational experiences. The MAT program includes students from all over the United States as well as international students.
The MAT program provides you with exposure to a variety of learning environments and experiences, including:
Traditional classroom work.
Laboratory time to practice learned skills.
Clinical experiences (including immersive experiences) in a variety of settings that integrate classroom and lab work into practice (college, high school, outpatient clinic, physician's office, etc.)
Interprofessional education opportunities and shared courses.
The program is accredited by the Commission on Accreditation of Athletic Training Education (CAATE) and designed to prepare you to meet national and state requirements to practice athletic training.
Becoming a Certified Athletic Trainer
As athletic training has evolved into a recognized allied health profession, the profession has solidified and strengthened the requirements to work in the field. After graduating from an accredited professional education program, athletic trainers must pass the Board of Certification (BOC) exam and/or meet the requirements of individual states, to practice athletic training. Additional credentialing requirements for athletic training vary from state to state.
For the past three years, TTUHSC students in the MAT program had a graduation rate of 91%
For the past three years, MAT students' first-times pass rate for the Board of Certification (BOC) exam was 92%.
For the past three years, 100% of MAT students found employment as an athletic trainer within six months of graduation.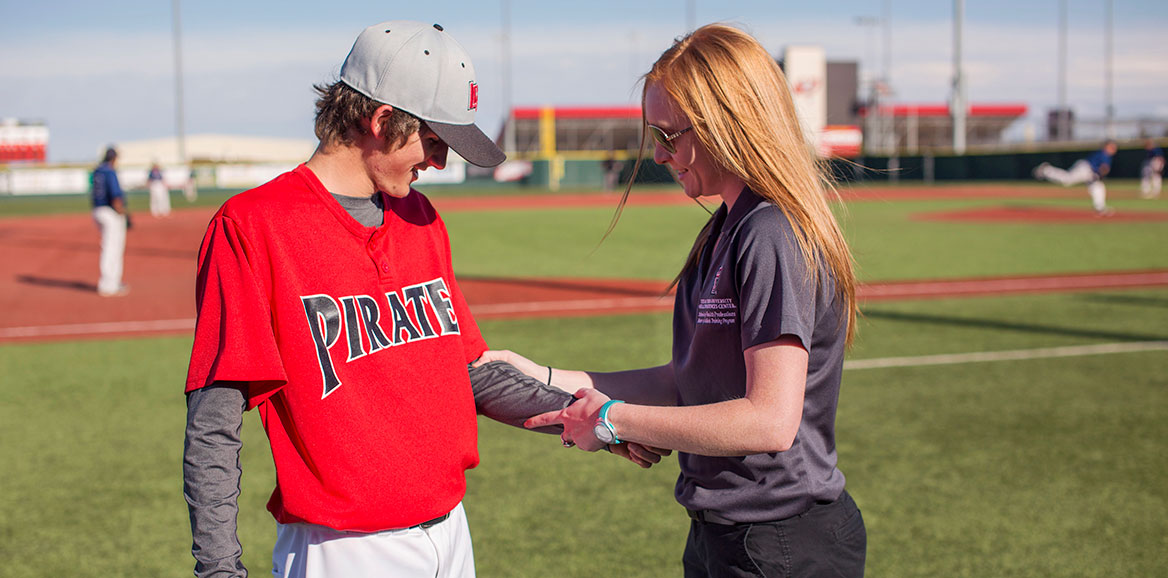 Careers in Athletic Training
Career opportunities exist in settings such as college/university athletic departments, secondary school systems, professional sports, performing arts, sports medicine clinics, corporate/ industrial settings, hospitals, physician offices, and other healthcare environments.
Alumni of the MAT program currently work in a variety of practice settings across the country. Examples include professional sports (NFL, NBA, MLS, MLB), colleges (large and small), secondary schools, outpatient clinics, physician's offices, and performing arts (Cirque du Soleil).
As an aging population continues to maintain a very active lifestyle and as awareness of the health impacts of physically-active related injuries continues to grow, the Bureau of Labor Statistics (BLS) Occupational Outlook Handbook projects that athletic training jobs will grow by 23% through 2026, much faster than the average for all occupations.
For more information about a career in athletic training visit the National Athletic Trainers' Association website.
The Master of Athletic Training Curriculum
Our curriculum exceeds the minimum standards expected of students entering the athletic training profession. It is our goal to provide you with the very best environment and educational experience, enabling you to become a skilled, confident, and enthusiastic member of the athletic training profession.
The MAT is a two-year, 60-semester credit hour master's program. Classes include a combination of lectures, research, and clinical experience including:
Human Anatomy.
Therapeutic Modalities.
Management and Prevention of Injuries.
Pharmacology.
Current Medical Diagnosis and Treatment.
Successful completion of the program culminates in the Master of Athletic Training degree.
Learn more about classes, research, and clinical requirements.
The Masters of Athletic Training program prepares all students by providing a comprehensive program that teaches them the unique skills specific to the profession and providing opportunities to gain experience in various settings or sports. The professors and leaders at TTUHSC are some of the best around and they are always willing to go the extra mile to ensure that their students are successful. I highly recommend this program to all students that are willing to be challenged by an exceptional program that is going to transform them into Athletic Trainers that are ready to hit the ground running upon completion!
Roland Ramirez
Director of Rehabilitation and Associate Head Athletic Trainer - Houston Texans | Recognized as one of Houston's Top Workplaces