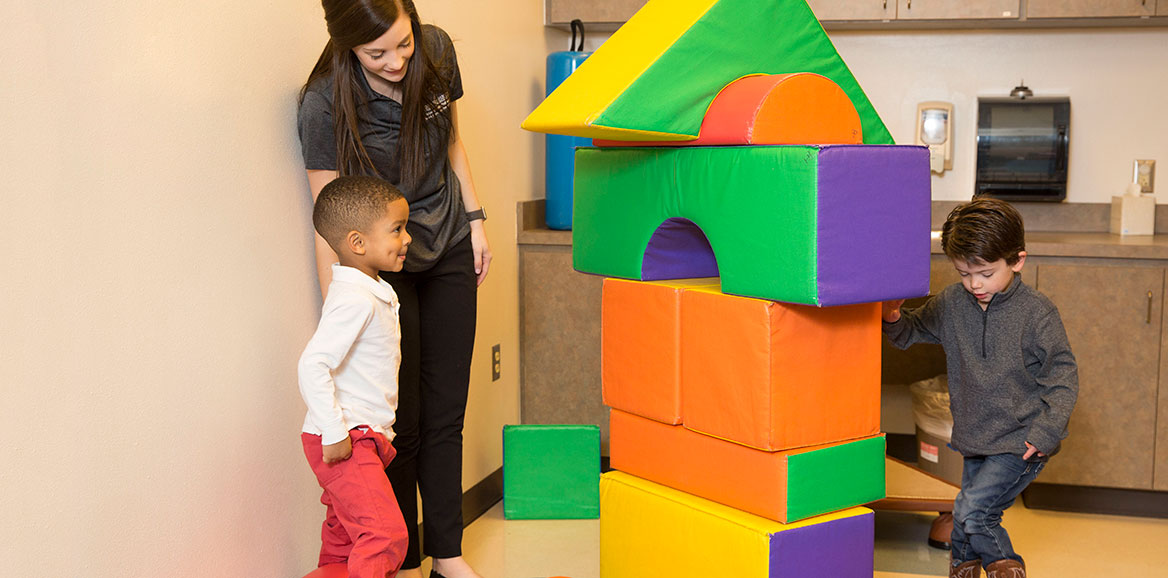 The Texas Tech University Health Sciences Center (TTUHSC) Speech, Language, and Hearing Clinic serves the general population of West Texas and Eastern New Mexico. The Clinic is a primary training site for graduate students in the Department of Speech, Language, and Hearing Sciences. Graduate students provide comprehensive diagnostic and treatment services to individuals with speech, language, and hearing disorders under the direct supervision of faculty who are certified by the American Speech-Language-Hearing Association and licensed by the State of Texas as speech-language pathologists and audiologists.
Clinical Services
The Texas Tech University Health Sciences Center integrates state of the art services with cutting edge research in order to provide comprehensive evaluations and/or therapy services for individuals with a wide range of communicative impairments including:
Articulation & Phonology
Developing Language & Literacy
Fluency
Voice
Aural Rehabilitation
Central Auditory Processing
Augmentative/ Alternative Communication
Aphasia
Apraxia
Traumatic Brain Injury
Pragmatics
Memory
Feeding and Swallowing
Auditory Verbal Treatment
---
Speech Language Clinic Programs:
Texas Tech University Health Sciences Center Speech-Language-Hearing Clinic aphasia therapy is provided in a small group conversational setting. The goal is to maximize speech and language abilities and reduce the effects of aphasia on communication. The group is designed for those who have reached the point of medical discharge and are looking for more long-term rehabilitative options. Group members meet once a week for an hour. Members may discuss past and present life experiences, current events, and common interest topics. Group activities may be used to target specific communication skills and life participation. Members are invited to determine activities as well as set individual and group goals.
Individual therapy is also available to complement group services.
SUMMER THERAPY PROGRAMS
Matador Munchers is a feeding group that provides opportunities for positive food exploration and learning to children with feeding aversion and/or oral-motor feeding difficulties. Activities that are integrated into the program include gross and fine motor sensory tasks, food preparation, and oral-motor feeding exercises. The program offers individual sessions to address each child's specific needs as well as group sessions to promote social modeling during structured mealtimes (ages 3-6).
Tech Tykes is filled with opportunities for young children to boost their speech and language skills. Camp will offer individual sessions to address each child's specific needs, as well as group sessions which will allow children to work, play and talk together. The camp is designed for children with speech and language difficulties, including children with phonological and articulation difficulties and language delays.
Ready to Learn is designed to facilitate language and literacy skills in school-age children. Designed for students with difficulties in oral language, auditory processing, problem solving, reading and/or writing, this camp offers opportunities for students to learn new skills and strategies in fun, thematic-based activities. The students will participate in individual sessions to target their specific needs as well as group sessions to integrate newly-learned skills in other activities with their peers. Students will be grouped by age and therapy needs. (ages 5-11)
Chatty Champions is designed to improve intelligibility in children with diagnoses related to speech sound disorders (apraxia, articulation/phonology disorder). Chatty Champions will learn by talking and discovering in an engaging environment that is speech sound based. (ages 4-7).
SOUTH PLAINS AUTISM NETWORK
The South Plains Autism Network (SPAN) was developed in 2003. SPAN provides critical services and a support network for families who have children with autism. Although there is no known cure for autism, studies show that early diagnosis and intervention lead to vastly improved outcomes. SPAN plays a vital role in assisting West Texas communities and families with early diagnosis, treatment, and support. SPAN provides a number of invaluable resources for families and professionals who work with autistic children, including educational seminars, group support meetings, a loaner library of books and videos, and assistance with navigating community resources. On a monthly basis, SPAN sponsors seminars for families, professionals, and the community. These presentations are delivered by TTUHSC faculty, family members, and experts in the community who donate their time and who are committed to helping these families. By educating the community and raising awareness, the lives of children with autism and their families can be improved.
WEE READ
Wee Read is a program that serves families with young children ages 12 months-3 years. This toddler story time is designed to provide engaging, developmental learning opportunities for the children and explicit instruction in language, literacy and behavior development for the caregivers. Wee Read utilizes age-appropriate books, songs, and various activities like crafts and sensory experiences to support early literacy and provide a framework for instruction regarding strategies that facilitate interaction and communication. Wee Read is available to all community members free of charge.