Obstetrics & Gynecology Resident Profiles
PGY-4
Deepika Kaushal, D.O.

Administrative Chief Resident
Medical School: Texas College of Osteopathic Medicine, University of North Texas Health Science Center, Fort Worth, TX
Dr. Kaushal is a native Texan and grew up in Dallas. She enjoys the variety that the field of OB/GYN offers, from clinic to deliveries to the OR! Her hobbies include running, cooking, hiking and traveling.

Justin Williams, M.D.

Administrative Chief Resident
Medical School: Oregon Health Sciences University, Portland, OR
Dr. Williams grew up in Central Oregon with four brothers. Too much time with the boys made him want to focus his energy on women's health. His favorite thing about OBGYN is helping bring a healthy new generation with every birth and giving back to women in the community as a way to thank the many wonderful females in his life. While he misses the mountains and forests of Oregon, he loves the small town feel of Amarillo and getting pies from neighbors as they are apt to do. In his free time, he loves playing board games, cooking, playing with his dogs, and spending as much time with his family as possible.

PGY-3
Dalya Aqel, D.O.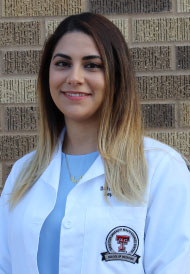 Medical School: William Carey University, Hattiesburg, MS
Dr. Aqel grew up in Houston, Texas. She loves the variety of Obstetrics & Gynecology and the new excitement it brings each day. She enjoys the specialty's unique combination of medicine and surgery and loves the opportunity of advocating for and empowering women through continuity of care during different stages in their life. In her free time, she enjoys reading, working out, trying new food, and spending time with family and friends.

Jonathan Werner, M.D.
Medical School: University of North Dakota, Grand Forks, ND
Dr. Werner's passion for women's health developed during the third year of medical school when he first got to experience the wide variety of care and the relationships developed over a woman's lifetime. He grew up in Bismarck, ND where he fell in love with the outdoors and enjoys hiking, camping, fishing, hunting, boating, and cycling. During his free time in Amarillo, he enjoys spending time with his wife Kalee, daughters Avlyn, and Avra and his dogs Raleigh and Diggs.

Christina Young, M.D.
Medical School: Texas Tech University Health Sciences Center, Amarillo, TX
Dr. Young is an Amarillo native and is excited to be serving her home community. She attended Baylor University for her undergraduate studies before continuing on at TTUHSC to complete her medical degree. Dr. Young enjoys all aspects of OBGYN – from clinic to the OR. In her free time, she enjoys playing board games, baking, reading, and traveling.
Shaun Wesley, M.D.
Medical School: Texas Tech University Health Sciences Center, Amarillo, TX
Dr. Wesley was born and raised in the Texas Panhandle. He loves being back in his hometown with his wife Bailey and their three sons. Dr. Wesley loves OB/GYN for the challenge of both clinical and surgical work, and is especially interested in high-risk obstetrics. Dr. Wesley is a cat person and likes his coffee black.
PGY-2
Brian Hokeness, M.D.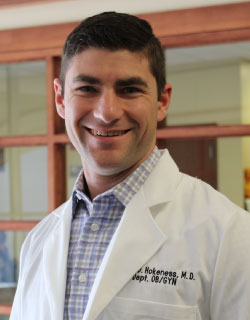 Dr. Hokeness is originally from a small farming town in Minnesota. He graduated medical school from the University of South Dakota. He enjoys backpacking, world traveling, skiing, fishing, hunting and just about anything outdoors.

Taylor Maguire, M.D.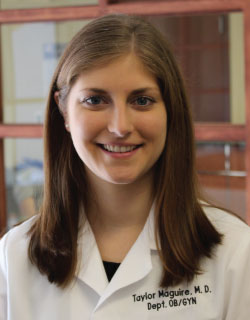 Dr. Maguire was born, raised, and educated in Nebraska. She is passionate about women's health and advocacy, and loves the wide variety OB/GYN has to offer. Dr. Maguire hates spiders and loves dinosaurs, wine/beer tasting, card games, and outdoor activities with her dog Josie.

Leland Stoddard III, M.D.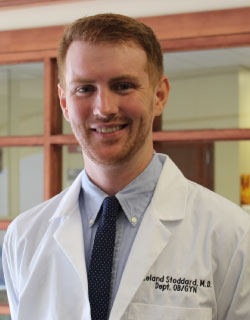 Dr. Stoddard is from a small island town on the coast of South Carolina. He is interested in all aspects of Ob/Gyn and enjoys the wide variety of cases and patients that the profession allows. In his spare time, he enjoys cooking, hiking, and watching football.
PGY-1
Alexis Borden, D.O.
Medical School: West Virginia School of Osteopathic Medicine, Lewisburg, WV
Dr. Borden grew up in Southern California with 4 siblings. I really love the variety that field of OBGYN offers and the mix of medicine and surgery. One of the most attractive aspects of the specialty is getting to be a sounding board and advocate for women throughout all stages of their life. It is a privilege to care for these women from adolescence to adulthood.
My favorite part about the program is my co-residents and faculty. I played collegiate softball at Upenn and the thing I missed most about it was being on a team and the camaraderie and bonding that came with it. My new "team" has welcomed me with open arms and is full of intelligent, kind hearted, supportive, and encouraging people and I couldnt ask for a better group of people to be surrounded by for the next 4 years. In my spare time I enjoy being outdoors, taking spin classes, hiking, watching sports, and baking.

Kristin LeBrasseur, D.O.
Medical School: William Carey University College of Osteopathic Medicine, Hattiesburg, MS
After earning her medical degree in Mississippi, North Texas native Dr. LeBrasseur is glad to be back in her home state for residency. Dr. LeBrasseur chose OB/GYN for the wide variety the field offers: for the ability to start the morning in clinic, deliver a baby over lunch hour, and end the day in the OR. Black Labrador Bentley demands most of Dr. LeBrasseur's free time, but she also enjoys spin class, sparkling water, and all things caffeine.
Bless Onaiwu, M.D.
Medical School: University of Texas Medical Branch School of Medicine, Galveston, TX