Welcome to The Campaign
Beginning in 2016, TTUHSC Abilene employees contributed over $2,400 towards their Our HSC employee campaign. This funding will be used to make a difference on the Abilene campus. The Abilene employee committee now offers the opportunity to donate directly to a TECH ZEBO fund. Donations will be used to build an outdoor relaxation area for all faculty and staff. Consider supporting this venture or the Project Fund on the Abilene campus.
---
The Our HSC employee campaign is a fundraising initiative that gives employees the chance to make a contribution to Texas Tech University Health Sciences Center. The employee campaign is an exciting way to make a difference in our own facilities, providing for needs not covered by other sources of funding. Employee-funded and employee-administered, it allows you to directly impact your workplace in a very positive way.
Your gift to the Our HSC employee campaign shows your pride in your campus and the great work that is done here. Our employees give so much of their time and talents every day to the university to make a difference in the lives of students, patients and our friends and neighbors across West Texas and around the world. By choosing to donate to the employee campaign, you're saying that you believe so strongly in the work that we do here that you are willing to support it above and beyond your daily professional commitment by making a charitable gift as well.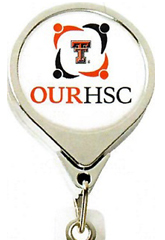 Consider Giving
You may submit a pledge form or make a gift at anytime throughout the year. All employee campaign supporters will receive a donor identifiable badge holder. Donations equivalent to one hour of monthly salary will receive an Our HSC Employee Campaign vehicle sunshade. Give now.

Abilene Committee
Racheal Chapman
Second Degree BSN | School of Nursing
Luis Cano
Support Technician | IT Support Technician
Randi King
Assistant Director | Experiential Programs
Patrick Lloyd
Associate Director | Department of Public Health
Chephra McKee
Assistant Professor | Pharmacy Practice; Pediatrics
Steve Perez
Regional Manager | Safety Services for Abilene/Dallas
Michael Gutierrez
Campus Business Operations Officer and Staff Senator | Finance & Administration
Ruth Austin
Unit Manager | Finance & Administration
Contact Us