Welcome to The Campaign
The Our HSC employee campaign rolled out to the Odessa and Midland employees in August 2016. The first campaign contributions and pledges totaled $14,266 which will be used for enhancements on the campus. The committee elected to fund outdoor seating for the use of our employees as their initial project. On June 25, 2017, the committee presented its first project award to Gladys Olivas, Kristi Ramirez, Elihu Arzate and Naomi Carrasco for their proposal to provide upgrades to the Odessa Community Garden.
---
The Our HSC employee campaign is a fundraising initiative that gives employees the chance to make a contribution to Texas Tech University Health Sciences Center. The employee campaign is an exciting way to make a difference in our own facilities, providing for needs not covered by other sources of funding. Employee-funded and employee-administered, it allows you to directly impact your workplace in a very positive way.
Your gift to the Our HSC employee campaign shows your pride in your campus and the great work that is done here. Our employees give so much of their time and talents every day to the university to make a difference in the lives of students, patients and our friends and neighbors across West Texas and around the world. By choosing to donate to the employee campaign, you're saying that you believe so strongly in the work that we do here that you are willing to support it above and beyond your daily professional commitment by making a charitable gift as well.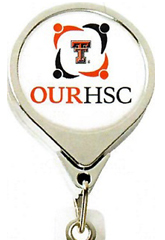 Consider Giving
You may submit a pledge form or make a gift at anytime throughout the year. All employee campaign supporters will receive a donor identifiable badge holder. Donations equivalent to one hour of monthly salary will receive an Our HSC Employee Campaign vehicle sunshade. Give now.

Permian Basin Committee
Timothy Benton
Regional Chairman, Program Director, Associate Professor | School of Medicine
Tonya Cox
Business Coordinator | Permian Basin Campuses
Veronica Contreras
Section Manager | Department of OB/GYN
Alma Gomez
Section Supervisor | School of Medicine Administration
Stephanie Hall
Senior Analyst | MPIP
Gladys Olivas
Unit Manager | School of Medicine Administration
Cindy Shumard
Coordinator | School of Nursing
Irene Morales
Human Resources Generalist | Human Resources
Contact Us