Forging the Future
Texas Tech University Health Sciences Center (TTUHSC) has firmly established itself as a national leader among health sciences institutions of higher education. This plan serves as our guide toward building on our recognized teaching strength and position as a leader in health-related higher education.
TTUHSC 2020 Strategic Plan
Building upon the 2013-2018 strategic plan, our 2020 strategic plan, with its five priorities, formalizes the trajectory of TTUHSC by focusing on academics, research, service and outreach, people, and administrative operations. DOWNLOAD PLAN
Academics
Provide innovative educational programs that prepare students to be competent and caring healthcare professionals and researchers.
Promote innovative approaches in teaching and learning
Provide meaningful interprofessional education experiences
Enhance personal and professional development of students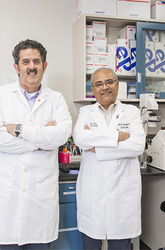 Research
Advance our research portfolio with emphasis on areas of strength and collaboration.
Develop infrastructure plan that maximizes resources and increases collaboration of research and scholarly activity in areas of strength
Explore novel funding opportunities and other activities to increase research and enhance TTUHSC's visibility and reputation
Service and Outreach
Improve overall health and access to healthcare for communities in our region through the provision of patient care services and community outreach.
Leverage our unique position as a comprehensive academic healthcare center to provide a collaborative and positive patient experience
Make positive impacts through service, outreach, and engagement driven by community needs and TTUHSC expertise
Integrate telemedicine/telehealth into our service offerings to enhance our reputation as a leader in telemedicine/telehealth
People
Create a sustainable, values-based culture.
Identify and integrate values which forge our identity
Invest in people growth and development to become the employer of choice in each of TTUHSC's markets
Operations
Ensure the operations and infrastructure effectively and efficiently support the mission of the institution.
Improve operational infrastructure to better meet the unique academic, service, research, and business needs of our campuses and sites
Work collaboratively with key stakeholders to accomplish the mission of the institution