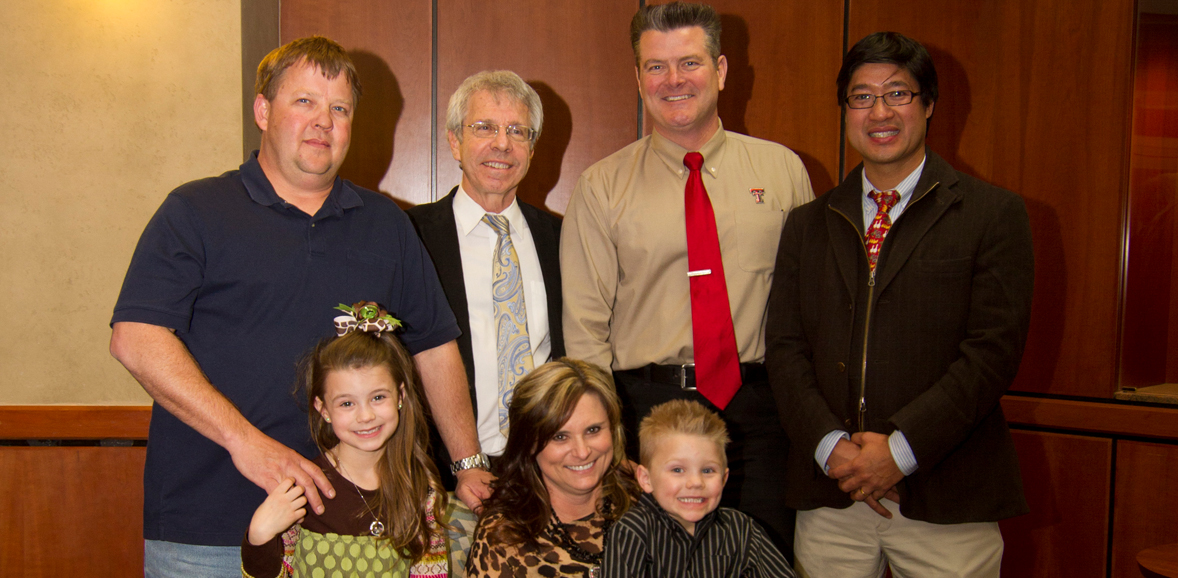 Ritchie Family Supports Pediatric Brain Injury Research
Race and Shawna Ritchie are beyond thankful they still have two perfectly healthy children. However, just more than a year ago, the fate of their then 3-year-old son, Rynden remained uncertain. Jan. 31, 2013, was a typical weekday at the Ritchie's home as Shawna juggled take-out dinner and children's schedules. That's when she noticed Rynden missing from the kitchen where she had left him about 10 minutes earlier.
After a frantic search, Shawna found him floating face down in their backyard pool. The Ritchies had moved into their new home in Odessa about nine months before and added the pool that summer. The family has a lake house at Possum Kingdom and both Rynden and his older sister, 6-year-old Kenna, had been in swim lessons since they were infants. In fact, the children had taken lessons that summer at the local aquatic center where they were taught self-rescue techniques if they fell in the pool fully clothed.
"We all have a healthy respect for the water," Shawna said. "That was what was so weird about the whole deal. That and the fact that Rynden had never gone outside without me."
Despite the above normal temperatures that January day, the pool water was frigid. When Shawna pulled Rynden from the water, she said his color was good and he was breathing; then he stopped and started to turn blue. Trained in CPR, Shawna started rescue breathing and called 911.
"I don't even recall thinking," she said. "You just go into rescue mode. When the EMS got there and took him from me was when I totally lost it."
Shawna called her husband, Race, an off-road race enthusiast who was in Arizona competing in a desert race. "All I could understand was Rynden and pool," Race said. "I just had a feeling it wasn't good."
When EMS got Rynden to Medical Center Hospital, his body temperature was at 88 degrees, but he was responsive, Shawna said. "I guess deep down I didn't want to believe it was really that bad, but I knew he wasn't out of danger when they told us they were sending him to Lubbock."
Race, on the other hand, had prepared for the worst. "I had gotten a hold of several of my paramedic friends who said, 'Race, he's critical. Get ready.' I was thinking about organ donation and what we were going to do without him," he said.
Thivakorn "Tiva" Kasemsri, MD, FACP, was on call when Rynden came in to UMC Children's Hospital.
"There was no doubt he was critical," said Kasemsri, associate professor and division chief in the TTUHSC School of Medicine Department of Pediatrics and associate medical officer for Pediatrics at UMC Health System. "There was also uncertainty about how long Rynden was actually under water. In the case of drowning, the outcome is very dependent on that and what happens at the scene. When I heard mom had done CPR and he was conscious at one time, we had more promise for a positive outcome."
During the next 48 hours, Kasemsri led the medical team in slowly warming Rynden's body temperature from 93 degrees to 98 while he was in a medically induced coma. Kasemsri not only developed a special bond with his patient, he also discovered a common hobby he had with his dad.
"After Tiva learned I compete in off-road racing, he never left our room except to do his rounds," Race said. "We really bonded over that."
Because of the care given their son, the Ritchies could even laugh at his first words when awoken from the induced coma: "I need to go potty."
And Rynden has been his typical self ever since, Shawna said. "If anything, he probably gets away with things that he didn't before. We are just so thankful he's with us and he's healthy."
However, the relationship between the Ritchies and Kasemsri did change. For the past two years, the couple has made a financial contribution to an endowment Kasemsri is establishing for pediatric brain injury research. His particular research focus has been in shaken baby syndrome, but he sees a need for research in other areas of traumatic brain injury, such as in drowning.
"It's really hard to describe how grateful and fortunate I feel that they would be convinced to support this research initiative," Kasemsri said.
For the Ritchies, getting their son back was a turning point. "Someone needed to do something for what they did," Race said. "A year ago, that someone would not have been me. That would have been someone else's problem. I would spend a thousand dollars on a race and not even miss it because I put my money on things that make me money.
"Four years ago I lost my dad to cancer, and I like to think Rynden's making it is his way of coming back and telling me there's something more. Put your money in something bigger. And so I did."