Jorge Fernandez Scholarship Fund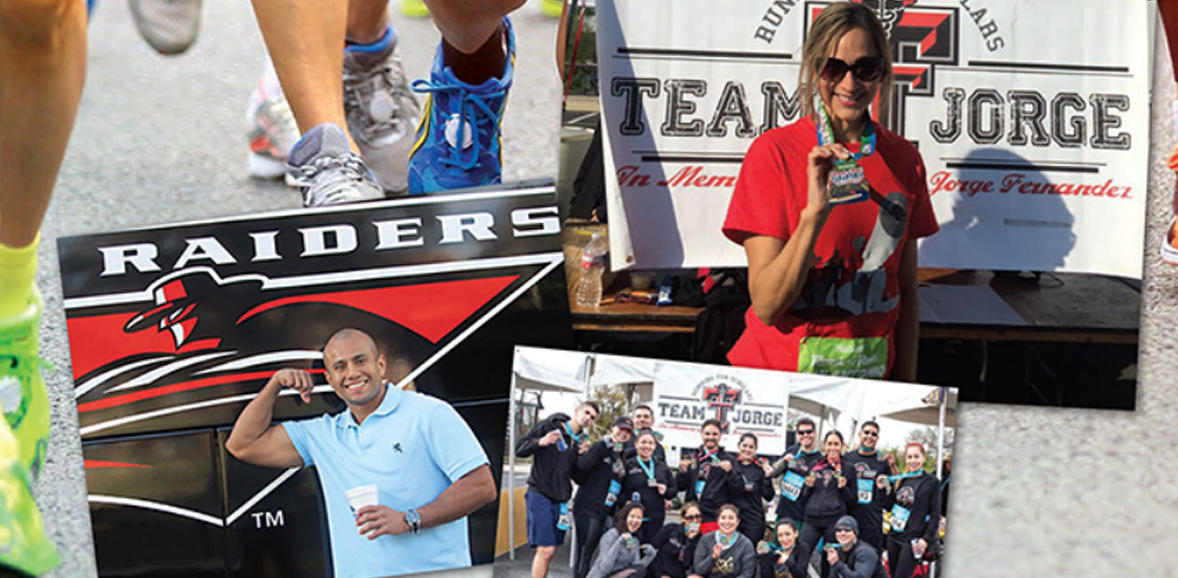 Running for the love of her life
Written by Danette Baker l Images provided by Cyndi Mendez, PT
Every time Cyndi Mendez, PT, laces up her running shoes, she has one goal in mind: to finish the race. Not to just physically cross the finish line, but also to, and perhaps more importantly, keep alive the memory of her late fiancé, Jorge Fernandez, and honor two things he valued most in life: higher education and living a healthy lifestyle.
In 2011, Fernandez (SON '10) was competing for the second time with Mendez in the San Antonio Rock 'n' Roll Marathon Series. He collapsed shortly after crossing the finish line for the half-marathon and later died of complications related to heat stroke, according to local news reports.
The following year, Mendez stepped back onto the racecourse, leading several hundred of Fernandez's family and friends as they walked in his honor. In 2013, however, she was once again a competitor, this time running for a cause. Throughout the year, Mendez had worked to establish Team Jorge, a 501c(3) nonprofit organization to raise money for the Jorge Fernandez Scholarship Fund. The scholarship fund provides support to San Antonio residents who attend TTUHSC School of Nursing. To date, her efforts have raised about $50,000 and established the endowed scholarship. Five scholarships have been awarded to date.
Alumnus was passionate about his profession
As a nursing student, Fernandez was passionate about his career field and understood the need for financial aid, said Mendez, an outpatient orthopedic physical therapist at Pyramid Plaza in San Antonio. "It's still so evident in the letters we receive from students thanking for us the support that students today feel the same. For many, it (scholarship) means they don't have to work a second job or take a double shift, which allows them to focus more on school and spend a little more time with their families.
"I think this is something he would have been proud of and eventually done himself," Mendez said.
Mendez met Fernandez through mutual friends. "He was persistent and wouldn't take no for an answer," she said. "That's how he won me over. I fell in love with his true nature. He was the most loving, generous person I have ever known. It's hard not to fall in love with that."
Each August, Mendez begins training for the San Antonio marathon and invites others to join in competing for Team Jorge and offers tips on staying healthy to finish the race. To run with the team, members must raise, or pay, $500; participants can run any of the races offered during the marathon, but most choose the 5K or 10K, Mendez said. The fee covers all events leading up to race day, including T-shirts, race entry and a gala dinner. All the expenses associated with events are donated so 100 percent of the proceeds can benefit the scholarship, she said.
Participation in San Antonio Rock Race Helps Fund Scholarship
"The San Antonio marathon event is huge," Mendez said. "I wanted this to be a part of it because his death was such a public tragedy. I wanted people associated with the race and the public, in general, to not remember how he died but how he lived."
Fernandez was 32 when he died. He had moved home to San Antonio and was working the night shift in the surgical intensive care unit at University Hospital. Before he earned his degree, he was an Air Force veteran and served two tours in Iraq.
Mendez said Fernandez loved to exercise and loved a challenge. "The half marathon is not easy. He liked the athleticism it took. That was an extension of how he lived; he set goals and did what it took to achieve them —including going to college."
Fernandez was the first in his family to attend college, she said. He always dreamed of going to TTUHSC because of the nursing school's reputation. He had moved back to San Antonio in 2011 to live closer to his family.
The first year's response to Team Jorge and its mission was enormous, Mendez said. The media's coverage of the event and the fact that so many runners return for the race annually made supporting their efforts a natural way to pay respects to one of their own, she said. But the further out from the tragedy, the fewer people remember.
A core group of about seven people run annually, but the majority of runners who join them never had the opportunity to meet Fernandez, Mendez said. "They feel they know him because of his legacy; for the most part, he was a local kid who made it and came back to serve his community."