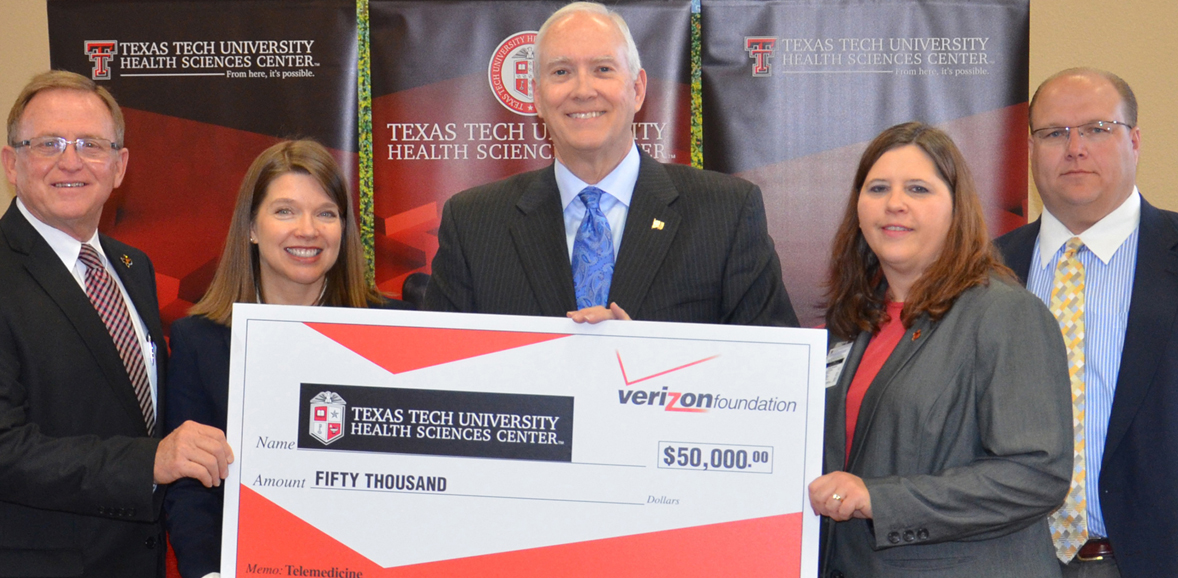 Verizon Gift Supports Children's Diabetes Management Program in Rural West Texas
In an effort to help children in rural West Texas better manage their diabetes, the F. Marie Hall Institute for Rural and Community Health has established the Verizon Foundation Children's Diabetes Monitoring Program. The institute received a gift from Verizon on Jan. 25 to help fund the program.
"We are pleased to partner with Verizon on this project that is helping bring technology and health care to rural areas," said Billy Philips, Ph.D., executive vice president and director of the institute. "It is wonderful to partner with a company that has such foresight in the delivery of health care. Thank you for your vision and contributions to our enterprise."
Diabetes Diagnoses Among Children
In the pediatric population, Type 1 diabetes is increasing at a rate of 3 percent to 5 percent each year. Type 2 diabetes now accounts for nearly half of pediatric diabetes diagnosed in some areas of the state. Philips said the program is designed to help children with diabetes communicate more frequently with their physicians using familiar technology. "In turn, we believe this will help them maintain their blood sugar levels and have better health outcomes," he said.
Innovative Methods to Manage the Disease
The Verizon gift will specifically provide for an initial comparative study that will in turn help the institute leverage additional funding for the program. Initially, the project will follow two groups of Type 1 diabetic patients. One group will receive a Bluetooth device to connect to their glucometer, a device that measures blood sugar levels, and a video enabled tablet computer to report their blood sugar levels daily. In addition, they will log their food intake and insulin dosage. This data will be uploaded and monitored by a nurse who will trend the results to determine changes in conditions and schedule video conferences with the patient and physician as needed to discuss treatment plans and make necessary modifications.
The second group will be asked to log their food intake and insulin dosage. They will receive the routine follow-ups or standard care treatment. Except for emergent issues, they will see their physician two times per year.
Information gathered from both control groups will be compared to determine if closely monitoring blood sugar levels and better access to health education and physician services through telemedicine technology will make a difference in disease outcomes in pediatric diabetes patients.
Technological Applications to Health Care
The Verizon Foundation is focused on using technology to address community needs worldwide in the areas of education, health care and sustainability. But this is the first time the foundation has supported a project of this nature, said David Russell, vice president of external affairs for Verizon's Central Region.
"We know what technology has done for education, and we believe it has significant revolutionary potential for health as well," said Russell. "Particularly in West Texas, geography is the greatest nemesis so we believe wireless technology will help resolve a lot of those issues.
Telemedicine at TTUHSC
Debbie Voyles, director of telemedicine at TTUHSC, said adding the telemedicine technology for the patients allows evaluation that is likely to lead to improvements in monitoring this disease and forestalling problems that arise when it is controlled. This will allow real prevention to become a part of health care rendered to these patients.
"Telemedicine has been used for helping other patients such as burn patients with their care," Voyles said. "This is another way we can use this technology to help improve health care for pediatric diabetic patients. Monitoring glucose control will decrease the chance of adverse events, emergency room visits, and lower the possibility of organ damage. Patient and physician video conferencing also will greatly reduce travel expenses and decrease school absences."