Endocrinology Fellowship Program
Program Overview
The endocrinology fellowship is a fully accredited two-year program. Fellows are expected to learn about the outpatient evaluation and management of various endocrine disorders as well as delivering medical care to patients in the outpatient setting. Fellows are assigned to one continuity clinic and rotating private faculty clinic sessions. Fellows participate in the performance of ultrasound guided fine needle aspiration of the thyroid nodules, insulin pump program, DXA reading, endocrine stimulation or suppression test, and radioactive Iodine ablation under the direct supervision of the clinical faculty. An attending physician supervises the fellow in all clinical encounters and is responsible for providing patient centered clinical teaching.
Fellowship Application Deadline
Deadline to apply for Academic Year 2023 - 2024 is September 30, 2022. Interviews will be scheduled August 2022 through October 2022. Applications are only accepted through ERAS.

ACGME Full Accreditation
The Permian Basin Campus has the only ACGME accredited adult Endocrinology Fellowship Program in West Texas.
Rotation Information
Fellows rotate in the inpatient clinical setting of two main hospitals including Medical Center Hospital (MCH) and Midland Memorial Hospital (MMH). In addition to inpatient service assignments, fellows are assigned to two month ambulatory blocks in the Texas Tech Physicians Endocrinology and Diabetes Center in Odessa. Fellows are expected to provide call coverage for the outpatient endocrine service.
Curriculum
Hormones and Hormone Actions
Hypothalamus and Pituitary
Thyroid
Adrenal Cortex and Endocine
Hypertension
Reproduction
Endocrinology and the Life Expectation
Mineral Metabolism
Disorders of Carbohydrate and Metabolism
Body Fat and Lipid metabolism
Polyendocrine Disorders
Paraendocrine and Neoplastic Syndromes
Neuroendocrinology
Thyroid
Adrenal
Reproduction
Calcium and Bone
Metabolism
Carcinoid and Pancreatic
Paraendocrine Tumors
Endocrine Emergencies
Pituitary
Thyroid
Adrenal
Reproduction
Calcium and Bone
Diabetes / Hypoglycemia
Lipids / Obesity / Nutrition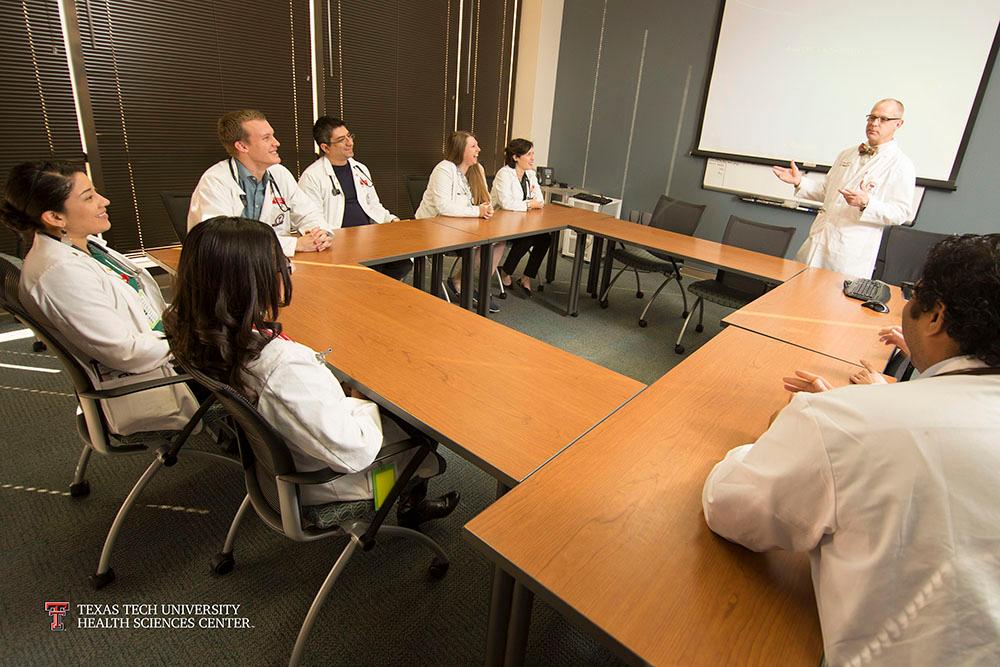 Academic Conference Series
Fellows are required to present at least once per month in our endocrine clinical conference series. Fellows are encouraged to make a power point oral presentation on cases they encounter in their clinical practice. These presentations require the fellow to review the case history, to determine the learning objective for the presentation and to analyze and summarize the current literature on the topic. In addition, fellows are required to critically review a recent journal article and present their assessment in our monthly Journal Club as well as review and present interesting and/or complex management cases for our pituitary and endocrine tumor boards. These conferences provide an excellent opportunity for fellows to update their knowledge base, improve their analytical skills and to educate their peers.
Teaching Methods
Endocrine fellows participate fully in the outpatient clinical activities while working under the direct supervision of an assigned faculty. Fellows are given the opportunity to make the initial interview, examination and assessment of both new and follow‐up endocrine patients in the ambulatory office setting. They also participate in outpatient procedures and testing. Fellows are expected to review pathology specimens, radiographic studies, and clinical laboratory results generated as a result of their clinical encounter. Fellows discuss their findings and review their diagnostic and treatment plans with the supervising faculty.
Program Objectives
The program has competency based goals and objectives for the outpatient rotation. Fellows are expected to progressively master these competencies during the two year fellowship program. At the end of the two year endocrine fellowship program, fellows are expected to cultivate a broad differential diagnosis for each patient encounter, determine an appropriate diagnostic plan based on clinical findings and develop/implement a patient centered treatment plan that is evidence based. During these outpatient encounters, fellows are expected to assume primary clinical responsibility for their patients and coordinate appropriate medical care in the outpatient setting. As the fellows progress in clinical training, they are expected to assume a greater responsibility for patient care and clinical decisions. The independence fostered by the fellowship program occurs under the supervision of an attending physician and fellows are expected to notify and discuss all clinical encounters with the supervising attending.
Got Questions?
We're here to help. Contact us if you have questions.
Tasha Earl
Interim Fellowship Program Coordinator
432.703.5950