Texas Tech University Health Science Center's School of Pharmacy has an abundance of exciting, cutting-edge programs that allow students many different paths for those who are seeking a career within the field of pharmacy. The accomplished professionals who lead these programs guide our students through the outstanding educational lessons required to spearhead this ever-changing community.
Our courses prepare students with experiences that lead to adaptability in their careers, allowing them to stay current with the latest advances in the field. With opportunities for future endeavors in the pharmaceutical industry, drug innovations and development, and clinical patient care, the courses and clinical experiences gained through these programs are invaluable for anyone wishing to become a pharmacist or work within this growing community. Explore our programs to see what going to school to be a pharmacist could do for your future.
What is Pharmacy School?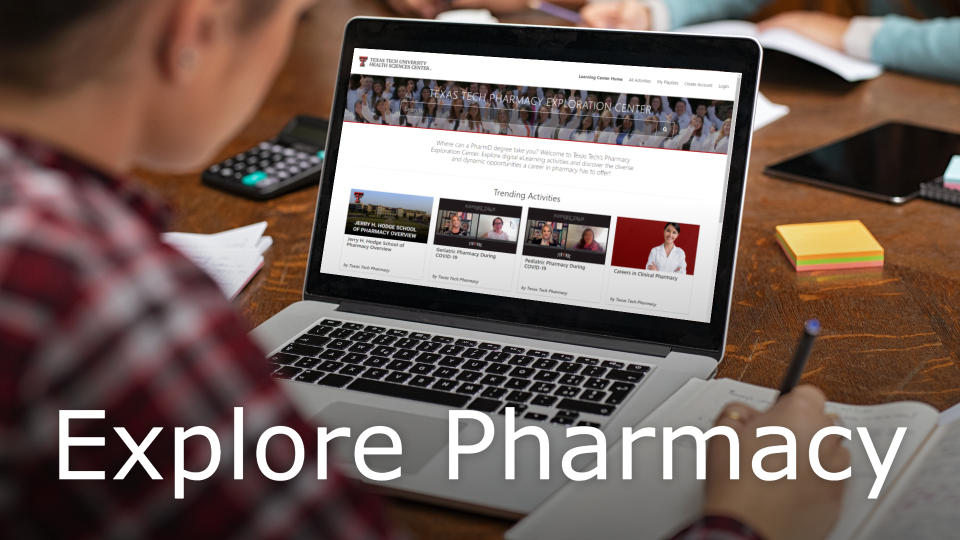 Where can a PharmD degree take you? Welcome to Texas Tech's Pharmacy Exploration Center. Explore digital eLearning activities and discover the diverse and dynamic opportunities a career in pharmacy has to offer! Learn More
Pharmacy is a Diverse and Rewarding Career
Choosing pharmacy as a career path opens the door to a myriad of opportunities such as retail and independent pharmacy, pharmaceutical science and research, hospital and clinical pharmacy, business and others. With education in general there is a time and financial investment, however the return is a health care career with excellent salaries, benefits, flexible hours and tremendous opportunities for professional growth and advancement.
Unrivaled Clinical Training
Clinical training is a key component to modern pharmacy education. At TTUHSC School of Pharmacy clinical training is the corner stone of our program. The training time our students spend in the clinical setting caring for actual patients differentiates our program from all others. From the moment our students arrive on campus they are afforded a plethora of hands-on learning and training opportunities.
School of Pharmacy Programs
Go to School to be a Pharmacist
Start Your Journey
At the TTUHSC School of Pharmacy, our vision is to become internationally recognized for expanding the pharmacist's role as a leader in health care by developing models of excellence in patient-centered care and collaborative drug therapy management through an innovative educational curriculum, all while advancing health care and science through cutting-edge research. Come be a part of our vision.