Expanding & Improving Access
West Texas is the source of food, fuel and fiber to individuals all across the country. Despite its national significance, the area is predominantly underserved in terms of critical health care. Of the 108 counties in the TTUHSC service region, 20 have no practicing physician and 11 have no physician, nurse practitioner or physician assistant. Outside urban centers there are very few specialty providers, resulting in many patients traveling long distances to seek medical care.
With programs like CATR, West Texas Area Health Education Centers (AHEC), and the TexLa Telehealth Resource Center, TTUHSC is transforming health care and reaching those who need it most.
---
CAMPUS ALLIANCE FOR TELEHEALTH RESOURCES
The Campus Alliance for Telehealth Resources (CATR) program seeks to improve the mental health of communities across West Texas through partnership with independent school districts (ISDs).
Telehealth is an excellent way for youth to receive personalized, expert mental health care, and allows convenient access to low-cost, time-sensitive expert services. CATR strives to establish coordination between student, family, school, and community health providers to better meet the needs of the student while maintaining a family-centered approach.
Services for Students
Provides mental health screening to students in grades 4 - 12
Provides mental health resources to the West Texas region

Convenient telehealth appointments

Follow-up care available
Services for Professionals
Case-based learning
Provides best practice models
No cost to independent school districts
Eligible for CEU credits

Texas Child Access Through Telemedicine [TCHATT]
Developed by the Texas Child Mental Health Care Consortium during the 86th Texas Legislature, the TCHATT program creates and builds off existing telemedicine programs to assist public school districts with identifying mental health care needs and services across the state of Texas. By supporting the valuable work of the CATR program, TCHATT allows expansion across a larger region of West Texas.
TELEHEALTH RESOURCE CENTER
TexLa Telehealth Resource Center promotes the adoption, expansion, and successful practice of telehealth in Texas and Louisiana by providing technical assistance, resources, outreach, and education for those seeking to access or improve telemedicine.
Established in 2012 under a Health Resources and Services Administration (HRSA) grant, the TRC provides technical assistance to advance telehealth across Texas and Louisiana. The program's outreach and education efforts include the revolutionary project Extensions for Community Healthcare Outcomes (ECHO) and hosting the annual Crossroads Conference and webinar for best practices in telemedicine.

14 Resource Centers Nationally
12 Regional, 2 National Centers, all with different strengths and expertise.
1,549 Individuals Reached Annually
TexLa TRC reached 1,549 individuals in FY 2020-21 by outreach and education.
125 Clients/Providers Served
TexLa TRC provided technical assistance, resources, outreach, and education.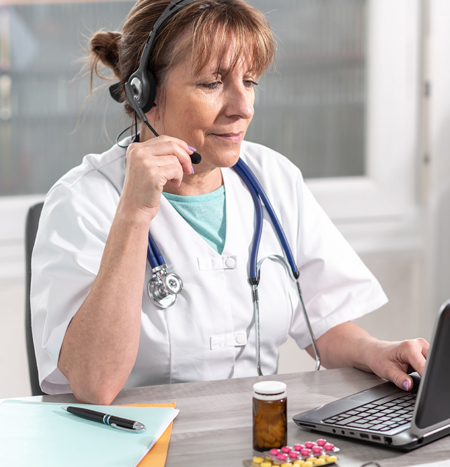 AREA HEALTH EDUCATION CENTERS
West Texas Area Health Education Centers (AHEC) encourages and engages with students who seek to join the health care workforce. With six regional offices, AHEC expands community-based opportunities to increase health professions training capacity and support placement and retention of health professionals in high-need areas.
Six regional offices—Amarillo, Plainview, Midland, Abilene, El Paso, and Wichita Falls

AHEC Jr Scholars programs have recruited 53 schools for a total of 3,233 active participants since September 2018


Stay Connected, Stay Informed
Learn more about the strategic initiatives from Texas Tech University Health Sciences Center.