Laura Lappe
806-743-6499
Laura Lappe is a longtime TTUHSC employee currently serving as the Program Manager for Clinical Telemedicine & Project ECHO in the F. Marie Hall Institute for Rural and Community Health. Beginning in 2009 she served in the Institute's Telemedicine Program and developed a passion for it. She also worked for a few years as the department's Contracts Manager, assisting with contracts and grants.
Prior to working in the Institute, she worked for 14 years coordinating contracts in both the TTUHSC Contracting Office and with TTUHSC Correctional Managed Health Care.
Before coming to working for TTUHSC, she was a U.S. Army non-commissioned officer working in the Judge Advocate General Core. Upon discharge, Laura obtained an associate's degree in Legal Assistant studies from South Plains College and Bachelor's of Science in Organizational Management from Lubbock Christian University.
A native of Louisiana, Laura enjoys life in Lubbock with her husband and two children who all enjoy martial arts, camping, and Texas Tech Athletics.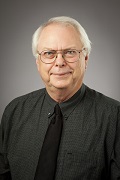 Jimmy Ashley
806-743-9815
Jimmy is a West Texas native with over 40 years of experience in maintenance and repair of professional, consumer, educational, and medical audio/visual electronics. He graduated from DeVry Institute of Technology - Dallas, as an Electronic Technician. He has been with the F. Marie Hall Institute for Rural and Community Health for a year and half serving as the Technology Manager for all telemedicine video conferencing equipment and installations.
Request Information