Alumni Awards
In 1999, the Office of Alumni Relations began recognizing our alumni to honor their accomplishments and contributions and to serve as an inspiration to their colleagues and future alumni. Awards are presented to those alumni who have achieved a high level of success in their chosen fields or whose efforts have made a positive impact on community or humanity, bringing distinction to themselves and to Texas Tech University Health Sciences Center. We encourage alumni, faculty, staff and friends to nominate deserving alumni for these awards.
---


2022-2023 Presidential Distinguished Alumni Award
Texas Tech University Health Sciences Center (TTUHSC) introduced the Presidential Distinguished Alumni Award In 2015. This is the highest honor bestowed by the university, recognizing and honoring alumni who have made significant contributions to the health care profession. Eligibility for this award is based on individuals that have earned a degree or completed a residency at TTUHSC, as well as demonstrated service to the community, profession and this institution. The awardee will be a person that faculty, staff, students and alumni take pride in and are inspired by their accomplishments and endeavors.
JESSICA GRAY, M.D.
Presidential Distinguished Alumni
Jessica Gray, M.D., moved to Lubbock as a first-generation college student to attend Texas Tech University (TTU), where she quickly fell in love with the community and made it her permanent home. She graduated in three years with a Bachelor of Science in Biology in honors studies. Gray attended medical school at the Texas Tech University Health Sciences Center (TTUHSC) School of Medicine in Lubbock. She was part of the highly competitive Family Medicine Accelerated Track Program, requiring her to complete a full four-year curriculum of medical school in only three years. This allowed her to graduate from medical school early and begin her career as a family medicine physician with the TTUHSC Department of Family and Community Medicine Residency Program, where she eventually served as chief resident.
Gray joined University Medical Center Physicians as an attending physician and clinic medical director after completing her residency. She also serves as clinical faculty for the TTUHSC School of Medicine, where she teaches medical students who spend weeks at a time learning in her clinic. Her students' recognition awarded her the TTUHSC School of Medicine Covenant Branch Family Medicine Top Preceptor Award on Match Day 2023. Gray was appointed by the TTUHSC School of Medicine Dean to the TTUHSC Student Promotions and Professional Conduct Committee, where she serves as an advocate for students.
Gray continuously strives to find ways to give back to her community, whether through her work as a physician or through leadership and volunteer opportunities. She is a member of multiple nonprofit boards and has a passion for helping women and children. She currently serves as the president for a non-profit clinic, the Lubbock Children's Health Clinic, serving east and north Lubbock. She is on the board for the West Texas March of Dimes, where she serves as the mission impact chair. She is a member of the community advisory board for The Laura W. Bush Institute for Women's Health. Gray is a Red Raider through and through and is excited to embark on a new opportunity as the team physician for the TTU Lady Raiders basketball team.
Gray met her husband, Drew Gray, while they were both attending college at TTU, and she gives him credit for helping her succeed and pushing her to always reach for the next challenge. She and Drew have a son who is currently two years old. Gray has been asked many times what her greatest accomplishment in life has been thus far. She maintains, resoundingly, that she is most proud of being a wife and mother.
Graduate School of Biomedical Sciences
KACI BOHN, Ph.D.
Graduate School of Biomedical Sciences, Distinguished Alumni Award
Kaci Bohn, Ph.D., started her career as an educator in K-12 public schools prior to receiving her Ph.D. in Pharmaceutical Sciences from the Texas Tech University Health Sciences Center (TTUHSC) Graduate School of Biomedical Sciences (GSBS). This created a passion for high-quality education which she has continued to pursue throughout her career in academia. While in the GSBS, Bohn served as the graduate student association president, TTUHSC Student Senate President of the Amarillo campus and was awarded the Graduate Student of the Year award by her peers.
During her time in graduate school, her research focused on improving drug delivery to brain metastases of breast cancer. She utilized immunohistochemistry, animal models, cell culture, radio-labeled drug uptake studies, and fluorescent microscopy to evaluate vascular changes in the presence of MDA-MB231-Br cancer cells. Her graduate work is published in several online cancer and/or medical journals. Her academic training included pharmacokinetics, pharmacodynamics, biochemistry, pharmacology and principles of drug structure and action.
Immediately after graduation, Bohn accepted an Assistant Professor position at Harding University College of Pharmacy in Searcy, Ark. While there, Bohn served as the curriculum committee chair for several years using her academic training in curriculum design and implementation to help improve didactic opportunities for the students. In 2018, Bohn was nominated for the Teaching Achievement Award for the college of pharmacy and was also promoted to associate professor of pharmaceutical sciences.
While at Harding University College of Pharmacy, Bohn implemented the Medication Cleanout program in conjunction with TTUHSC Jerry H. Hodge School of Pharmacy, to help remove unwanted/unused medications from the community. This program, in conjunction with the Arkansas DEA and local law enforcement, saw hundreds of pounds of medications, including controlled substances, disposed of in a proper manner to protect the public and the local water supply. Due to her passion for prescription medication safety, Bohn wrote a children's book which uses an interactive approach to create real-life scenarios that lay the foundation for educating young children about prescription safety. With prescription drug abuse at an all-time high, she saw a need to teach children the ins and outs of safe prescription drug practices early on in their lives. This book is currently in the process of being developed into an entire program with resources for implementation in schools across the State of Texas.
In 2015, Bohn was appointed by the governor of Arkansas to the Arkansas State Board of Nursing. During her four years on the board, she served as the academic committee chair for two years, on the finance committee for two years and as board secretary for three years. While serving on the Arkansas Board of Nursing, she was elected to the leadership succession committee at the National Council of State Boards of Nursing (NCSBN). In this position, she worked diligently to improve leadership opportunities and trainings for board staff and members across the country, whose focus is to protect the public and improve nursing regulation. During her time at NCSBN, Bohn was also asked to consult on the development of the organization's position statement on Medical Marijuana and its impact on the field of nursing. While serving on the Arkansas Board of Nursing, Bohn was also active at the state level with the Arkansas Prescription Drug Abuse Prevention Summit, which focuses on prescription drug abuse prevention in the fields of criminal justice, health care, family counseling/recovery and education/prevention. Because of these experiences, Bohn was able to use her background in pharmacology to present continuing education opportunities for nurses across the country.
After eight years in Arkansas, Bohn returned to her hometown of Amarillo when she accepted an associate professor position at TTUHSC Jerry H. Hodge School of Pharmacy. At TTUHSC, she took over the veterinary pharmacy elective and is working to improve collaboration between the pharmacy school and the Texas Tech University School of Veterinary Medicine. She has several research projects focused on improving veterinary pharmacy training for pharmacy students, possible veterinary pharmacy residency opportunities and improvement of care for veterinary species. Bohn has also worked behind the scenes with pharmacy students to establish the inaugural student chapter of the American College of Veterinary Pharmacists. The student interest and response to this organization has been overwhelming and has a great future ahead.
In regards to her teaching excellence, Bohn has been asked to mentor many colleagues while training them in effective question writing, classroom management and increasing classroom engagement. She has presented her techniques to increase classroom engagement at both the American Association of Colleges of Pharmacy (AACP) and the Teaching Professor Conference (TPC). While at the TPC, her presentation was observed by members of the Harvard Business Publishing Education program who then asked her to write an article for their publication. Her article "Phrasing Matters When Posing Questions to Students: Here's How to Hone Your Technique and Better Assess Students' Retention Of Course Material," was published in November 2022 by Harvard Business Publishing.
Bohn has continued to excel in service to the university while filling the position of the TTUHSC Jerry H. Hodge School of Pharmacy Faculty Secretary for three years and is an active member of the curriculum affairs committee. She is currently serving on the team developing a hybrid online program for the school of pharmacy to be implemented in 2024.
Bohn is always one of the first people to volunteer for needs at the school like admission interviews and Interprofessional Education (IPE) Activities. One of the IPE events, in collaboration with the School of Veterinary Medicine, involved her spending time cleaning up a homeless shelter in downtown Amarillo. This event hosted a charitable clinic, which not only served the local homeless population, but also their animals. Even though she is not a pharmacist or a veterinarian, she gave her time and some elbow grease to help prepare for the day. Bohn enjoys interacting with her students and has even allowed them to hit her in the face with whipped cream for "Pie Day."
School of Health Professions
LANDON CHASE OLSON PT, DPT, FAAOMPT
School of Health Professions, Department of Rehabilitation Sciences Award
Landon "Chase" Olson, PT, DPT, FAAOMPT, is a physical therapist and health care administrator. He received a bachelor's degree from the College of Arts and Sciences at Texas Tech University in 2007, and was accepted to the Texas Tech University Health Sciences Center (TTUHSC) School of Health Professions (then the School of Allied Health Sciences) as part of the physical therapy class of 2010. After graduating from TTUHSC with a Doctorate of Physical Therapy, Olson quickly passed his board exam, became a licensed physical therapist and initiated clinical practice. At this time, he started his residency and fellowship training through the Manual Therapy Institute in San Marcos, TX. By 2013, he was able to complete his residency and obtain status as a fellow at the American Academy of Orthopedic Manual Physical Therapists (FAAOMPT).
Throughout his time in clinical practice, Olson has been a clinical instructor for numerous PT students, a mentor for athletic medicine and rehab science students and a fellow for licensed PTs attempting to obtain their own FAAOMPT. In 2017, he became a Titleist Performance Institute Certified Medical Professional for golf specific screening and impairments. Olson obtained his CPC (Certified Professional Medical Coder) in 2020 through the American Academy of Professional Coders.
As with his academic ascent, his rapid progression came to be the norm in his professional career. He was hired by TTUHSC Distinguished Alumni Steve Alaniz at Momentum Physical Therapy and Sports Rehab in San Antonio, TX. Within the first year of practice, Olson became an interim director at Momentum Physical Therapy and was named clinic director of the Helotes Clinic in 2011. The Helotes Clinic grew to become the highest-volume clinic in the Momentum family. With this success, Olson was tasked with the start-up of a new clinic in the highly competitive market of Stone Oak. By 2014, Olson helped Momentum Physical Therapy grow to 11 clinics in San Antonio and three remote clinics in Florida, Arizona and Colorado. This earned Momentum multiple accolades, including Inc5000 for America's highest revenue growth companies over a three-year period. Momentum Physical Therapy was also named the 2014 National Practice of the Year by Advance Rehab Magazine. Other contributions at Momentum Physical Therapy included physician marketing duties, committee chair for the sports rehab team for sport-specific recovery, treatment of athletes in Arena Football League/NFL/MLB, assisting and leading CCU classes for staff physical therapists, coordinating community outreach programs in the greater San Antonio area for running impairments/injuries, general health screenings for injury prevention, workplace ergonomics and fall prevention.
In 2015, Olson was presented with an opportunity by Physicians Rehab Solutions to partner with NorthEast Orthopaedics & Sports Medicine (NEOSM), an orthopedic surgery private practice in San Antonio with multiple locations. He was labeled the clinic director of three outpatient physical therapy clinics for the surgical group. In this position he would serve as the liaison between physician/surgeons, practice administrators, nursing staff, PT clinical staff and billing/scheduling support staff. He was in charge of recruiting, hiring, training, developing and retaining qualified clinical staff as well as support staff. Additional responsibilities included creating annual and quarterly budgets, developing quality control metrics for daily operational standards, promoting clinical expertise and professional development for all clinical staff and establishing evidence-based post-surgical rehab protocols for the shoulder, elbow, hand, hip, knee and ankle. At the same time, he continued to treat patients and act as a fellow for numerous students. By 2017, the three clinics were able to achieve all-time high benchmarks in patient volume, patient satisfaction scores and clinical outcome scores.
In 2017, Olson was presented with another opportunity by Physicians Rehab Solutions to partner with South Texas Spinal Clinic (STSC), a multidisciplinary physician's practice consisting of 15+ orthopedic spine surgeons, general orthopedic surgeons, pain management physicians and bone health practitioners with 15 locations across south Texas. Additionally, he would partner with South Texas Spine and Surgical Hospital (STSSH), a surgical hospital and ASC for orthopedic, spine, cardiac, plastics and pain management procedures as well as an ER department. Olson implemented standards and policies similar to those he previously provided NEOSM for outpatient physical therapy clinics. He has been able to grow each clinic to set all-time highs in volume, patient outcomes, patient satisfaction and revenue. His duties have expanded to include developing community outreach programs for both the physicians and PTs, establishing a telehealth platform to allow patient access to treatment during the COVID-19 pandemic, developing a marketing strategy to promote referrals for both physicians and the PT department from outside providers, establishing new policies and procedures for clinical compliance and billing compliance, managing the rehab portion of a surgical hospital (STSSH), participating in executive hospital administration meetings and implementing desired plans.
In performing these duties, Olson was able to help obtain distinguished awards. This includes the designation of a center of excellence by BCBS and United Health Care, Certification of Distinction with Joint Commission for Joint Program, Five-Star Recipient of Patient Excellence by CMS, HealthGrades America's 100 Best for Joint Replacement (2022, 2023), HealthGrades America's 100 Best for Spine Surgery (2017, 2018, 2019, 2020, 2021) and HealthGrades awards for top 1% in the nation for Outstanding Patient Experience (2018, 2023), Patient Safety Excellence (2020, 2022, 2023), and the Joint Replacement Excellence Award (2021, 2022, 2023). He was also a HealthGrades 5-Star Recipient for Spine Surgery (2018, 2019, 2020, 2021, 2022, 2023), Total Knee Replacement (2017, 2018, 2019, 2020, 2021, 2022, 2023) and Total Hip Replacement (2022, 2023).
Olson continues to work with STSC & STSSH, however, in 2020 he and his wife Molly started another venture. Together, they established Olson Health Solutions, LLC (OHS). OHS is a medical and billing consulting company designed to assist with clinical growth and progression, workflow strategy, payer contract negotiations, defensible documentation, clean claims with prevention of denials and reviewing medical and billing records to establish usual, customary and reasonableness of costs for services provided.
Olson has helped multiple private practice clinics throughout South and Central Texas grow during their time of startup and transfer of ownership. He has also advocated for fair pricing and the No Surprises Act for medical billing. Additionally, he continues to promote physical therapy and TTUHSC through mentorships, radio interviews, local academic relations and volunteering at community events. He currently resides in San Antonio, TX with his wife Molly and their three children, Owen, Gigi and Calvin.
MARY BETH SCHMITT, Ph.D.
School of Health Professions, Department of Speech Language & Hearing Sciences Award
Mary Beth Schmitt, Ph.D., is a tenured associate professor at The University of Texas at Austin where she leads the Children's Language, Literacy and Learning Lab. Her team works to identify child-level, treatment-level and classroom-level ingredients of public school therapy that affect outcomes for children with developmental language disorders (DLD). Schmitt works in collaboration with school districts, speech-language pathologists (SLPs), children and families to ensure that the research aligns with community needs. Her work is currently supported by the National Institutes of Health (NIH) and the U.S. Department of Education. She has received over $4.4 million in federal, foundation and internal funding, has over 43 peer-reviewed publications and has been invited to present at 19 local, state, national and international conferences, including the keynote for the Germany Association for Speech and Hearing Convention in 2016.
Schmitt's professional education started at Texas Tech University Health Sciences Center (TTUHSC), where she earned her bachelor's degree and master's degree in Communication Sciences and Disorders in 1996 and 1998, respectively. After working for the Lubbock Day School Program for the Deaf, Schmitt joined the TTUHSC faculty as a clinical supervisor for the Speech, Language and Hearing Sciences Department. She served on faculty for four years before moving back home to Dallas, where she worked for the Plano Independent School District and UT Dallas Callier Center, serving children with communication disorders.
The culmination of 11 years of clinical practice, seeing firsthand the dearth of research available to support SLPs in their service delivery, prompted Schmitt to attend Ohio State University, where in 2013 she earned her Ph.D. in Speech and Hearing Sciences with a specific focus on applied research.
After completing a post-doctoral program in advanced statistical methods, Schmitt joined the TTUHSC Department of Speech, Language and Hearing Sciences as an assistant professor, where she earned tenure. Her accomplishments at TTUHSC include receiving a $10,000 internal grant supporting pilot data and her first NIH-funded grant, testing the feasibility of a behavior regulation intervention for young children. Schmitt has earned recognition for her teaching and scholarship, including the TTUHSC Dean's Academic Achievement Award for New Faculty (2015-2016), TTUHSC Outstanding Teacher of the Year for the Doctor in Philosophy in Communication Sciences and Disorders (2015-2016) and TTUHSC Outstanding Teacher of the Year for the Master of Science in Speech-Language Pathology (2016-2017). Most recently, Schmitt was named a 2022-2023 UT Public Voices Fellow for the OpEd Project, where she amplifies needs surrounding education for neurodivergent students in public forums.
Schmitt is passionate about the field of speech-language pathology and grateful to TTUHSC for the strong foundation in her career. As she often reminds her students: this journey is not about us, but about the millions of neurodivergent students, their families and SLPs. It is a privilege to partner with them to translate science into practice for the betterment of our communities.
NICOLE L. WEGENER
School of Health Professions, Department of Healthcare Management & Leadership Award
Nikki Wegener is the manager of care improvement at Community Health Plan of Washington (CHPW), a not-for-profit managed care organization (MCO). In her current role, she leads the efforts in the development and deployment of health care quality improvement activities throughout the State of Washington. Prior to joining CHPW, Wegener held a variety of roles in the health care sector in various states across the country.
Prior to working at CHPW, she excelled as the director of population health working for El Centro Regional Medical Center (ECRMC) where she served in a variety of capacities. She oversaw multiple multi-million-dollar federal incentive programs paving the way to high quality care for all Medi-Cal (Medicaid) and Medicare patients in Imperial County, CA. In addition, she received multiple team recognition awards including Manager of the Year in 2020 for her efforts and commitment to excellent service both locally and internationally. No matter how busy she is, she always finds time to volunteer and give back to her community.
In her free time, Wegener enjoys spending time outdoors - hiking, cycling, scuba diving and motorcycle riding. She also enjoys quiet nights at home spoiling her fur babies.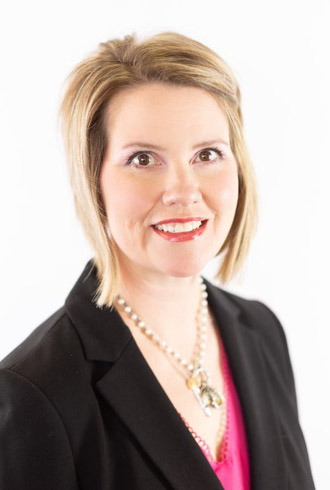 HAYLEY A. BLACKWELL, P.A.
School of Health Professions, Department of Laboratory Sciences & Primary Care Award
Hayley A. Blackwell, PA, attended Texas Tech University and was a twirler in the Goin' Band from Raiderland prior to being accepted into the Clinical Laboratory Science program at Texas Tech University Health Sciences Center (TTUHSC). She graduated with her Bachelor of Science degree in 2003. Upon graduation, Blackwell worked in the laboratory at University Medical Center in Lubbock. In 2006, Blackwell graduated with a Master of Physician Assistant Studies degree from TTUHSC. While in school, she was the 2006 runner-up in the "From Here, It's Possible" essay contest.
In 2023, Blackwell graduated with a Doctor of Medical Science degree from Rocky Mountain College. Blackwell recently joined the TTUHSC team as an adjunct faculty member, where she taught emergency medicine for the PA program.
With over two decades of clinical medical experience as a PA and laboratory scientist, Blackwell has dedicated her career to providing health care to rural communities located throughout the state of Texas. As a rural health advocate, she has identified opportunities to improve access to high-quality health care for a diverse population that is responsible for the nation's food, fuel and fiber. Blackwell's passion includes improving the health of rural Texans while educating the next generation of medical professionals.
ALYSSA M. ALI
School of Health Professions, Department of Clinical Counseling & Mental Health Award
Alyssa M. Ali is a dedicated PA with six years of experience in urgent care, having served at Breeze Texas Health and CareNow. She graduated from the Texas Tech University Health Sciences Center in 2017. Ali is passionate about giving back to her community and actively volunteers her time at mammogram and blood pressure screenings. Ali is committed to both health care and community enrichment.
During her free time, you'll find her on the pickleball court, experimenting with new recipes in the kitchen, exploring scenic walking trails and discovering hidden gems at local coffee shops.
School of Medicine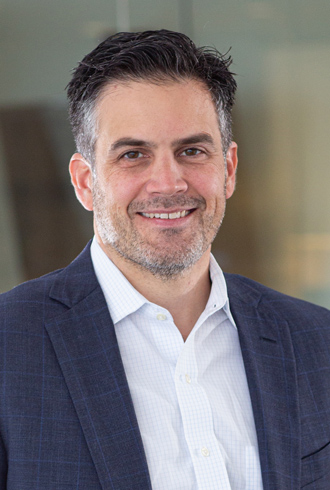 CHRIS GALLAGHER, M.D.
School of Medicine, Distinguished Alumni Award
Chris Gallagher, M.D., is a physician executive and has dedicated his career to physician leadership and the development of efficient, cost-effective and high-quality physician networks.
Gallagher serves as the chief executive officer of Access TeleCare, the nation's largest provider of acute care telemedicine, which currently provides telemedicine to 20% of U.S. hospitals. The organization had 1.5 million telemedicine encounters of hospitalized patients in 2022. Prior to leading Access TeleCare, Gallagher was CEO of Access Physicians, which he led from its founding in 2011 until its 2021 acquisition by SOC Telemed, a publicly traded company listed on the Nasdaq. Five months after the acquisition, Gallagher was promoted to CEO of SOC Telemed and shortly thereafter led a nearly $500 million transaction taking the company private. A follow-on merger ensued, tripling the organization's behavioral health workforce capacity, and the company rebranded to Access TeleCare in 2022. The mission of Access TeleCare is to improve patient lives through timely specialty care. The mission is rooted in the organization's care philosophy, that patient outcomes improve when the time to encounter is shortened and the experience for the patient is enhanced. Telemedicine is leveraged to achieve that goal.
In 2013, with Access Physicians, Gallagher launched the first 100% virtual ICU in Texas, serving a 10-bed ICU hospital in rural East Texas. This program reduced the need for patients to leave the hospital and county for critical care by 70% and solidified his commitment to building telemedicine programs. In 2015, Gallagher's team at Access Physicians launched the nation's first virtual code blue service on mobile telemedicine carts, enabling the management of cardiac arrest by physicians via telemedicine with only RNs and RTs at the bedside.
Gallagher served as chief medical officer of CHRISTUS Mother Frances Hospital - Sulphur Springs from 2012 to 2017. Gallagher trained at UT Southwestern for both his internal medicine residency and cardiology fellowship and earned his Doctor of Medicine from Texas Tech University Health Sciences Center School of Medicine in Lubbock.
Gallagher practiced clinically until 2022. While in practice, he was board-certified in internal medicine and cardiovascular disease, a fellow in the American College of Cardiology, a member of the American Association of Cardiovascular and Pulmonary Rehabilitation. He was also a member of the American Medical Association, Dallas County Medical Society, and Texas Medical Association. Gallagher lives in rural Massachusetts with his wife Katie, also a Texas Tech alumna, and their two children.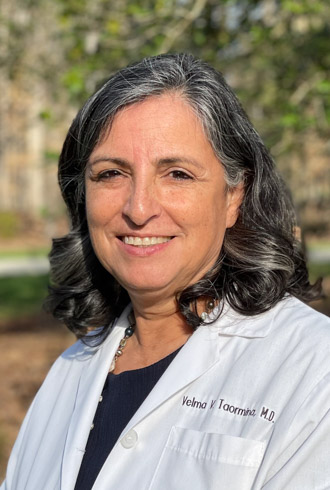 VELMA VILLALON TAORMINA, M.D.
School of Medicine, Distinguished Alumni Award
Velma Villalon Taormina, M.D. MSE, FACOG, is a native Texan who earned a Bachelor of Arts in Biology and a Master of Science in Biomedical Engineering at the University of Texas. She attended medical school at Texas Tech University Health Sciences Center, graduating in 1990. During her third year of medical school in El Paso, she solidified her choice to pursue a career in obstetrics and gynecology and completed her residency at the University of Kentucky. After completing her residency, she and her husband, Martin V. Taormina, M.D., class of 1990, moved their family to North Carolina where she joined a private practice.
After a decade, her professional practice moved from the private sector into public health. Over the course of the next 19 years, she worked as a medical director of a local health department, where she served as the clinical lead on several initiatives in the reproductive health space. She served on state-wide task forces that focused on health informatics, perinatal systems of care, the opioid crisis, perinatal health in carceral settings, and on the Maternal Mortality Review Committee.
Taormina uses her expertise as a women's health consultant to engage with state-wide agencies and elected officials, reviewing, promoting and advocating for policy change that impacts the intersection of women's health and public health. She enjoys serving as a mentor to other physicians seeking a career in public health. Serving as the associate medical director consultant for women's health for North Carolina's Division of Health and Human Services Medicaid program, she continues to work in a local health department. She recently completed a two-year tenure as president of the North Carolina Obstetrical and Gynecological Society, and continues to serve on the executive committee as past president.
Taormina and her husband have three children living in three different states, so they enjoy spending their free time visiting their family or exploring different hiking trails.
School of Nursing
DUREN MICHAEL READY, M.D.
School of Nursing, Distinguished Alumni Award
Duren Michael Ready, M.D., FAHS, is a native Texan who was born in Port Arthur and lived throughout Texas. He followed a non-traditional pathway to medical school, entering after a successful career in the restaurant business. He returned to college part-time with the intention of pursuing a law degree. His work with injured employees, however, brought him into frequent contact with physicians who encouraged him to go to medical school instead. After graduating from the University of Houston-Downtown with a bachelor's degree in General Studies, he went on to Texas Tech University Health Sciences Center, where he graduated in 2000. He is board certified in family medicine and certified in headache medicine by the United Council of Neurological Subspecialties.
While in medical school, he developed a strong interest in medical education. He served as the class of 2000 representative to the Education Policy Committee. He founded and was the initial coordinator for the School of Medicine Peer Tutors, an organization committed to creating and disseminating study guides and conducting exam review sessions. He was selected twice to present at the Association of American Medical Colleges annual meetings regarding the peer tutors. He also worked with his classmates to have the medical library in El Paso named after Delia Gallo.
He went on to complete his family medicine residency at the Brazos Valley Family Medicine Residency program in Bryan, TX, where he was elected chief resident. After residency, he joined Scott and White in Temple, TX, as a senior staff physician in the Department of Family and Community Medicine.
In 2008, Ready transferred to the Department of Neurology to start a dedicated headache clinic. In 2010, he became one of the first family physicians to be certified in headache medicine by the United Council of Neurological Subspecialties. He was elevated to fellow status the same year by the American Headache Society. In 2011, he successfully led the development and accreditation of the Central Texas Headache Fellowship at Scott and White. He was awarded the National Headache Foundation Annual Lectureship Award in 2014. In 2022, he received the American Headache Society's Above and Beyond award.
Ready has taken his passion for medical education and focused his efforts on sharing his headache knowledge. He has been an invited speaker on more than 90 occasions for national and state medical organizations and societies. He has also presented to numerous family and internal medicine residencies, including Lubbock, Amarillo and Midland-Odessa. He has authored or co-authored four book chapters on headache topics and has written several peer-reviewed articles. He was a co-author on "2020 Headache Quality Measures" published in Neurology. In 2017, his book, Discussing Migraines with Your Patients: A Common Sense Guide for Clinicians was published by Springer to positive reviews.
Ready has been active in the Texas Medical Association, serving as the chair for the Resident and Fellows and the Young Physicians section. He served on the TMA's Council on Medical Education as a resident, young physician and as a physician. He presently serves as a delegate for the Bell County Medical Society. He is a fellow of the American Headache Society. He was the co-chair of the First Contact Committee and presently serves as the senior advisor for the committee. He is a member of the National Headache Foundation, the American Academy of Family Medicine, and the Texas Academy of Family Physicians. He is a member of the Southern Headache Society and serves on their board. He was selected as a Texas Monthly "Super Doctor" in family medicine in 2022. He is an associate clinical professor for the Baylor College of Medicine in Temple.
He has been married to Diane for 37 years and has one son, David. They look for any excuse to return to the south plains (especially to see the Flatlanders at the Cactus Theater). Based on his interest in neuroplasticity and stress management, he took up running in 2017 and has completed over 30 half marathons and four full marathons. He completed the Dopey Challenge (5K, 10K, 13.1m, and 26.2m over four days) in 2019 and in 2023 in Orlando, Florida.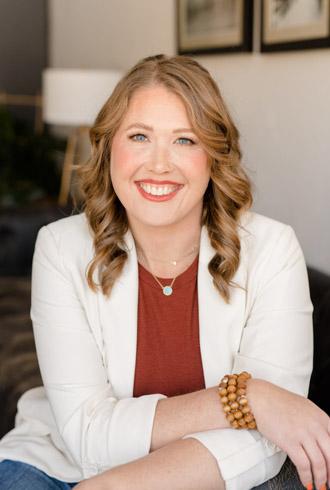 MEAGAN HOOVER MSN, APRN, PMHNP--BC
School of Nursing, Leadership in Health Care Award
Meagan Hoover became a nurse to care for individuals as a whole - their mind, body and spirit. Over the course of her career in the hospital setting in conjunction with her own life, she realized that without mental health, it is difficult to have physical and spiritual health. Thus, her passion to provide mental health care was born.
Born and raised in Fort Worth, TX, she moved to Lubbock to attend Texas Tech University on a full academic scholarship in 2002. She graduated with a degree in public relations in 2005 and began fundraising for Covenant Children's Hospital. She quickly learned she would rather work at the bedside than in the business office. This decision led her to obtain her BSN at Texas Tech University Health Sciences Center (TTUHSC). During this time, she worked at United Regional Health Care System in Wichita Falls, TX; where she cared for and counseled patients who were experiencing the loss of their child before, during or after delivery as the bereavement coordinator.
Hoover returned to TTUHSC to become a psychiatric mental health nurse practitioner (PMHNP) in 2019. Upon graduation in 2021, she was named the Outstanding PMHNP Graduate and began practicing in outpatient, inpatient and partial hospitalization settings in a group practice in Wichita Falls, focusing on care of the pediatric and adolescent populations.
Desiring to find a more integrative, evidence-based mental health care option for the younger population, she and Merrill Wood, DNP, CNP-PC, PMHS, BICBT-CC founded A Sustainable Mind, LLP in June 2023 where various therapeutic interventions are woven into psychiatric medication management. Their hope is to create an environment where patients feel seen, heard and valued while receiving excellent psychiatric care.
In addition to her day job, Hoover is involved in numerous activities and advocacy efforts within the Wichita Falls Independent School District. She also volunteers with Young Life Wichita Falls, sings on the worship team at her church, and coaches youth basketball. Hoover enjoys spending time with her husband, Ben, their son and two daughters.
AARON SALINAS, DNP
School of Nursing, Community Advocacy Award
Aaron Salinas, DNP, APRN, FNP-BC, PMHNP-BC, NRP, is an assistant professor and the BSN program coordinator at the University of Texas Rio Grande Valley in Edinburg, TX. He has been in academia for eight years. Salinas has board certifications as a family nurse practitioner and a psychiatric mental health nurse practitioner. He is part of the UT Health Rio Grande Valley team and sees patients at the University Health Center and does consultation work with a local psychiatrist and a pediatrician in the Rio Grande Valley.
Salinas is involved in many organizations at the local, state and national level where he serves on a number of them as a board member. He received numerous awards this past year, including being named one of the 25 Outstanding Texas Nurses by the Texas Nurses Association.
School of Pharmacy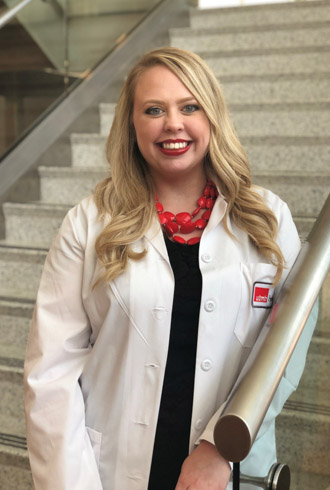 Jordan Burdine, Pharm.D., MBA, BCPPS
School of Pharmacy, Excellence in Practice Award
Jordan Burdine, Pharm.D., is a pharmacy clinical practice specialist in pediatrics and neonatology at UTMB Health in Galveston, TX. Burdine graduated with her Doctor of Pharmacy degree from Texas Tech University Health Sciences Center (TTUHSC) Jerry H. Hodge School of Pharmacy in 2015. She went on to complete a PGY1 pharmacy residency at West Virginia University Medicine in 2016, followed by a PGY2 pediatrics residency at TTUHSC Jerry H. Hodge School of Pharmacy in 2017. Since starting at UTMB in 2017, Burdine has worked as part of the neonatal interdisciplinary team where she rounds and provides direct patient care in the NICU. In her role as a clinical practice specialist, she precepts pharmacy students and residents, as well as provides informal and didactic education to physicians, advance practice providers and nurses. Additionally, Burdine leads many initiatives in the development of institutional guidelines and protocols to standardize and optimize pediatric and neonatal drug therapy and patient care, as well as works collaboratively on many interdisciplinary and multisite research projects within the UTMB Department of Pediatrics and Department of Pharmacy.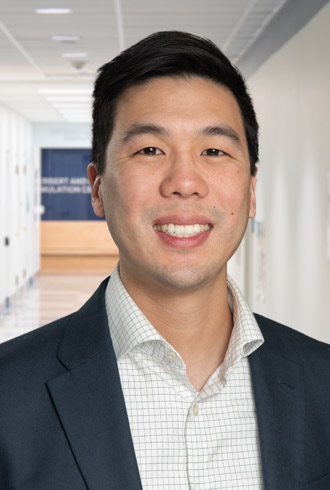 JAMES LEE, Pharm.D.
School of Pharmacy, Pharmacy Research Award
James Lee, Pharm.D., FCCP, AACC, BCACP is a clinical associate professor of pharmacy practice at the University of Illinois Chicago College of Pharmacy, where he also serves as the program director for the University of Illinois Chicago NorthShore University HealthSystem PGY2 Clinical Pharmacogenomics residency program, the nation's first dual-site clinical pharmacogenomics residency program. He also serves as curriculum leader for professional development in which he oversees the College of Pharmacy's college-wide advising and mentoring program, involving over 700 pharmacy students and faculty. At the University of Illinois Hospital & Clinics, Lee serves as director of the precision medicine program that coordinates institution-wide pharmacogenetic testing, implementation and counseling to patients in all settings. He was also recognized as a finalist for the American Society of Health-System Pharmacists Foundation Award for Excellence in Medication-Use Safety.
Lee's outpatient clinical responsibilities include service as an ambulatory care clinical pharmacist providing comprehensive anticoagulation management in pediatric, adult and geriatric patient populations at the University of Illinois Health Antithrombosis Clinic that is recognized as an Anticoagulation Forum Anticoagulation Center of Excellence.
Lee is involved in the teaching and training of both American and international student pharmacists, visiting international pharmacist scholars and residents and has also been invited to teach pharmacy students internationally in Asia. His outcomes-based research has focused on pharmacogenomics, anticoagulation and clinical pharmacy outcomes, and he has received funding from federal, foundation and intramural sources. He has authored over 40 peer-reviewed articles and book chapters and over 20 abstracts. Lee has also received several institution and conference abstract awards and has been invited to present on pharmacogenomics implementation and utilization nationally and internationally.
During his time at Texas Tech University Health Sciences Center (TTUHSC) Jerry H. Hodge School of Pharmacy, James was active as a pharmacy student in pharmacy professional organizations including the Double T Society of Health System Pharmacists, Kappa Psi and Phi Lambda Sigma. Lee also served on various School of Pharmacy committees and was recognized as the inaugural School of Pharmacy Dean's Student Leader of the Quarter. Lee earned his Pharm.D. from TTUHSC in 2010 and completed his pharmacy practice and ambulatory care specialty residency training at the University of Iowa Hospitals & Clinics. He was elected as a Fellow of the American College of Clinical Pharmacy and as an Associate of the American College of Cardiology. He is a proud native Texan who currently resides in Chicago with his family.
MINH HONG Pharm.D., MBA-HA
School of Pharmacy, Pharmacy Leadership Award
Minh Hong, Pharm.D., MBA-HA, is a pharmacy consultant who practiced as a clinical pharmacy specialist in internal medicine from 2014 to 2018 at Medical Center Hospital in Odessa, TX. During this time, he also served as the PGY1 pharmacy practice residency director.
He was promoted to pharmacy clinical coordinator in 2018 and to director of pharmacy in 2019. In August 2022, he started his own pharmacy consultant business. He received his Pharm.D. from the Texas Tech University Health Sciences Center Jerry H. Hodge School of Pharmacy in 2012.
In 2014, he completed a two-year ASHP/ACCP-accredited residency in pharmacotherapy practice at the TTUHSC Jerry H. Hodge School of Pharmacy. His current career goal is to create a system of pharmacy residency programs in which hospitals can collaborate and share cutting-edge practices. In his spare time, he enjoys playing recreational sports and spending time with family and friends.