Recent News
May 21
Medical Humanities Certificate Program Virtual Graduation: On May 21, 2020 Dr. Erwin was joined by Dean Berk and Dr. Thomas McGovern as we celebrated the 18 graduates of who receive the designation as John P. McGovern Scholars in Medical Humanities and Ethics.
May 7
Virtual Grand Rounds in Ethics was presented by Dr. Erwin on May 1 through May 31, 2020 on the topic of the Ethics of COVID-19.
May
Ten students graduated from the Medical Humanities and Ethics Certificate Program with the designation as John P. McGovern, M.D., scholars in Medical Humanities and Ethics. We want to acknowledge and congratulate:
Erika Anderson
Haley Banks
Brittany Cox
Christian Gulde
Jesse Janes
Karen Karimi
Aaron Kruger
Taylor Lindgren
Kim-Long Nguyen
Justin Singer
Sorleen Trevino
April
Special Tribute to Dax Cowart (1948 – 2019)
Dax Cowart passed away last month at the age of 71. Dax was a successful lawyer who graduated from Texas Tech University School of Law in 1986, and a longtime advocate for patients' rights and the autonomy to refuse life sustaining treatment. In the video Dax's Case Dax described the pain of being immersed in a tank filled with bleach solution as the worst pain imaginable. Although the memories of those treatments were painful, Dax made his case public so that both law and medicine could learn to respect the dignity of the patient undergoing treatments.
In 1985 Dax complete his writing assignment as part of his law degree, opening with the question "Can coercive medical treatment of a competent patient ever be justified? I will argue that, ordinarily, it cannot." Professor Dan Benson was instrumental in encouraging the question. It was a question that he answered over and over again throughout his life as he visited law schools, medical schools, and did interviews with ABC's 20/20. Dax was a compassionate and careful speaker who wanted others to know that although his life was fulfilled in later years, he would not wish to endure the pain of the treatments. He once told my law school class that he would have chosen to die rather than go through the tankings, even if it meant that he would have to forego the life that he obviously relished in that present moment. He explained that the decision to forego life sustaining treatment must be solely that of the patient who must endure the pain, and no other person, no matter how well intentioned, should be allowed to interfere with that right.
Few other alumni of Texas Tech University School of Law can claim to have had as wide ranging influence on the law in every state in country as Dax. A Google search on his names produced over 65,000 results. Few can claim to have changed medical practice as absolutely as Dax. Few other law schools might have seen the potential in a disfigured young man who twice had attempted suicide. In the years before the Americans with Disabilities Act, when it was not required to make reasonable accommodations for disabled individuals, the School of Law did so. It is fitting that this spirit of generosity and of seeing the best in each student should be noted.
The New York Times obituary includes details of his life, the devastating accident, and his success as a trail lawyer. Bill Winslade, JD, PhD offers a personal tribute to Dax here on the Bioethics Blog.
March
Dr. Sheri Dacso visited the Bioethics and Medical Humanities Certificate Program classes to share her insights into ways to effectively work with outside counsel during times of conflict in medicine. Dr. Dacso is a partner with Seyfarth Shaw, LLP who works extensively with physicians and practice groups. The students in the Medical Humanities Capstone Course were able to gain insights into common legal challenges, dealing with difficult situations, and the ethical aspects of business transactions. Overall the students rated their time with Dr. Dacso as enlightening and extremely valuable to their personal and professional development.
January
Students in the Health and Human Spirit Class use technology to bring remote speakers into the classroom to benefit from specialized expertise. Dr. Janeta Tansey, https://virtuemedicine.com brings her knowledge of virtue ethics as a tradition of flourishing to our students from her studio in Iowa City.
September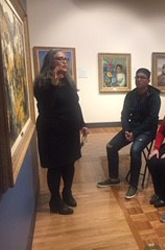 The Center for Ethics, Humanities and Spirituality is partnering with the Museum of Texas Tech to bring the Art of Observation class to our medical students. The Art of Observation helps students improve their skills of observation in a safe environment by first listening to selected music and viewing art. Our students have reported this training enhances their skills when observing medical sounds and ultimately when observing a patient. Students can spend their lunch hour enhancing their observation skills. Under the direction of experienced docents and faculty, students are provided with a unique learning opportunity.
March
Dr. Abraham Nussbaum, author of The Finest Traditions of My Calling, was the keynote speaker at the Banquet, and served as a guest speaker for the Medical Humanities Student Symposium the following day. Over 250 students and faculty attended the keynote address by Dr. Nussbaum, and stayed to learn about the work our students completed in fulfillment of the Certificate in Medical Humanities.
March
November 9
Special Speaker event with Dr. Van McCrary. Dr. McCrary visited Lubbock from Stonybrook Medical School to give a talk titled: The Culture of Medicine: Insights from Qualitative Sociology Research.
October 31
Faculty Ethics Lecture Series Grand Rounds. Dr. Erwin spoke to faculty members on Casuistry and Virtue Ethics. Students enrolled in the "Introduction to Bioethics" course presented medical law cases related to this topic. Dr. Tobias Kroll joined them to present rebuttal arguments on topic.
October
Our students volunteered to deliver food donations to the Children's Advocacy Center in Lubbock. Pictured are Clarissa Ramirez and Maricela Chavez, students in the MHCP. They are pictured here with Elmira Ahnood.
The Center is proud to be a co-sponsor of the Museum by Night Program at the Museum of Texas Tech University. Certificate Program student Kristin Kinsley was on hand to celebrate Dr. J. Ted Hartman, one of the soldiers who liberated Normandy during WWII. This exhibit is currently on display at the Texas Tech Museum, for more information visit here.
October 21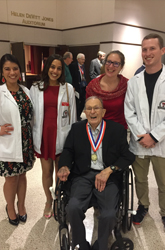 September 20
Dr. Erwin spoke at the Texas Tech University School of Law. The topic of her discussion was the ethics of human enhancement with technological implants. Other panel members included Dr. Tom McGovern, also from the Center for Ethics, Humanities and Spirituality, Bruce Clarke, Professor of English, and Professors Vicki Sutton and Jorge Ramirez from the School of Law. The conversation focused on a recent film produced by Professor Sutton.
September 21
The Center for Ethics, Humanities and Spirituality co-sponsored the first event in the series TTU Museum by Night. The event hosted community members, students, and faculty for an evening spent learning about the science and pleasure of wine. Dr. Lisa Popp, from the Department of Medical Education was a featured speaker at the event. Many of our Medical Humanities Certificate Program students were in attendance.
August 21
Certificate Program student, Karl Mueller, volunteered at the Science Spectrum at their Eclipse Viewing day.
August 15
Certificate Program Orientation. Students who were interested in joining the Medical Humanities Certificate program or who wanted to learn about the upcoming courses for this year, attended the annual orientation and received the option to apply certificate program.
August 14
MS2 Welcome Back Breakfast. MHCP returning second year students attended a breakfast held at Dr. Erwin's home.
July
Dr. Erwin will return to the XXXV International Congress on Law and Mental Health in Prague, July 2017. Dr. Erwin will discuss the ethical issues of epigenetic technologies on autonomy and self perception.
June 9
Dr. Tedd Mitchell, Dr. Tom McGovern, and Dr. Cheryl Erwin joined the Texas Tech community in honoring Founding Dean Ted Hartmann (seen here with his son Tom) at the groundbreaking ceremony for expansions to the TTUHSC campus.
April 28
Dr. Erwin presented a talk on the role of the medical humanities in building professionalism and resilience in medical students at the Academy for Professionalism in Health Care 5th Annual Meeting in Chicago, Illinois.
April 21
Dr. Erwin presented the Keynote Lecture for the 16th Annual Global Biosecurity Symposium alongside Dr. Sheri Dacso, Partner in Seyfarth Shaw. The topic of this joint presentation is "Ethical Challenges in Biosecurity and the Lawyer's Obligation". Joint credit with law and medical students was provided at the event.
March 24
Dr. Tom McGovern joined Dr. Janeta Tansey, Dr. Abraham Nussbaum, and Dr. Erwin for a panel discussion of Dr. Nussbaum's new book – The Finest Traditions of My Calling – at the 2017 Conference on Medicine and Religion held in Houston, Texas March 24-26, 2017.
March 21
Medical Humanities Banquet celebrated the accomplishments of our 2017 Certificate Program Graduates.
November 17
Dr. Cheryl Erwin served as a consultant to UTMB's Institute for the Medical Humanities as Heather Carson successfully defended her PhD thesis. Dr. Carson's dissertation is titled "Evaluating the Target-Population Recommendations for Influenza Vaccination: Evidence and Ethics".
July
Dr. Cheryl Erwin presented at the XXXIV International Congress on Law and Mental Health held at Sigmund Freud University in Vienna, Austria. Her talk was part of a panel with the topic "Behavioural Epigenetics: Clinical, Legal and Ethical Implications." Dr. Erwin's subject was "Ethical Issues Raised by Epigenetic Testing."
In the photo from right are Dr. Cheryl Erwin of Texas Tech University Health Sciences Center School of Medicine, Dr. Robert A. Philibert of the University of Iowa School of Medicine, Professor Sarah Wilker of Ulm University School of Medicine, Dr. Tracy Gunter of the Indiana University School of Medicine, and Professor Nic Terry of the Indiana University Robert H. McKinney School of Law. All were on the epigenetics panel.