Message from the Dean
The pandemic challenged us in numerous ways to rethink how we deliver education, conduct research, and manage patient care. I am thrilled to announce the 2020 and 2021 faculty awardees who have made significant advances to our mission, achieved professional milestones, and have personally sacrificed to help those most in need during the pandemic, to name a few. Please join me in congratulating our family for their outstanding achievements!
2020-2021 Dean's Award Recipients
Michaela Jansen, PharmD, PhD
Department of Cell Physiology & Molecular Biophysics
Michaela Jansen is an extraordinary researcher and outstanding teacher. As the Assistant Dean for Pre-Clerkship Curriculum, she has reengineered and reoriented the Major Organ System blocks, and led the revised preclinical curriculum combining the normal and abnormal organ blocks into a single block for each organ system, to improve the students' long-term comprehension. Michaela is the unit leader of the gastrointestinal physiology block and lectures on muscular physiology. She mentors numerous graduate students, medical students, and undergraduate students, while maintaining a high level of nationally known research on membrane proteins for which she has received over $2 million in grant funding. Michaela has published over 30 articles in peer-reviewed journals and presented at many national and international society meetings. She has been recognized as the President's Young Investigator and received the block teaching award for major organ systems in the School of Medicine.
Rial Rolfe, PhD, MBA
Department of Immunology & Molecular Microbiology
Dr. Rial Rolfe has been a member of the School of Medicine since 1981. He has been a stalwart in all areas for the School of Medicine. He has mentored numerous graduate students, medical students, and graduate pre-doctoral fellows. He has conducted research and written publications throughout his career furthering the medical knowledge related to dangerous anaerobic microbes. He has served on virtually every nonclinical, and several clinical committees of the School of Medicine and the Graduate School of Biomedical Sciences. In his role with the University, Rial helped ensure that TTUHSC received full accreditation for 10 years from SACS without any adverse findings or sanctions, and indeed, receiving commendations as an outstanding University.
Andrey Karamyshev, PhD
Department of Cell Biology & Biochemistry
Andrey joined the school as an Assistant Professor in 2016. Over the last five years, he has demonstrated outstanding efforts as a teacher mentoring many medical and graduate students, and in 2019 received his first R01 grant for $1,224,000. Additionally, he has published over 7 major papers, and completed over 40 abstracts and presentations at national and international meetings.
Andrey has developed an extraordinary track record of supporting and promoting the research training of medical, graduate and undergraduate students. Students working in his lab received 3 research awards in 2018 and no less than 8 in 2019. For instance, Andrey's students received Best Presentation Award at the Gulf Coast Undergraduate Research Symposium at Rice University in Houston, placed in Basic Science for the poster presentation at Latino Medical Student Association's Southwest Regional Conference Research Symposium, and the travel award at the 2019 Wilbert C. Jordan Research Forum at the Annual Medical Education Conference in Philadelphia, PA.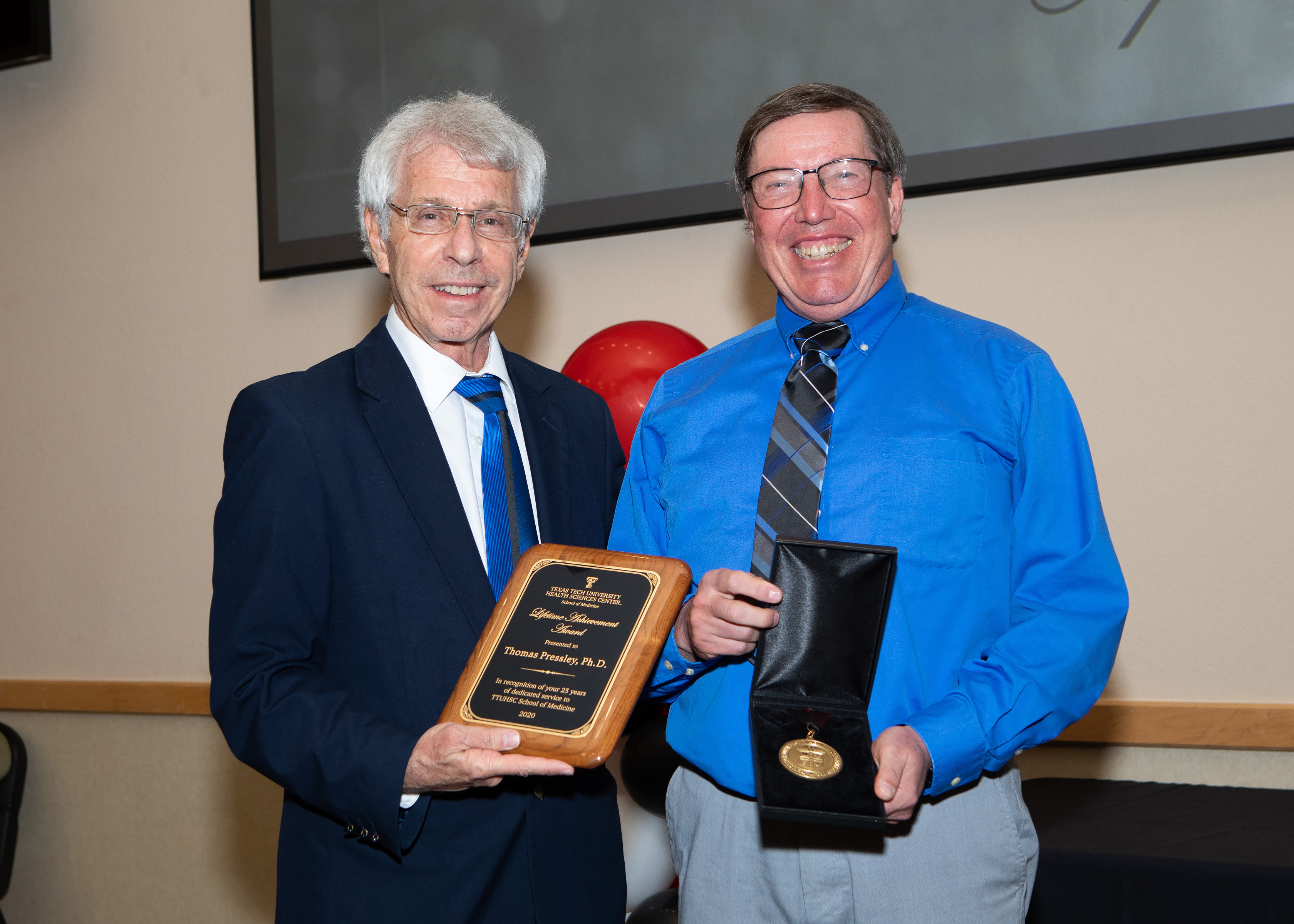 Thomas Pressley, PhD
Department of Medical Education
Retired (25 Years of Service)
Thomas Pressley has been a bench scientist and educator for over 40 years. After earning his undergraduate degree at the Johns Hopkins University, he entered the graduate program in biochemistry at the Medical University of South Carolina. While there, he studied ion transport and its role in salinity acclimation in euryhaline organisms, and completed his doctoral work in 1981. His postdoctoral training was at the College of Physicians and Surgeons at Columbia University, where he learned molecular biology and cell physiology, focusing primarily on the regulation of active transport. He was recruited to the faculty by the University of Texas Medical School in Houston in 1987, and joined the Texas Tech University Health Sciences Center in 1995. In addition to his research, he was responsible for teaching cardiovascular physiology to first-year medical students. As a Distinguished Visiting Professor with the United States Air Force Academy in Colorado Springs, he gained experience in contemporary teaching methods such as video production and flipped classrooms. During his career, Dr. Pressley served as a member of grant review committees, and chair of the Education and Career Opportunities in Physiology Committees of the American Physiological Society. He also developed numerous courses and reviewed curriculum and degree programs at several institutions.
Tom served as Vice Chair for the Department of Cell Physiology & Molecular Biophysics, Interim Dean for the Graduate School of Biomedical Sciences, a Distinguished Visiting Professor in the Biology Department at the United States Air Force Academy, and a faculty member with our Department of Medical Education. He served as a reviewer on multiple editorial boards, and over 50 journals. He also served as a reviewer on over 30 grant review panel study sections and 20+ graduate student committees. Tom personally sponsored numerous postdoctoral fellows, summer medical student research programs, as well as graduate student rotations. He received over $1,000,000 in grants from the NIH and published over 100 scientific papers during his career. Likewise, he published articles and papers on one of his favorite endeavors, Soaring. (He frequently reminded us that a true pilot flies without an engine.)
Tom devoted his career to increasing knowledge of the science in biology and, educated thousands of physicians, and graduate students. For all that has given to his profession, to his students, and most of all, to our School of Medicine, I am pleased and proud to present Tom Pressley this Lifetime Achievement Award.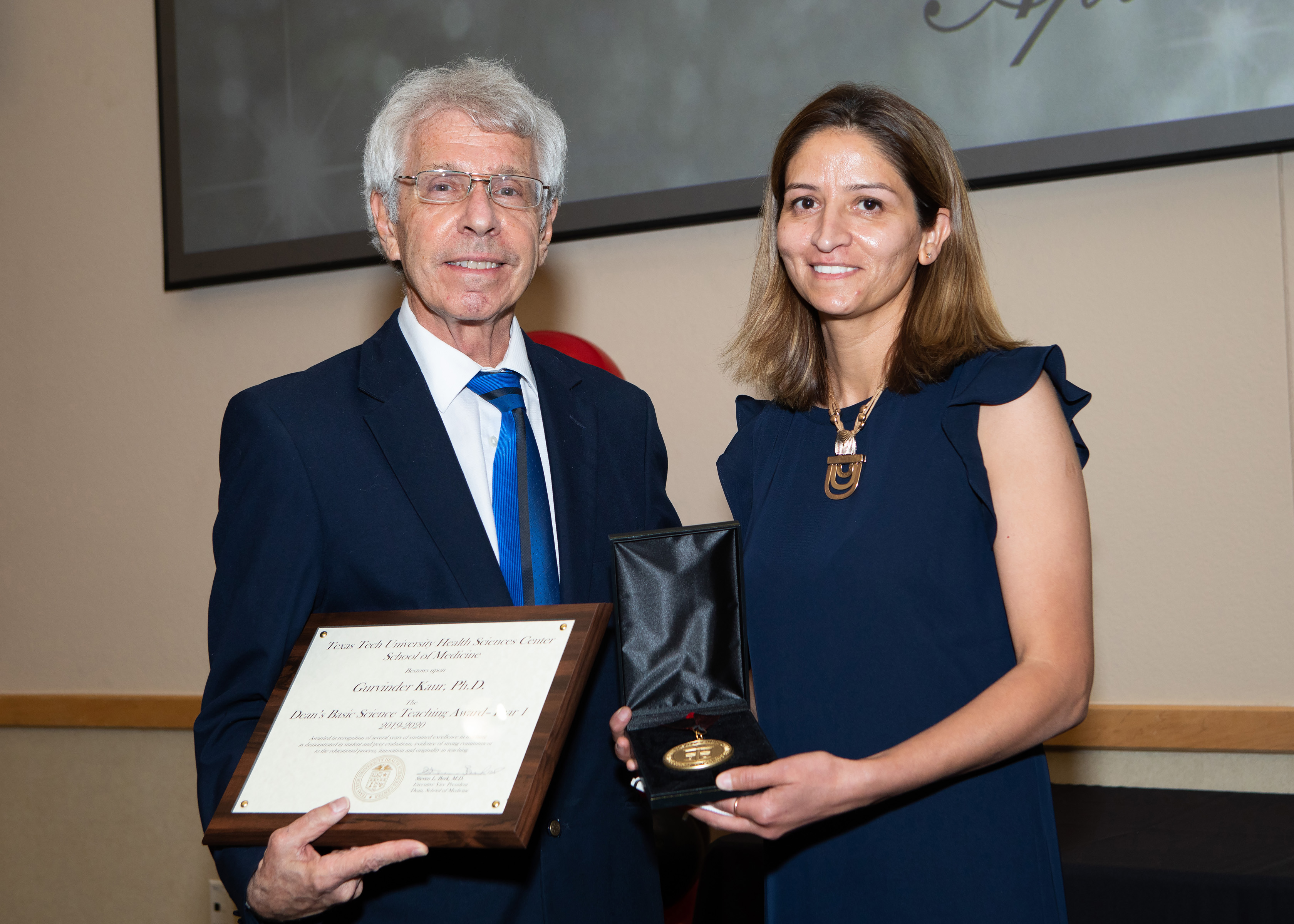 Gurvinder Kaur, PhD
Department of Medical Education
Gurvinder started her career at TTUHSC as a graduate student receiving a PhD in 2012. She served several years as a postdoctoral research associate, and an instructor in Cell Biology & Biochemistry. In 2018, she became an Assistant Professor in the Department of Medical Education, leading her to become the associate block director for clinically oriented anatomy. She is an elite ubiquitous presence for this block. Gurvinder is recognized by the students for her great teaching particularly when it comes to the exam reviews. She was awarded the President's Team-Teaching Award in 2020. Multiple students have commented on her compassion and empathy, exceptional rapport, and called her a medical education rock star.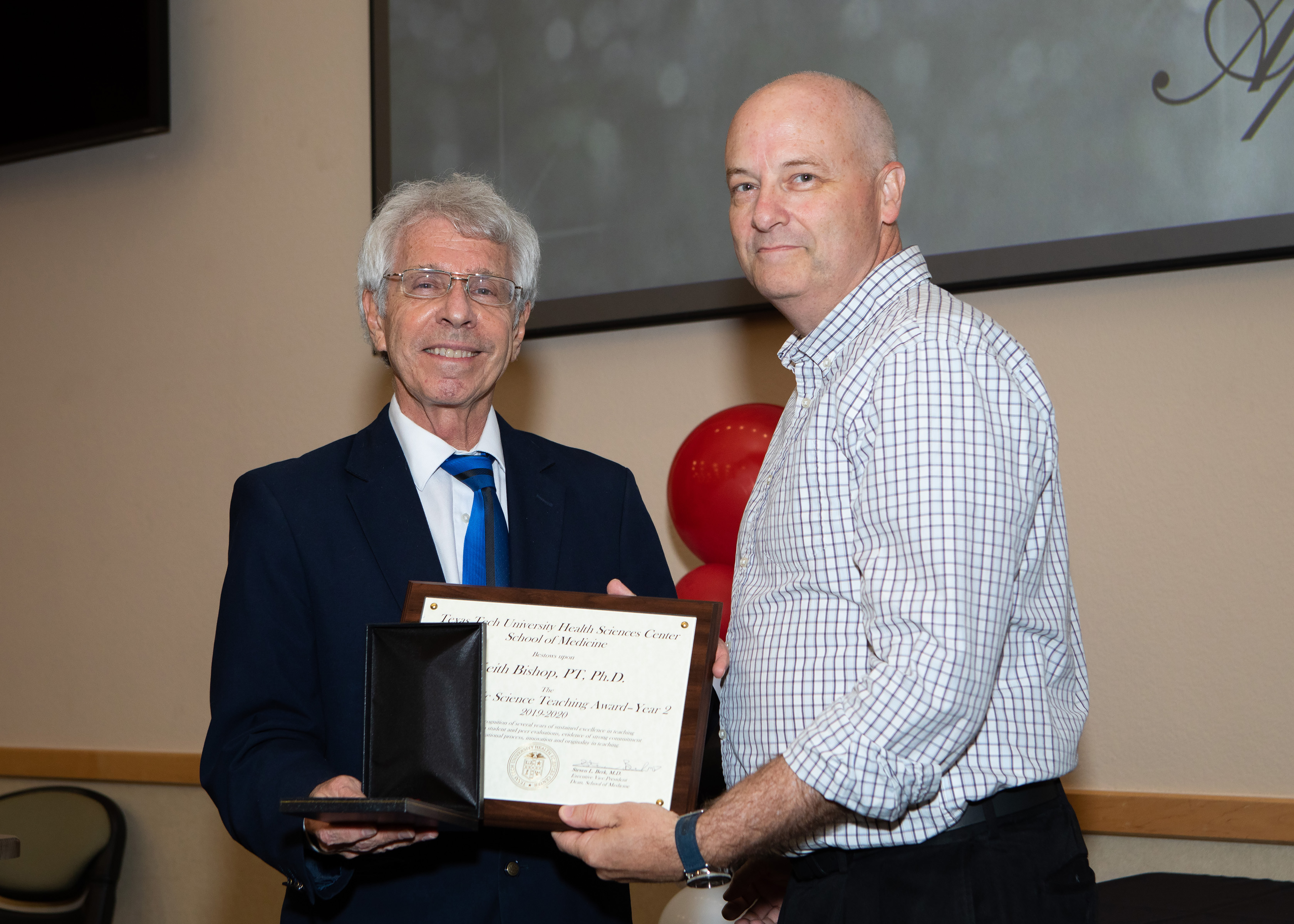 Keith Bishop, PT, PhD
Department of Medical Education
Keith had a long career in the United States Air Force, as a physical therapist, and student receiving his PhD in anatomy in 2007. He joined the School of Medicine in 2019. In his first year, he made incredible contributions in the clinical oriented anatomy and neuroscience courses. Keith was instrumental in helping organize the new anatomy lab, particularly taking his most recent class during COVID with all the restrictions through the learning of anatomy and achieving excellent results. Many students commented on how much they appreciated his instruction and help. Additionally, he works on the neuroscience block and P3 groups, the admissions committee, the educational operations committee, all while serving as co-director of the clinically oriented anatomy block.
Betsy Jones, EdD
Department of Medical Education
Betsy needs little introduction. She has been a long serving member of the School of Medicine for many years serving in multiple roles. As chair of the Department of Medical Education since 2013, she has been instrumental in developing many of our ways of educating students in both science and the art of practicing medicine. She is a strong advocate for women in medicine and has organized many groups to help young women students as well as faculty develop their careers.
We honor Betsy for her work with our students and their clinical skills. Through the "P3 course" in clinical stimulations students consistently score in the highest percentage pass rates on the USMLE clinical skills test.

Joehassin Cordero, MD
Department of Otolaryngology
For over 20 years, Joe has been a valued member of the School of Medicine. He is particularly well-known and sought out as a physician for difficult ENT cases in trauma and cancer. Joe is active in the local county medical society and the Texas Medical Association, along with his involvement in state and national ENT societies. He was instrumental in the creation of our otolaryngology residency program and serves as the founding chair of the Department of Otolaryngology.
Today in particular, we are focused on his clinical teaching. His efforts educating students and residents are immeasurable. He is currently a facilitator and master teacher in the course developed by the Academy of Communication in Healthcare called Relationship Centered Communication.
Allan Haynes, MD
Department of Urology
Teaching through clinical service is the backbone of the School of Medicine for third- and fourth-year students and medical residents. Since joining the school in 2006, Dr. Haynes has been a consummate educator, clinician, and administrator, daily demonstrating his commitment to our learners and the care of our patients. Having been a physician for nearly five decades, his experience is second to none. Dr. Haynes' life-long passion as a physician to diagnose, treat, and care for thousands of patients while teaching students and residents in the clinic and the operating room, has been recognized many times, including his selection (four times) as the UMC attending of the month, the UMC attending of the year, and Master Clinical Teacher for TTUHSC, also four years in a row.
David Blann, MD
Covenant Campus
Department of Obstetrics & Gynecology
David, an extremely busy OBGYN physician for Covenant Medical Group, consistently volunteers to take our medical students, many times far more than his fair share. Judging by the comments from his past students, it is not surprising that he was voted best OBGYN preceptor of the year by the Classes of 2018 and 2021. "Dr. Blann does an excellent job communicating with patients no matter how difficult the conversation may be. He is always very clear and direct. He is also an excellent teacher and gives students many opportunities for hands-on learning."
Michael Robertson, MD
Covenant Campus
Department of Internal Medicine
Michael, a TTUHSC graduate and former resident, has been the clerkship director for Internal Medicine since the creation of the Covenant Branch Campus in 2016. As the CEO of Covenant Health Partners, Dr. Robertson consistently represents our university proudly and effectively. Comments from his past students include, "Dr. Robertson, although was very tough on us and held us to high standards, provided a very good foundation for us to build our medical knowledge. He was very realistic about where he expected our knowledge level to be during this early rotation and knew how to help us out appropriately."
Bethany Nunez, MD
Department of Pediatrics
Bethany is truly one of our home-grown faculty. She graduated from TTUHSC in 2013 and finished her pediatric residency in 2016. Despite her busy medical career and family commitments she has devoted much time in the education of our students and residents. Today we honor her for her outstanding innovation in pediatrics with the creation of a "boot camp" style course to prepare the third-year medical students to start a residency in pediatrics. She created the simulation sessions, procedural skills workshops, patient safety experiences, and extensive lecture and role-playing practice in developing skills to function as a resident.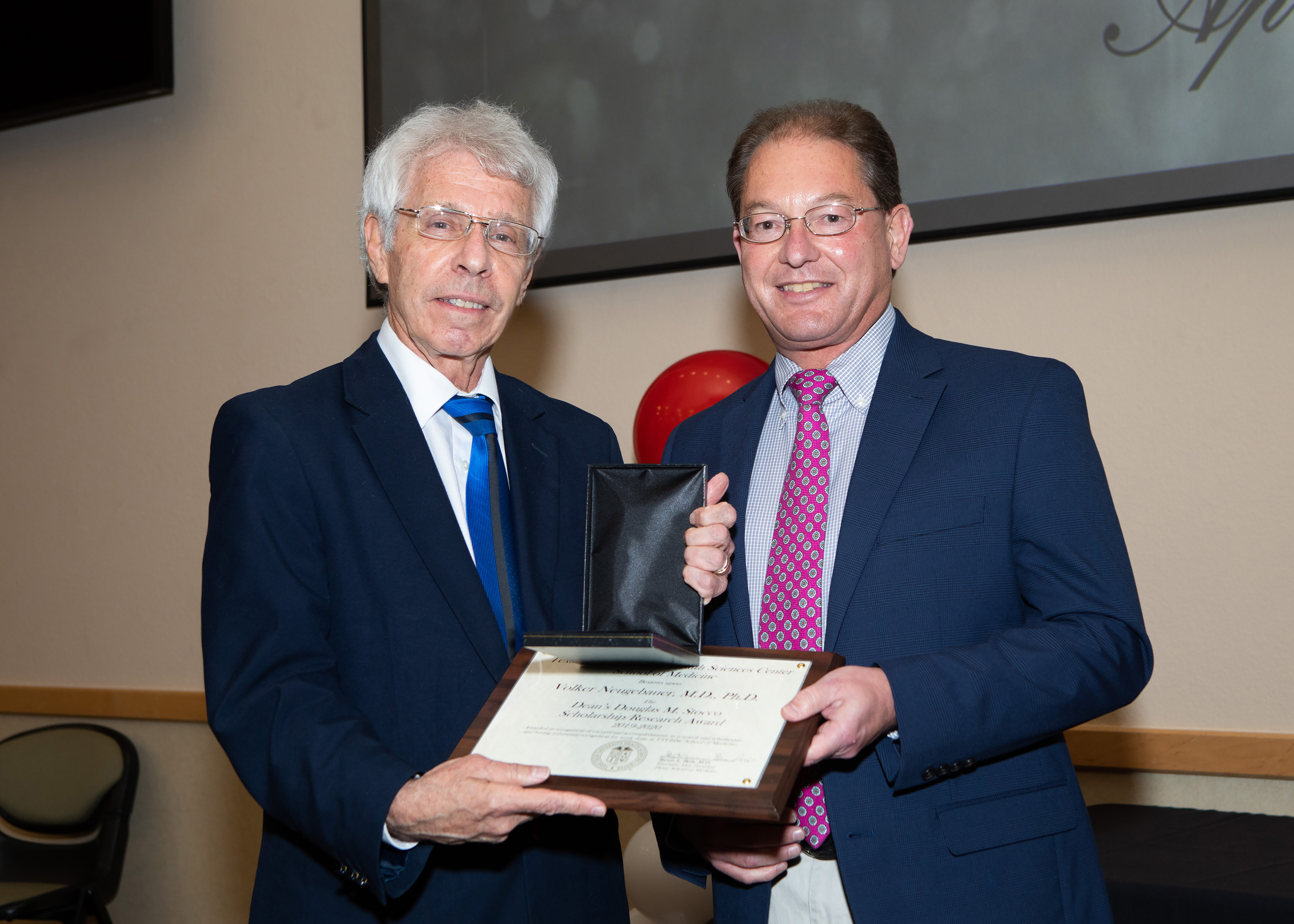 Volker Neugebauer, MD, PhD
Department of Pharmacology & Neuroscience
Volker has had a long and distinguished career. He came to TTUHSC in 2014 as the chair of Department of Pharmacology and Neuroscience and in the years since, has establish an extraordinary record in scientific accomplishments, grants, presentations, and leadership of the department. In addition to his role as chair, he serves as the executive director and chief scientific officer of the Garrison Institute on Aging. He has mentored numerous faculty, graduate students, and served on dissertation committees for numerous graduate students.
Most importantly what we recognize today is his extraordinary contribution to science. His collaborative research projects explore brain mechanisms of neuropsychiatric disorders, alcohol use and addiction disorders, co-morbidities with depression and anxiety disorders, neurodegenerative disorders such as Alzheimer's disease, and epileptogenesis. Over his career, Volker has been awarded NIH and other grants totaling over $30 million. He has directly published over 125 articles and case reports, over 20 book chapters or monographs, and 170 abstracts to his credit. Volker has an extraordinary and productive research record advancing the knowledge of science.
John DeToledo, MD
Department of Neurology
Recipients are recognized for outstanding service to the institution and the community that exceeds performance of normal responsibilities and has greatly contributed to the development and progress of the School of Medicine.
John is a well-known member of our faculty. He graduated from Simon Paulo medical school in 1980 and completed a medicine residency there before coming to Boston University for his neurology training. He was Professor of Neurology and Chief for the division of neurology and epilepsy at Wake Forest University until 2009, prior to joining Texas Tech.
As chair of the new Department of Neurology, he was responsible for recruiting faculty and starting a residency program jointly run at UMC and Covenant. John developed funding and resources to support his faculty for research, the medical practice, and teaching of medical students and residents. He did it with extraordinary energy, kindness, commitment and excellence. He now has specialists for multiple sclerosis, Parkinson's disease, epilepsy, and advanced aging. John has led many different committees and search committees for the school, served as the leader of the medical practice income plan, and the Chief of Staff for University Medical Center. John was appointed Associate Dean for Community Outreach and Engagement in March 2020.
Dean's Department Awards
There are three Departmental Awards for Outstanding Achievement in the areas of Teaching, Research and Patient Satisfaction.

Outstanding Achievement in Teaching
---
Department of Family & Community Medicine
Award accepted by Department Chair, Ron Cook, DO
This award is determined based on student responses on two surveys, the Graduation Questionnaire and the End of Clerkship Survey. Both surveys ask students to rate the quality of their educational experiences in each clinical clerkship.
This year, the Departmental Award for Outstanding Achievement in Teaching goes to the Department of Family & Community Medicine (89.40%).
Students especially recognized Drs. Babb and Linton as being outstanding teachers in that clerkship.

Outstanding Achievement in Research
---
Department of Internal Medicine
Award accepted by Department Chair, Scott Shurmur, MD
The Departmental Award for Outstanding Achievement in Research is based upon annual extramural research funding.
The Department that led all others in terms of extramural research funding with $10,577,500 was the Department of Internal Medicine.

Outstanding Achievement in Patient Satisfaction
---
Department of Neurology
Award accepted by Department Chair, John DeToledo, MD
The Departmental Award for Outstanding Achievement in Patient Satisfaction is based upon the Press-Ganey Patient Satisfaction Assessment.
The Department with the highest Press-Ganey Patient Satisfaction Assessment for year 2020 was the Department of Neurology. They compiled a national percentile ranking of 94.6%. This outstanding percentile rank signifies Texas Tech Physicians Neurology as a premier provider group in the nation.
2021 COVID Hero Award Recipients

This last year starting in March we experienced an unprecedented worldwide health crisis, the SARS-Cov-2, known as COVID-19 Pandemic. Physicians, nurses, hospital staff, and all health institutions experienced an overwhelming influx of sick and dying patients. It would be impossible to enumerate all the people in our institution who devoted time, effort, and compassionate care to comfort those hospitalized by this disease.
We honor five individuals who committed countless hours, days, months; sleepless nights and exhausting weekends to treat the sickest of the COVID patients. They provided the last human contact to many patients and comfort to their families. The physical and emotional burden was exhausting, demanding, and often depressing. Yet they persisted in demonstrating the finest qualities of our profession -- caring for the sick and dying, without regard to their own needs and comfort. For their extraordinary commitment to our patients, we honor these individuals.
Megan Hughes, MD
Department of Internal Medicine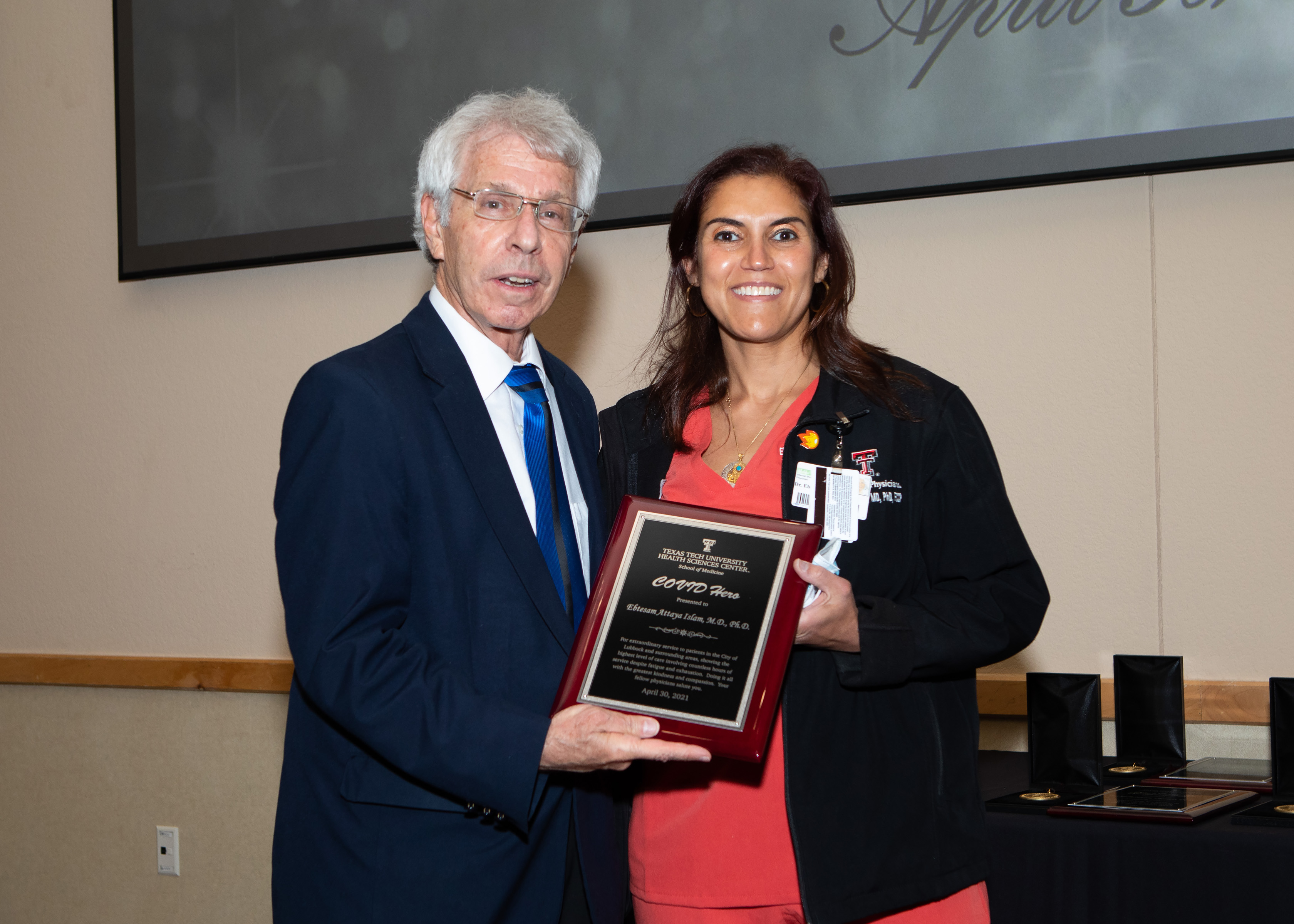 Ebtesam Islam, MD, PhD
Department of Internal Medicine
Cynthia Jumper, MD
Department of Internal Medicine
Victor Test, MD
Department of Internal Medicine
Andres Yepes-Hurtado, MD
Department of Internal Medicine
2019-2020 Outstanding Clerkship Educators
The faculty awardees have been identified consistently by students as being excellent educators, and have rated "excellent" 10 or more times on student evaluations.
Departmental Unsung Hero Awards
Dr. Thomas serves as the Director of the department's Graduate Program (Biochemistry, Cell Biology, and Molecular Biology concentration). He is in charge of the graduate students in this program, making sure that every student is on track meeting the various requirements necessary for a successful completion of their graduate program. He does an outstanding job in this role as a leader and mentor, effectively orchestrating this work in a humble manner.
Since her arrival to TTUHSC, Dr. Jansen has been a positive force for research and education. She has worked tirelessly and effectively to improve the quality of medical and graduate education through her service as Graduate Advisor and Assistant Dean for the Pre-Clerkship Curriculum. Her commitment to students' training and education goes beyond expectations.
Dr. Tarbox is the energizer bunny. Full of enthusiasm, she takes on more than she should. Part of that is because she can't say "NO". Things magically get done, sometimes "just in time". She is a superior teacher with a heart of gold. She is also super-tolerant, keeping a handful or two of patients that most of the rest of us would have dismissed years ago.
Dr. Mitchell is the most prolific academic contributor of the department; writing book chapters, journal articles, poster presentations, and accepting numerous speaker engagements. During her tenure as Director of Sports Medicine she, and her faculty and fellows, have taken care of athletes that have won at least 13 major titles in their respective disciplines. These athletes could not have obtained their outstanding performance without the excellent care given to them by Dr. Mitchell and her team. The Unsung Hero award is well-deserved.
Sharilyn is always available to help no matter the request. She is the "go to" person for our GSBS-related functions and she serves as lecturer and Co-Director for the Core and departmental courses offered to all our incoming graduate students.
Since his time as an Internal Medicine resident at TTUHSC, Drew has continually distinguished himself and the medical profession. Drew spearheaded the COVID-19 Antibody Infusion Program, successfully preventing hospitalizations and serious illnesses in COVID patients. He is heavily involved in clinical medical student education serving as the Associate Internal Medicine Program Director. Drew is a tremendous asset to the department and we relish his contributions.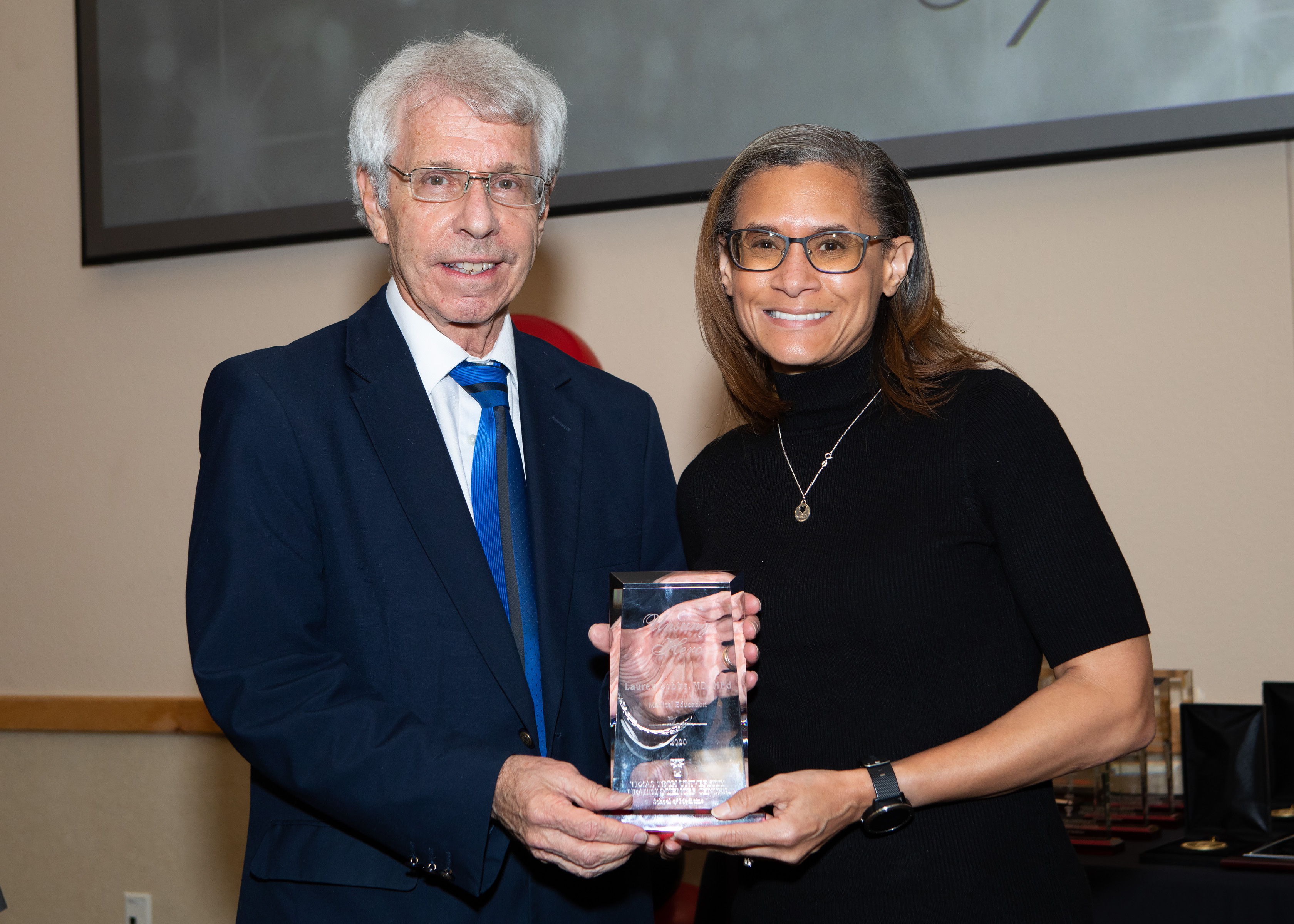 She is an accomplished multi-tasker — conscientious teacher of medical students, clinical precasting of Internal Medicine residents, extensive student advising, and trusted collaborator on a range of educational and scholarly projects. She is positive and pro-active, and her counsel is always valued. Lauren is an important contributor to the department, and it's a pleasure to sing her praises.
She is in charge of the 4th year medical students that select 2-4 week rotations. Silvia sees private patients four half-days/week at our 82nd Street clinic, and, perhaps most importantly, frequently staffs the resident clinics due to an unprecedented loss of another faculty in the department. Silvia exemplifies the title of this award, a true Unsung Hero.
Dr. Sands is our 2020 Hero. He is a graduate of UTMB's medical school, internship and residency, as well as a veteran who served as an operational Flight Surgeon with the Third Marine Air Wing in California. He is a man of deep faith, uncommon wisdom, humble, yet quietly confident in his medical and surgical skills honed over 37 years of private practice. He is an outstanding surgical mentor whose flexibility and willingness to selflessly assist learners and colleagues earning him the HERO designation. Warmest thanks and congratulations from your colleagues.
Dr. Beaver was an excellent TTU undergraduate student, an excellent TTUHSC medical student, and an outstanding resident in our Orthopaedic Residency Training Program. Dr. Beaver was recruited as a Pediatric Orthopaedic Surgeon. He has been a great addition to the faculty as a clinician, teacher and mentor; and is an excellent ambassador for our department at Covenant. After joining our faculty, the department brought back our residents from Cooks Children's Hospital to work with him.
It is an honor to work with such a giving physician, partner and friend, Tam Nguyen goes out of his way to serve those around him, our country with his military service in New York and the valley in Texas during the pandemic. Upon his return and without missing a beat, he continued his great work providing very personable care with outstanding surgical skill. We are very grateful for his commitment to our institution and outstanding resident education.
Dr. Pomeroy is a TTUHSC pediatric resident graduate, who, after serving as the first Chief Resident, serves at the Raider Clinic, a free standing Pediatric resident continuity of care clinic on South Quaker Avenue. She administratively directs this clinic, is a member of several key TTUHSC student committees, the Association of Pediatric Program Directors, and an associate program director for our fully accredited Pediatric residency.
Recognized as an outstanding scientist and educator, Dr. Bergeson deserves our deepest appreciation for her valuable service as a mentor, advisor and "go to" person for faculty, staff, students and trainees. The unsung hero award serves to express our gratitude to Dr. Bergeson for her enthusiastic, compassionate, candid, and dedicated support of the department, our students and collaborators. You are a wonderful source of inspiration to all of us.
Since hiring Dr. Sullivan in 2019, he has excelled in the area of team work, initiative, teaching and clinical care. He immediately looked for opportunities to facilitate quality improvements for administrative and clinical initiatives. For example, revising the attending call schedule which decreased faculty stress and improved physician quality of life. Dr. Sullivan is respectful and collaborative with other members of each team, willing to "fill the gaps" wherever needed. His clinical skills and personal engagement make him a "jack of all trades" within the field of Psychiatry.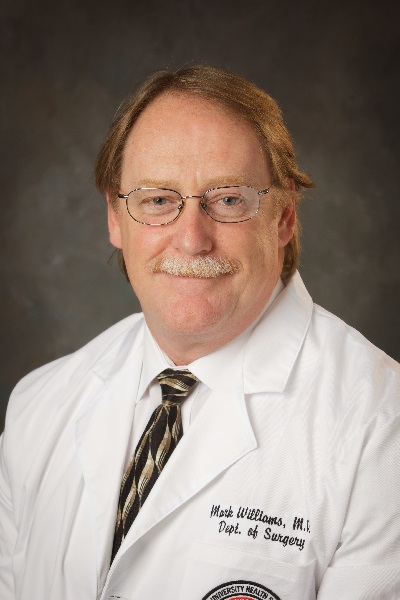 He is the go-to surgeon for faculty and residents whenever there is a difficult clinical problem. His calm demeanor and mature, wise guidance inspires confidence in all, making him a de facto leader. When our residency program needed new leadership, Mark agreed to serve as Program Director. As expected, he stepped up to the plate and has done an outstanding job. Everyone recognizes his loyalty and commitment to the department, and I am proud to award him the Unsung Hero in Surgery.
Tom pioneered and established robot-assisted surgical procedures in the Department of Urology. He is a very skillful clinician and urological surgeon, providing excellent state-of-the art care for his patients. His expertise and surgical teaching skills are highly respected by our residents.