A Vibrant and Progressive Community-Based Medical School
The Permian Basin is alive and thriving with oil and gas still the region's largest industry. This West Texas community is rapidly being recognized as a major health provider with state of the art hospitals, a cancer center, and a array of superior medical specialists.
The students at Texas Tech University Health Sciences Center at the Permian Basin gain valuable hands-on experience in all aspects of patient care working alongside a team of professionals dedicated to providing first-rate, personalized care in Odessa, Midland and across the region. Working with Medical Center Hospital in Odessa and Midland Memorial Hospital in nearby Midland, students experience the unique challenges of rural health care while enjoying the amenities of a mid-size city.
TTUHSC at the Permian Basin is dedicated to the education of health care professionals in an environment that promotes and respects human dignity. Our commitment to excellence in human services and stewardship in the educational, clinical, research, operational, and community activities of the school.
TTUHSC Permian Basin is home to residencies in Internal Medicine, Family and Community Medicine and Obstetrics and Gynecology.
Clinical rotations and patient care are also available in the departments of General Surgery, Psychiatry and Pediatrics.
July 2009 the Permian Basin campus received our inaugural class of third year medial students and have had 2 years of successful MSIII and MSIV clinical experiences.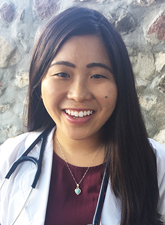 TTUHSC Permian Basin PA Students Receive National Fellowships
Izzy Figueroa and Winnie Chau, second-year Master of Physician Assistant (PA) Studies program students from the Texas Tech University Health Sciences Center (TTUHSC) Permian Basin campus in Midland, were recently selected as 2018-2019 Future Educator Fellows (FEF) for the Physician Assistant Education Association (PAEA). They were among 153 students from 88 PA programs across the country that applied for 16 PAEA fellowships slots, and their selection made TTUHSC the only program that had more than one representative chosen. More