Bachelor of Science in Nursing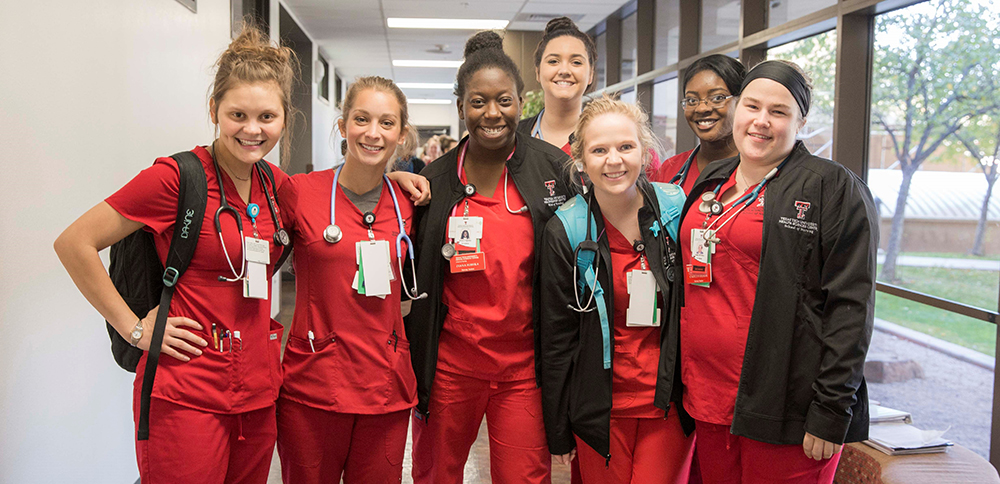 Program Overview
The School of Nursing offers unique opportunities for students who are not registered nurses to receive the latest state-of-the-art nursing education. The Bachelor of Science in Nursing uses a combination of classroom and hands-on learning, utilizing patient simulators and hospital settings to provids students the ability to learn skills using the most current technology. While benefiting from the expertise of outstanding faculty and the opportunity to work with other health care professionals, students receive an education that prepares them to be nursing leaders.
This track is for those who are not registered nurses. Upon completion of prerequisite courses, the BSN degree plan can be completed in four consecutive semesters.
TTUHSC is has centers all across Texas, spreading the accessibility of unparalleled education in health care. Our sites for our Bachelor of Science in Nursing are located in Abilene, Lubbock, and Odessa.
Admission Requirements
All applicants will be reviewed in an individual and holistic manner. No single factor will determine a student's admission. Although academic criteria (cumulative GPA, grades earned in science courses, and failed/repeated courses) are important factors in admission consideration, additional non-academic information is also important.
Applications not meeting the minimum admission requirements will not be reviewed.
In compliance with TTUHSC policy, all applicants who have received offers of admission will be required to consent to a criminal background check before being allowed to matriculate. A history of criminal conduct or convictions may result in withdrawal of the admission offer. See the "Criminal Background Checks" section of the SON Student Handbook for the SON policy. The Health Sciences Center policy may be found at HSC OP 10.20. No student will be allowed to matriculate into the program without completing and receiving clearance from the Texas Board of Nursing with either a BON Blue Card or a Declaratory Order with No Stipulations. The cost for a criminal background check(s) is the responsibility of the student.
Minimum cumulative grade point average (GPA) of 3.0, must be meet at time of application, and maintained once all required nursing courses have been completed.
All grades earned at all schools attended are calculated in the admission GPA.

All non-nursing prerequisite courses must be completed with a grade of C or better.
Preference will be given to applicants without repeated and/or dropped courses.
At the time of application submission, applicants must have completed a minimum of 48 credit hours of the required 60 hours of non-nursing prerequisite courses.
At least 4 of the 5 science courses must be completed prior to application submission [Chemistry with lab (4 hours), Human Anatomy & Physiology I (4 hours), Human Anatomy & Physiology II (4 hours), Microbiology with lab (4 hours), and Pathophysiology (3 hours)].
Pathophysiology must be one of the four science courses completed prior to application submission.
A minimum Science prerequisite GPA of 2.75 must be met at time of application, and maintained once all nursing prerequisite courses have been completed.
If the remaining 12 credit hours (out of the 60 credit hours) of the prerequisite non-nursing course have not been completed at the time of application, verification of enrollment to support completion of all required courses will be submitted with application.

If applicant has previously been enrolled in another RN nursing program (including within the TTUHSC system), a letter of academic good standing, signed the previous nursing program director, must be submitted at the time of application.
EFFECTIVE SUMMER 2021: CERTIFIED NURSE ASSISTANT (CNA) CERTIFICATION. Students must be certified as a CNA prior to the first day of class. Preference will be given to applicants certified at the time of the application deadline, along with proof of work experience as a CNA. Please note, faculty members will provide case by case reviews for applicants with other direct patient care/healthcare experiences.
Prior enrollment at TTU.
Permanent resident of TTUHSC service area.
First generation college student.
Volunteer enrichment/Community Activities.
Current healthcare work experience.
Military service and/or training.
Based upon fulfillment of all application eligibility requirements as outlined in the School of Nursing Catalog and posted on the BSN website, a determination will be made on an offer of an interview.
Performance in a face to face interview upon invitation.
Application
It is the responsibility of the applicant to make sure that their application is complete. If the application is not complete and submitted, your application will not be reviewed. Read here about how a criminal history could affect occupational licensing.
| Admission Term | Campus | Application Open | Application Deadline |
| --- | --- | --- | --- |
| Spring | Abilene, Lubbock, Odessa | June 1 | August 31 |
| Summer | Abilene, Lubbock, Odessa | November 15 | January 15 |
| Fall | Abilene, Lubbock, Odessa | December 1 | February 1 |
Offers will go to primary and/or secondary campus choices.
Please note that there are limited available slots at all campus locations.
We have campuses in: Lubbock, Abilene, Permian Basin

Please note: Application fees are non-refundable and it is the responsibility of the applicant to ensure that the correct program and campus is selected.
Once you have submitted your application, official transcripts must be submitted by ALL colleges or universities attended. You may only request official transcripts – you may not submit an official transcript yourself.
Transcripts may be mailed by the college or university to this address:

TTUHSC School of Nursing
Office of Admissions
3601 4th St. STOP 8212
Lubbock, TX 79430-8212
Or
Upon admission to the School of Nursing all applicants interested in applying for financial aid (student loans, grants, and scholarships) must complete a Free Application for Federal Student Aid (FAFSA). The School of Nursing requires a FAFSA application to be on file in order to be considered eligible for scholarships offered by the school.
Additional information can be found at the Financial Aid Office website by contacting the School of Nursing Scholarship Coordinator Kayla New or by visiting the Scholarship website.