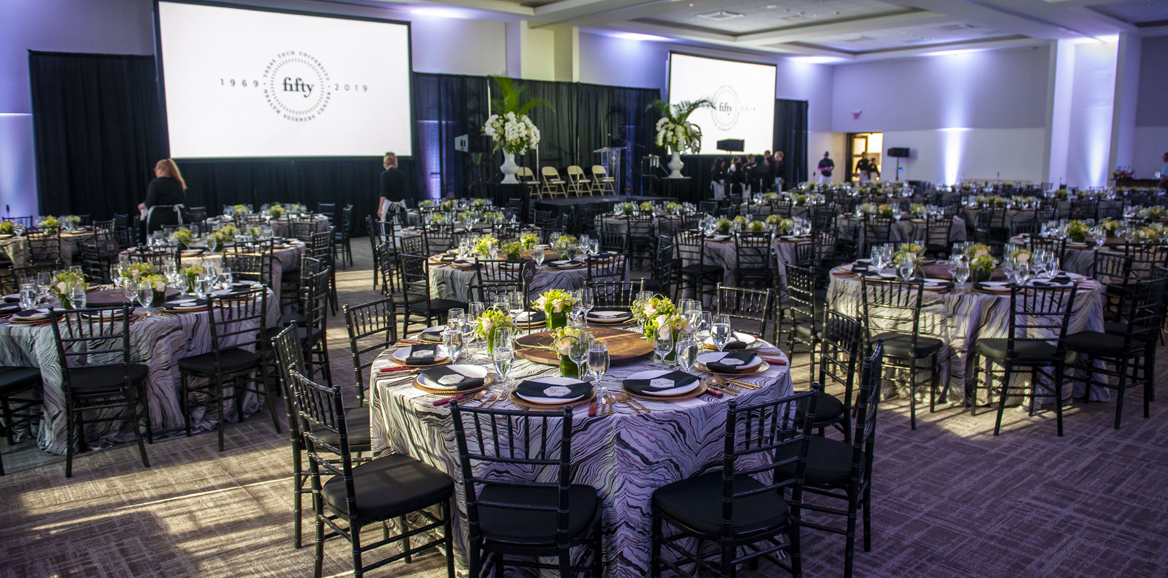 A New Home for Academic Events
The new Academic Events Center (AEC) offers Texas Tech University Health Sciences Center (TTUHSC) an attractive venue for academic and meeting needs. The customizable event area is available to students and TTUHSC employees for a variety of functions.
With 5,111 square feet of meeting space, the AEC provides the expanding campus community with meeting space and offers conference facilities including tables, chairs and cleanup.
Optional features include a stage, customizable airwalls and a security officer. A security officer is required for events serving alcohol and is charged at a rate of $110/hour.
| | | |
| --- | --- | --- |
| Rates for Academic Event Center | ½ Day (no more than 5 hours) | Full Day (more than 5 hours) |
| Student | No charge | No charge |
| Internal | No charge | No charge |
| External, sponsored by TTUHSC | $2,000 | $3,000 |

Rates will be evaluated on an annual basis and are subject to change
Square Feet
Max Capacity
Empty: 340 people
Ballroom: 280 people (35 round tables with 8 chairs at each)
Theater: 300 people
Included Items
Tables & chairs (no linens)
Microphones, speakers and screens built-in (HDMI connection for your laptop)
Ice & reverse osmosis water
Small kitchen with freezer & refrigerator
Cleanup
Options
Security Officer (required when serving alcohol) $110 an hour
Stage, no charge
Airwalls, no charge (The room can be split into three sections: 1/2, 1/4 & 1/4)
Booking Requests
All requests should be submitted through this form, you will be notified about your request via email
This link is also able to request both the University Center Lobby and Third Floor Terrace
Date limitations on requests:

minimum of 2 weeks
maximum of 1 calendar year from today
Please note the AEC is unable to host any events for the month of January, 2020

Due to construction in ACB 100, classes will be held in the AEC for this time frame
Parking
The purple visitor parking lot directly north and east of the Conference Center has about 60 spaces

If you have an event with more than 60 external guests that need parking (that do not already have a parking pass at TTUHSC) and the event will occur before 5pm during the week, please complete a special event parking request. Note that bus parking is in lot F3.

Special Event Parking Request (eRaider sign-in required): Not needed if event meets ONE of these three requrements:

Has less than 60 guests (we have enough parking to accomodate this)
Occurs after 5pm (parking is not an issue after the workday is over)
Consists of all TTUHSC facutly/staff/students (these internal users already have parking and should park in their normally assigned lot before 5pm)
Contact
Booking Priorities/Example Events:
1. Academics and Research
Example: Interview Day for Schools, CME Conferences, Student Research Week
2. Service and Outreach
Example: Red Bag Tours
3. People
Example: HR Award Ceremony
4. Other TTUS Institutions (TTU/TTUHSCEP/TTUS/ASU)
Example: TTU System hosting a Health Care Panel with Elected Officials
5. Outside Parties
Example: American Heart Association (must be sponsored by a TTUHSC department)