Biotechnology Master's Program

Biotechnology Program Overview
The 21 month Master of Science degree is offered through the Graduate School of Biomedical Sciences on both the Abilene & Lubbock TTUHSC campuses. For those with a strong entrepreneurial spirit, we offer an exciting opportunity with our dual MS/MBA program, administered in cooperation with TTU. The first two semesters consist of didactic coursework and research laboratory rotations. Then, in June of the first year, work begins full-time in an innovative laboratory setting.
We are proud to offer a competitive salary and tuition, included until graduation for those who choose a TTUHSC lab. Students can also choose internships in industry or at the TTUS Office of Research Commercialization. A wide variety of funded research opportunities are available in our friendly and collaborative environment.
What is Biotechnology?
Entrepreneurial science is the trend in both academia and within industry settings, proving the growing demand for biotechnologists. Our program prepares our students for a wealth of professional and academic options, including joining a biotech company, securing an academic or industry technical research position, working at a government agency, taking the patent bar exam, or matriculating into a Ph.D. with an advantage. By choosing biotechnology as a career, students move forward to achieve positions in research and management within the industry, as well as many other exciting and diverse professions.
Information on our Biotechnology Program
Let us make TTUHSC your academic home for the next step in your career.
Susan Bergeson, Ph.D.
Program Director Biotechnology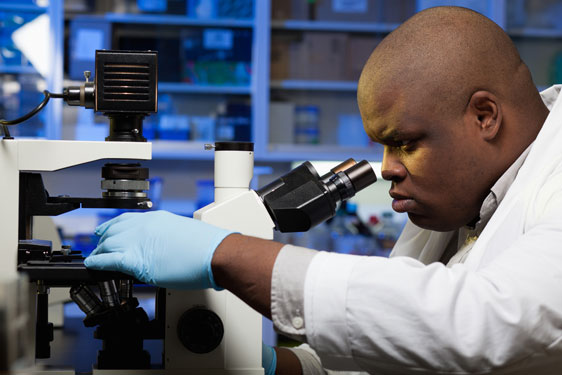 Biotechnology Research Assistantship/Internship
Starting June 1st of a Biotechnology student's third semester is a paid research position. Students choose to pursue either a research assistantship in a TTUHSC faculty member's lab or an external internship. These paid positions continue until the time of a student's graduation the following Spring semester.
Admission Requirements
Requirements for admission are flexible and there are no minimum GPA or test score requirements. All applications are reviewed in a holistic manner, with no single factor determining a student's admission.
Admission requirements are an earned B.S. or B.A. degree in a natural science discipline, including at least one semester each of Organic Chemistry, Biology, and Biochemistry, and a desire to excel in a graduate program with high standards and expectations.
Average GPA of students offered admission is 3.37.
Average GRE of students offered admission is over 306.
Application Information
Deadlines
| Semester | Application Open | Application Deadline | Campus |
| --- | --- | --- | --- |
| Fall | September 1 | June 1 | Abilene, Lubbock |
How to Apply
Applications must be completed at Bioraider. It is the responsibility of the applicant to make sure that their application is submitted by the application deadline to be considered for admission. Only complete applications can be reviewed for admission. The M.S. in Biotechnology admits on a rolling admissions basis for a limited number of slot per campus each admissions cycle.
A complete application is comprised of the following:
A completely submitted application on BioRaider.com, which includes an Essay/Personal Statement
At least 2 letters of reference written within the year of application
A GRE taken within the past 5 years
Paid Application Fee
Official College Transcripts for all institutions attended
The program requires a valid GRE score within the last 5 years. GRE scores can be submitted using the ETS Institution Code 6851. (TTUHSC = 6851, do not use the TTU code.)
International applicants are also required to submit a valid TOEFL/IELTS score within the last 2 years.
We require official transcripts from all U.S. institutions attended, including those institutions for which you received transfer credit toward your undergraduate degree.
Electronic official transcripts from U.S. institutions are preferred and should be sent to: graduate.school@ttuhsc.edu.
Do NOT send international transcripts and/or mark sheets. We require a course-by-course transcript evaluation for all institutions attended outside of the USA.
Hard copy official transcripts should be mailed to:
Texas Tech University Health Sciences Center
Graduate School of Biomedical Sciences
3601 4th St. MS 6206
Lubbock, TX 79430-6206