Biochemistry, Cellular & Molecular Biology Concentration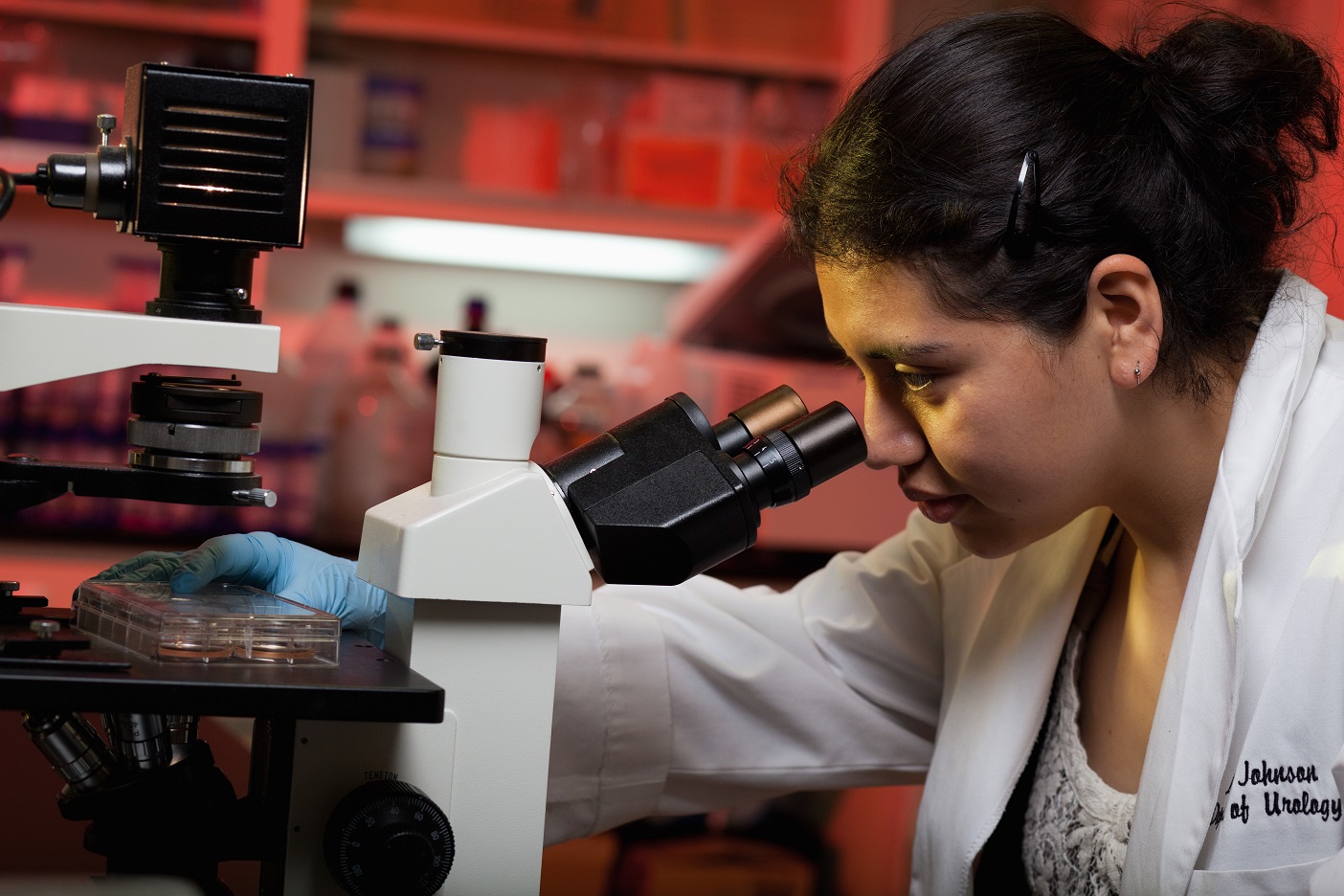 Concentration Overview
The Biochemistry, Cellular and Molecular Biology Graduate Concentration prepares students for careers in the fields of biochemistry, cellular, developmental, and molecular biology. Specific employment opportunities for graduates include traditional university professorships as well as positions in biotechnology and pharmaceutical industries, governmental appointments, and others. This is a research-based concentration with coursework designed to teach students how to approach and solve modern problems in biochemistry, cellular and molecular biology. The didactic curriculum includes the GSBS core courses (Molecules, Cells, Genes), and two or more advanced courses that examine concepts on the forefront of biochemistry, cell and developmental biology, molecular biology, and cancer biology. During the first year of study, students progress through research rotations in three laboratories to aid in the choice of research mentor.
Year 1
Fall
GSBS 5471 - Core I: Molecules
GSBS 5372 - Core II: Cells
GSBS 5373 - Core III: Genes
GSBS 5174 - Core IV: Biomedical Seminar
GSBS 5275 - Core V: Introduction to Biomedical Seminar
Spring
GBCM 7101 - Seminar
GSBS 5101 - Responsible Conduct of Research
AND
GSBS 5098 - Techniques in Biomedical Research (6 Credit Hours)
AND
Choose two of three electives:
GBCM 6320 - Advanced Cell Biology
GBCM 6333 - Advanced Protein Chemistry
GBTC 5340 - Biology of Cancer
Summer
GSBS 7000 - Research
Year 2
Fall
GBCM 7101- Seminar
GBCM 7000 - Research
Spring
GBCM 5130 - Research Presentation Skills
GBCM 7101 - Seminar
GBCM 7000 - Research
Summer
GBCM 7000 - Research
Year 3
Fall
GBCM 7101 - Seminar
GBCM 8000 - Dissertation
Spring
GBCM 5130 - Research Presentation Skills
GBCM 7101 - Seminar
GBCM 8000 - Dissertation
Summer
GBCM 8000 - Dissertation
*Students in the BCMB Ph.D. concentration must pass their qualifying exam before the end of year three.
Current tuition costs can be seen at the links below or by contacting Student Business Services from 8:30 a.m. to 4 p.m. CST at (806) 743-7867 for detailed fee information, including out-of-state tuition.
TTUHSC Student Business Services Main Page
Admission Requirements
Requirements for admission are flexible and there are no minimum GPA or test score requirements. All applications are reviewed in a holistic manner, with no single factor determining a student's admission.
Students may have a Bachelor's degree in any field but must include typical science courses (Chemistry, Biology, Zoology/Animal Science, etc.). A strong science background is encouraged.

The admission process for the Graduate School of Biomedical Sciences (GSBS) is more than just an application. To ensure that applicants can succeed in a graduate program, an applicant's personal qualities, work experience, and ability to work with different ideas and personalities within a program are also important admission factors.

Admission to any graduate degree program is granted by the Dean of the Graduate School of Biomedical Sciences upon the recommendation of the GSBS Admissions Committee and/or the program faculty.
Average GPA of students offered admission is 3.41.
Average GRE of students offered admission is 309.
Application Information


Deadlines
Semester
Application Open
Application Deadline
Campus
Fall Only
September 1
Early Review December 1
Regular Admission March 1
Lubbock
How to Apply
Applications must be completed at Bioraider. It is the responsibility of the applicant to make sure that their application is complete by the application deadline to be considered for admission. Incomplete applications will not be reviewed for admission. Applications are reviewed on a rolling admissions basis.
A complete application is comprised of the following:
A completely submitted application on BioRaider.com , which includes an Essay/Personal Statement
At least 2 letters of reference written within the year of application
A GRE or MCAT score taken within the past 5 years
Paid Application Fee
Official College Transcripts for all institutions attended
The program requires a valid GRE score within the last 5 years. GRE scores can be submitted using the ETS Institution Code 6851.
We require official transcripts from all U.S. institutions attended, including those institutions for which you received transfer credit toward your undergraduate degree.
Electronic official transcripts from U.S. institutions are preferred and should be sent to: graduate.school@ttuhsc.edu.
Do NOT send international transcripts and/or mark sheets. See Application Instructions for more information.
Hard copy official transcripts should be mailed to:
Texas Tech University Health Sciences Center
Graduate School of Biomedical Sciences
3601 4th St. MS 6206
Lubbock, TX 79430-6206