For the Person with Aphasia:
To understand messages better:
Get rid of distractions. For example, turn off the T.V.
Look at the speaker and watch their mouth.
Watch the speaker's gestures and face for clues.
If you don't understand, ask the speaker to "Say that again."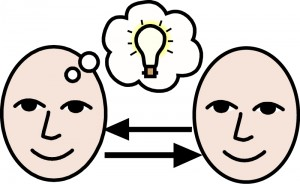 To get your message out clearly:
Take your time.
If you can't find the exact word, talk around the word.
Use any means to get your message across.

Gesture.
Draw.
Write the first letter of a word.
Ask your partner if he or she understands you.
For the Caregivers:
Speak slowly.
Repeat the message or say it in a different way.
Show.
Write down the message.