Overview
The Child and Adolescent Psychiatry Fellowship Training Program at Texas Tech University Health Sciences Center, Permian Basin has been fully accredited by the ACGME since 2017. The goal of our training at TTUHSC Permian Basin is to recruit bright, energetic, highly motivated physicians who want to become child and adolescent psychiatrists and to provide opportunities for development into any of the myriad of possibilities for practice and leadership in the field of child and adolescent psychiatry. The program strives to create a learning environment that motivates the trainee towards independent lifelong and experiential learning, promoting a developmental approach to the comprehensive assessment, diagnosis and evidence based treatment of the wide range of child, adolescent and family psychopathology, integrating biological, psychological and social interactive influences with typical development across the life cycle through adolescence.
Our program is fortunate to be in an institution that is nationally known for its focus on patient and family centered care in pediatrics. This environment facilitates our goals of integrating biological, neurological and social sciences to focus on excellent science, involving the family and patients throughout the process. We augment this approach with experiential learning about culture and spirituality and their influence on the family's approach and acceptance of psychiatric interventions, thus making our work more effective and collaborative.
The specific goals of the child and adolescent psychiatry training include acquiring the skills and knowledge to:
Comprehensively evaluate children (from infancy through late adolescence) and their families for developmental abnormalities and psychiatric disorders and to develop and implement evidence-based comprehensive treatment plans with the family and the patient.
Provide a range of indicated treatment modalities for children and adolescents with psychiatric disorders and their families, including a variety of brief and longer-term psychotherapies, individual, family and group as well as psychopharmacology.
Develop consultative and liaison skills to provide services in a variety of hospital and community settings that provide mental health services to children and their families, including pediatric hospitals, outpatient clinics, schools, the juvenile justice/forensic system and community mental health systems of care.
What to Expect During Fellowship?
The following are different locations that the fellows rotate at, over the course of the 2-year program.
Texas Tech Physicians of the Permian Basin (Midland)
River Crest Hospital (San Angelo)
Midland Memorial Hospital (Midland)
Oceans Behavioral Hospital Permian Basin (Midland)
High Sky Children's Ranch (Midland)
Midland Juvenile Detention Center (Midland)
Dr. Abdul Kadir, Child and Adolescent Neurology (Odessa)
Texas Tech University Health Sciences, Pediatric Neurology (Lubbock)
Midland Children Advocacy Center (Midland)
Midland Community Healthcare Services (Midland)
Pedi Med Center (Midland)
Goals and Objectives
The clinical rotations for the child and adolescent psychiatry training program at the TTUHSC Permian Basin are organized to provide the fellow with intense and focused experiences in order to develop the comprehensive skills necessary for the diagnosis and treatment of the full scope of child, adolescent and family psychopathology. Experiences are tailored to train the fellow to function as a leader of and collaborator with multidisciplinary teams in a variety of settings (inpatient, outpatient, pediatric hospital, schools, juvenile justice center, community systems of care, etc.). While goals and objectives for each rotation have been developed, it is recognized that clinical learning takes place in every encounter and cannot be totally qualified or quantified by specific goals within the core rotations.
Application Process
The Department of Psychiatry only accepts applications through the Electronic Residency Application Service (ERAS).
Application Requirements
Applications are only accepted through the ERAS program. No faxes mailed and/or emailed applications will be accepted.
Applications are only accepted through the ERAS program. No faxes mailed and/or emailed applications will be accepted.
TTUHSC policy mandates that only J-1 visas be sponsored for physicians in training. TTUHSC will accept EAD and green cards.
Applicants must be eligible for a physician in training permit issues by the Texas Medical Board (TMB). To review the requirements for a physician in training permit, you may visit the TMB website. Information for training permits can be found in the section on Physicians in Training (PIT).
Applicants should submit the following documents through ERAS:
ERAS Application
Medical School Transcripts
USMLE Test Results
Dean's Letter
Three (3) Letters of Recommendation
Personal Statement
CV
Curriculum Vitae (CV) and letters should fully account for the time since medical school graduation.
Candidates requiring visa sponsorship should provide specific information in their application.
Selection Process for Fellows
The Department of Psychiatry has established a fellow recruitment committee to assist with the initial screening of applicants for interview selection, as well as candidate selection for training, through the National Residency Matching Program, based on each applicant's cumulative evaluations. Members of the committee include the Program Director and selected faculty, as well as the chief fellow.
Interview Process
We try to provide a comprehensive yet enjoyable Interview Day. You will meet with our faculty and get to know our community. A standard quantitative scoring system is employed in the assessment of each candidate's qualifications, based on the information provided with their application, as well as that obtained through the interview. Clarifying qualitative comments are added as needed. Candidates will be given a tour of the clinic and hospitals as time permits. You will have plenty of opportunities to meet our fellows/residents and ask questions about our program.
Due to the recent Pandemic, interviews may be conducted through Zoom Conferencing.
We look forward to meeting you!
Rank Order Process
Evaluation scores, as well as, qualitative evaluator input is tallied and reviewed by the fellowship recruitment committee. The committee meets two weeks prior to the deadline for submission of a rank order list to the National Resident Matching Program. Applicants are ranked through the combined input of committee members.
Meet our Fellows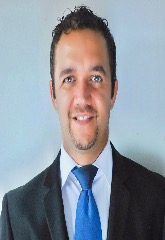 Richard Wix, MD
My soul, joy, happiness and mood are like the Caribbean Sea where I was born and raised. Trained between Venezuela and Germany, the last 5 years of my life there, working in Psychiatry. Mental disorders are mostly onset in childhood and adolescence and studies show how early interventions generate a better outcome in patients, so I am very happy for this opportunity that I have as a Fellow in Child and Adolescent Psychiatry. I like to travel and to know new cultures.
Muhammad Saad, MD
I graduated from Dow Medical College in Pakistan. When I first traveled to the United States as a medical student, I was thrilled and inspired by the amazing quality of medical training and technologies in the US healthcare system which inspired me to pursue my career in the United States after graduation. I chose Texas Tech University Health Sciences Center as it has very qualified faculty and quality training, access to state of the art technology and a very inclusive learning environment. In my spare time, I enjoy travelling, hiking, biking, cooking, listening to music and watching movies. I am confident that my training at Texas Tech University Health Science Center will help me to become a great child and adolescent psychiatrist and I look forward to exploring my hobbies in Texas.
Aiswarya Lakshmi Nandakumar, MD
I was born and raised in a beautiful state called Kerala often dubbed as God's own country, known for its coconut tree-lined seashores, backwaters, and lush green landscapes. I first came to the United States as a thirteen-year-old highschooler. This cross-cultural experience piqued my interest and scientific curiosity in human behavior and the effects of environmental factors on child development. With a keen interest in neuro-psychiatric research, I went on to pursue a postdoctoral research fellowship at Mayo Clinic, Rochester, MN after graduating from medical school (University of Calicut, Amala Institute of Medical Sciences) in Kerala. Following that, I trained in a clinical residency program at University of Illinois College of Medicine, Peoria. Now for a fun fact, I'm super passionate about the traditional arts of Kerala and enjoy learning about mindful meditation techniques, reading and writing Malayalam poems and short stories, and watching realistic Malayalam Cinema. I'm excited to be training at TTUHSC Permian Basin as it offers a positive learning environment that can augment my potential to be transformed into a personable and skilled child psychiatrist, and also continue research in neuropsychiatry to discover and explore subjective measures of mood.
About Midland-Odessa
When our fellows are not at work, they take advantage of all the activities the Permian Basin has to offer. We are home to the Midland Rockhounds minor league baseball team, Odessa Jackalopes semi-pro hockey team, UTPB Falcon Football team, West Texas Drillers arena football team, Permian Basin Sandhills Rodeo, West Texas Relays, and of course Friday Night Lights high school football.
Midland is home to the I-20 Wildlife Preserve. Admission is free and patrons can enjoy 3.4 miles of trails, 7 bird blinds, 4 butterfly gardens, 24' hawk tower, bridge, raised boardwalks and much more! Please take a moment to enjoy a walk around the preserve and be mindful of the natural environment.
Midland-Odessa also houses the Commemorative Air Force Museum, Ellen Noel Art Museum, Globe Theater, Midland-Odessa Symphony Chorale, Permian Playhouse, Petroleum Museum, George W. Bush Childhood Home and Museum, Summer Mummers and the Wagner Noel Performing Arts Center. If you are more of a shopper, Midland-Odessa has over 225 stores including two great shopping malls and multiple shopping centers with a wide range of department stores and restaurants. For more information on these, and other exciting activities in the Permian Basin, please visit the city of Odessa and Midland. It is a safe and secure community for families!
Midland-Odessa is approximately an hour and a half away from metropolitan cities like Dallas, Houston, San Antonio and Austin, with frequent flights through Midland International Air and Space Port. If you enjoy a friendly teaching environment in a community with all the amenities of a big city but the hospitality of a small town, then Texas Tech University Health Sciences Center at the Permian Basin is the place for you!
Contact Information
Got Questions? We're here to help. Contact us if you have questions.
Program Director: Bobby Jain, MD
Program Coordinator: Kim Chandler
Texas Tech University Health Sciences Center at Permian Basin
Department of Psychiatry
Child & Adolescent Psychiatry Fellowship Program
2301 West Michigan
Midland, TX 79701
T: 432-620-1160
F: 432-620-1156