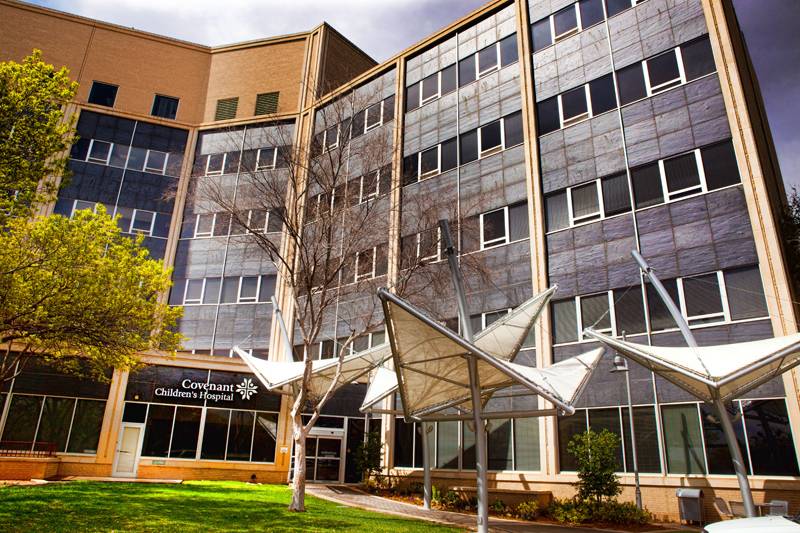 Clinical Training
Our program offers clinical training at Covenant Children's Hospital, a freestanding children's hospital and our primary teaching site.
The hospital has 144 pediatric beds, and approximately 3000 patient discharges per year.
The hospitalist service is the admitting service for most medical subspecialties as well as the general inpatient service.
The team also co-manages surgical patients with surgical subspecialists and cares for floor status as well as intermediate care status patients.
Fellows have the opportunity to rotate at our community hospital partner, University Medical Center, as well as our pediatric inpatient rehabilitation facility, TrustPoint Hospital.
When the fellow is on the hospitalist service, responsibility and independence will increase iteratively. The focus will be not only on clinical skills but also teaching skills.
Curriculum
Our program follows the national standardized curriculum with one-third of the fellowship time spent on core clinical rotations including hospitalist service, medically complex care, surgical co-management and community hospital service. One-third of the curriculum provides time for scholarship and QI activities. The remaining third comprises the individualized curriculum which may be tailored to the fellow's individual career interests.
Year 1
| | |
| --- | --- |
| Pediatric Hospital Medicine Service | 4 blocks |
| Scholarship | 4-5 blocks |
| Individualized Curriculum | 4 blocks |
Year 2
| | |
| --- | --- |
| Pediatric Hospital Medicine Service | 2 blocks |
| Community Hospital Medicine Service | 1 blocks |
| Newborn Medicine | 0.5 blocks |
| Sedation | 0.5 blocks |
| Scholarship | 4 blocks |
| Individualized Curriculum | 5 blocks |
1 Year = 13 blocks
1 Block = 4 Weeks
The Individualized Curriculum is meant to be tailored to the fellow's individual career interests. Elective opportunities include Anesthesia/Sedation, Cardiology, Child Abuse & Neglect, ED, GI, Hematology/Oncology, Infectious Disease, Neurology, Newborn Medicine, NICU, Palliative Care, PICU, Pulmonology, Rehabilitation medicine, Radiology, Surgical subspecialties, Transport medicine, Medical education leadership, Hospital leadership, and additional research experiences.
Conferences, Didactics & Teaching:
Fellows' Conference: Division educational conferences will occur once weekly. Content of conferences will include Journal Club, Case Presentations, Research in Progress for fellows and faculty, and a potpourri of other sessions including didactics and discussions focused around PHM core competencies. Fellows will routinely be tasked with presenting all or part of the conference content.
PHM Board Review: Once monthly scheduled sessions aimed at reviewing PHM Board content in preparation for the PHM Board exam. The fellow will partner with a division faculty member to present the content.
Pediatric Morning Report: Fellows participate in resident morning report occurring 3 days per week.
Pediatric Grand Rounds: Held once weekly, fellows will attend Grand Rounds covering a range of healthcare topics including clinical medicine, quality improvement, medical education, physician leadership, and physician wellness.
Safety Huddle: The fellows will regularly attend the daily safety huddle at Covenant Children's. This allows an opportunity to learn from and participate in identifying hospital safety issues, creating corrective action plans, and maintaining a culture of safety.
Medical Student Mock OSCE: Fellows lead weekly medical student sessions designed to prepare third year medical students for their OSCEs.
Resident Simulation Cases: Fellows help guide and teach residents working through acute medical scenarios during quarterly resident simulation experiences.
QI Resident Curriculum: Fellows will lead the second year pediatric residents in a group quality improvement project focused on inpatient care conducted from July-January. PHM faculty will serve as project mentors.
Benefits
Salary: PGY4 $64,054.53; PGY5 $65,955.76 (2022-2023 academic year)
Vacation: Vacation may be taken during blocks dedicated to scholarship and during elective blocks.
Vacation policies are governed by the TTUHSC GME policies.
Sick Leave: Sick leave policies are governed by the TTUHSC GME policies.
Holiday Schedule: All members of the Division of Inpatient Medicine (including the fellow) receive eight consecutive days off during the 2 week period surrounding Christmas and New Year's.
Medical Insurance: Fellow is covered at no cost to the employee; $163.97 Employee + Spouse; $115.61 Employee +Child(ren); $274.49 Employee + Family **Monthly Deduction rates subject to change**
Vision, Dental Insurance: Premiums 100% paid for by TTUHSC.
Life Insurance: Employee $100,000; Spouse $10,000; Child(ren) $5,000. Premiums 100% paid for by TTUHSC.
Disability Insurance: Long Term $1,500. Premium 100% paid for by TTUHSC.
Malpractice Self Insurance: Premiums 100% paid for by TTUHSC.
Retirement Savings: Eligible for 403B Plan.
Parking: Free Hospital Parking.
Advanced Degree Opportunities: Although not a formal part of the PHM fellowship, if a fellow desires to pursue additional education during their fellowship, scheduling flexibility exists to accommodate a higher educational opportunity. Master programs available through Texas Tech University include: