Overton Hotel and Conference Center in Lubbock, TX
2322 Mac Davis Ln, Lubbock, TX 79401
The conference will be held in the Sunset Ballroom at the Overton Hotel.
Keynote Speakers:
Alan Saghatelian, Ph.D., Salk Institute
Kerry LaPlante, Pharm.D., University of Rhode Island
This annual event is a wonderful opportunity for School of Pharmacy's Faculty, Post-Doctoral Research Associates, Graduate students, Residents, and Pharm.D. students to come together from all four campuses to talk about research and build collaborations and friendships. Research Days consists of poster competitions, keynote addresses, podium presentations on current research, breakout sessions, and the annual dinner.
Administrative support for this event is handled by the Office of Sciences staff. The program schedule is handled by the Research Advisory Committee and the School of Pharmacy's Office of Sciences.
For questions please email: SOPOfficeofSciences@ttuhsc.edu
The Office of Sciences will pay for vehicle travel and hotel stay. The mileage vs. rental calculator will be used for travel and the cheaper of the two will be the one used. Food and drinks will not be reimbursed as we will provide meals each day. The exception is for the Dallas and Abilene attendees, we will allow meal charges on Sunday.
Please make sure to do a travel application for reimbursement of travel and hotel. Email a copy of the travel voucher to sopofficeofsciences@ttuhsc.edu for our records.
Abilene & Dallas Travel Information:
Drive to Lubbock on June 12, 2022.


Please travel 4 to a car to save on expenses.

Check into the Overton Hotel on June 12, 2022 ( 2 people per room).

Hotel stay for two nights.
2322 Mac Davis Ln, Lubbock, TX 79401
Check out on June 14, 2022
Amarillo Travel Information:
Drive to Overton Hotel on June 13, 2022.

arrive at hotel by 8:00 am
Please travel 4 to a car to save on expenses

Check into the Overton Hotel on June 13, 2022.

Hotel stay for one night
2322 Mac Davis Ln, Lubbock, TX 79401
Check out on June 14, 2022
The Overton Hotel is now accepting reservations for the SOP Research Days event. Here is the link for hotel reservations- https://res.windsurfercrs.com/ibe/details.aspx?propertyid=16588&nights=1&checkin=6/12/2022&group=2206BLLBZI&lang=en-us
Each person will need to pay for their own room and submit a travel application for reimbursment. Please contact sopofficeofsciences@ttuhsc.edu for the account to use.
*Guests can also call 806-776-7000 for reservations. Be sure to ask for the TTUHSC School of Pharmacy Research Days room block to receive the special rate.
Important Information:
Per the Hotel, the deadline for reservations will be May 29, 2022.
Please room two to a room. (If you would like to room by yourself the Office of Sciences will only pay for half of the room charges)
Dallas and Abilene attendees will check in on Sunday, June 12th
Amarillo attendees will check in on Monday, June 13th
Please make sure you have registered for this event. This is necessary for providing enough meals for everyone attending.

Click the "Register Here" button at the top of this page to register.
**When you click the link it will take you to the reservation page. Please confirm the correct check in date according to campus. Check out date will be Tuesday, June 14th. Please make sure to bring a hotel tax exempt form. We will also provide a copy at the hotel front desk in case anyone forgets.
Posters should be submitted for printing as early as possible to avoid last minute delays. The Office of Sciences will pay for one poster per presenter. Please get with your department coordinator for use of their pcard to purchase the poster and Office of Sciences will provide a FOP for reimbursment.
Logos: http://www.ttuhscbrand.com/hodge-school-of-pharmacy/
Poster Printing setup:
Use a PDF format 100%
Page setup to 54" x 35"
All Images should be 300 dpi
Submit your file via the vendor email below.
Abilene Vendors
Amarillo Vendor
Fastsigns, 2921 W. I-40, (806) 354-8788

Sir Speedy, 416 West 8th, (806)342-0606 ext 24
Lubbock Vendor
TTUHSC Medical Photography, BC200, (806) 743-1366
Poster judging sessions will take place on both days of the conference (see schedule for times).
Everyone will be notified in advance as to which session they will be judged.
Each session will be 1.5 hours.
The posters will be judged by teams of two faculty members.
Each person will have 10 minutes to present their research with 5 minutes of questions for a total of 15 minutes.

Categories:
PGY2 Residents
PGY1 Residents
Pharm.D. Students
Post-Doctoral Research Associates
Senior Graduate Students (3+ Year)
Junior Graduate Students (1-2 Year)
PLEASE NOTE: Winners will be announced at the awards program on the second day. Attendance at the awards ceremony is required in order to receive an award.
The Research Advisory Committee will evaluate all submitted abstracts and they will vote on winners to present their research during Research Days
Selected people will need to arrange a slide show in Powerpoint and provide the slide show to Office of Sciences by the deadline, June 7, 2022.
The Research Advisory Committee will choose 1 person from each category.
PGY2 Residents
PGY1 Residents
Pharm.D. Students
Post-Doctoral Research Associates
Senior Graduate Students (3+ Year)
Junior Graduate Students (1-2 Year)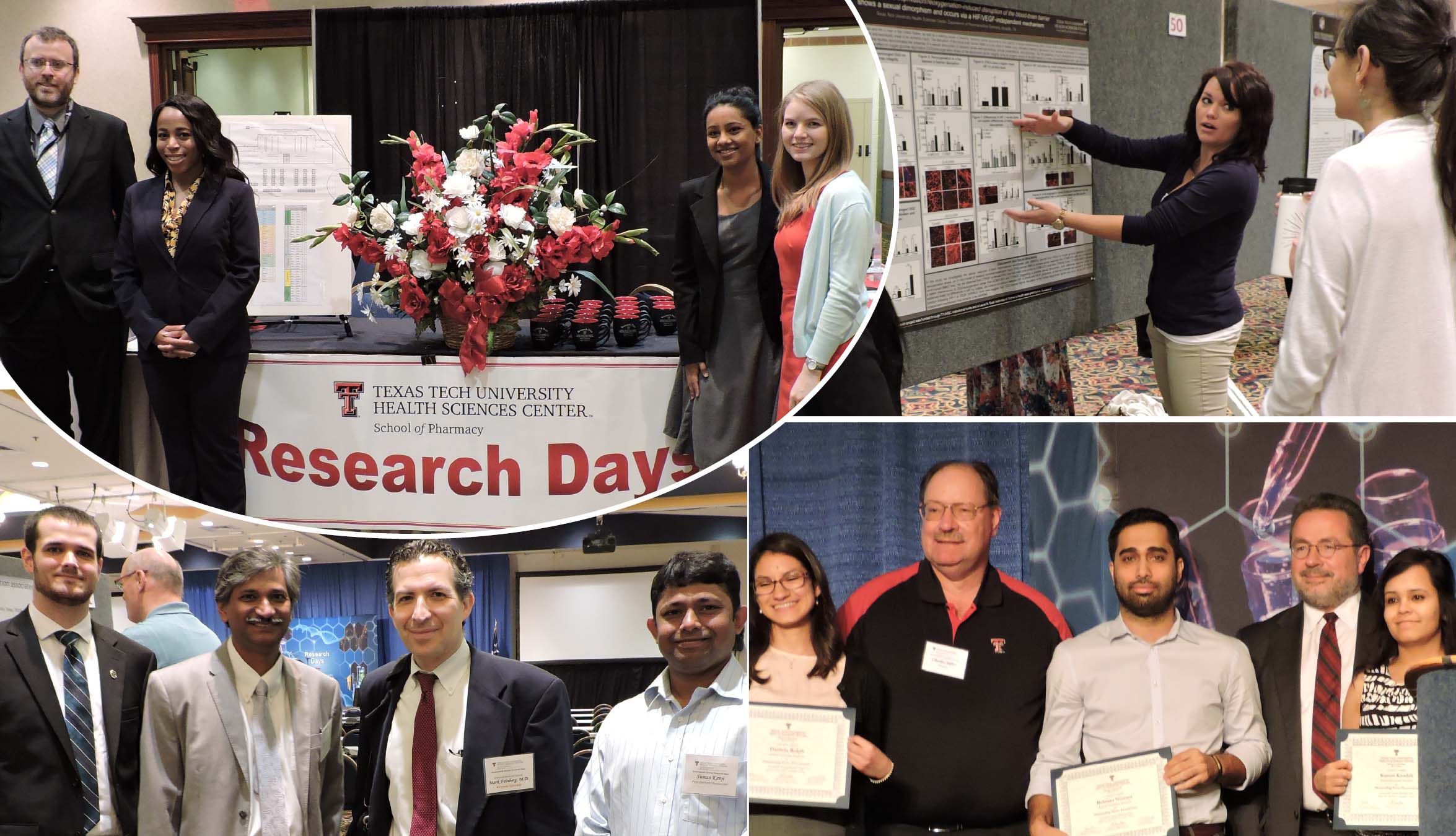 Office of Sciences
1406 S. Coulter St.
Amarillo, TX 79106
Research Days Archived Infromation:
Updated 2/16/2022