The Mission of the Office of Sciences at the TTUHSC School of Pharmacy is to coordinate the school's research needs with our state-of-the-art scientific and technical support and to promote and accelerate research grant applications and new award set-up.
Office of Sciences
TTUHSC School of Pharmacy
1406 S. Coulter St.
Amarillo, Texas 79106
Department Email: SOPOfficeOfSciences@ttuhsc.edu
The Office of Sciences is available to all faculty on each of the four TTUHSC School of Pharmacy campus sites: Amarillo, Abilene, Dallas/Fort Worth and Lubbock. Our purpose is to act as a resource for the granting process, facilitate research and administer internal research programs.
The Office of Sciences provides and oversees the following programs and services:

Seventeenth Annual Research Days
June 13-14, 2018 at the Amarillo Civic Center Heritage Room
This annual event is a wonderful opportunity for School of Pharmacy's Faculty, Post-Doctoral Research Associates, Graduate students, Residents, and Pharm.D. students to come together from all four campuses to talk about research and build collaborations and friendships. Research Days consists of poster competitions, keynote addresses, podium presentations on current research, breakout sessions, and the annual dinner. MORE
---
Faculty Accomplishments / Honors
| | | | |
| --- | --- | --- | --- |
| | Hiranmoy Das, Ph.D. edited the book "Bone Regeneration: Concepts, Clinical Aspects and Future Directions". He was an invited Keynote Speaker for the Southern African Training Academy in Durban, South African on July 24, 2018. | | Sanjay K. Srivastava, Ph.D. invited as a Keynote speaker at 2nd International Conference on Clinical Trial and Innovative Therapeutics, July 23-25, 2018, Durban, South Africa. Titled: Repurposing antipsychotic drug for cancer therapy |
High Impact Publications

Dr. Hiranmoy Das, Professor in the Pharmaceutical Sciences Department, and his laboratory recently published, "KLF2 (kruppel like factor 2 [lung]) regulates osteoclastogenesis by modulating autophagy. "Macroautophagy/autophagy is involved in myeloid cellular repair, destruction, and osteoclast differentiation; conversely, KLF2 (kruppel-like factor 2 [lung]) regulates myeloid cell activation and differentiation. To investigate the specific role of KLF2 in autophagy, osteoclastic differentiation was induced in monocytes in presence or absence of the autophagy inhibitor 3-methyladenine (3-MA), KLF2 inducer...READ ARTICLE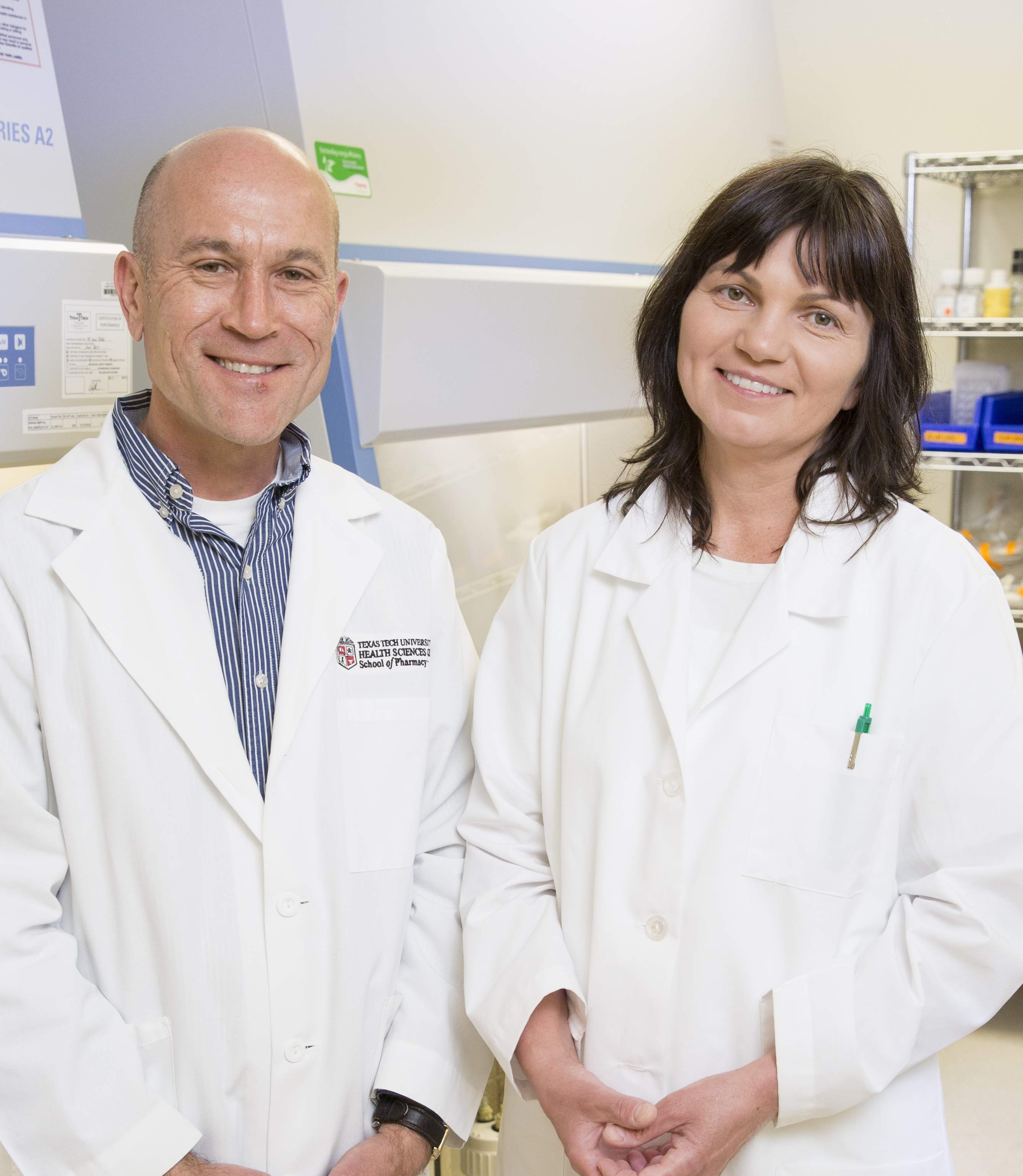 Drs. Magdalena Karbowniczek & Maciej Markiewski, Professors in the Department of Immunotheapeutics and Biotechnology in Abilene, and their team recently published, "Notch transactivates Rheb to maintain the multipotency of TSC-null cells." Differentiation abnormalities are a hallmark of tuberous sclerosis complex (TSC) manifestations; however, the genesis of these abnormalities remains unclear. Here we report on mechanisms controlling the multi-lineage, early neuronal progenitor and neural stem-like cell characteristics of lymphangioleiomyomatosis (LAM) and angiomyolipoma cells. ... READ ARTICLE
This paper was also highlighted by Nature Reviews Nephrology in "Angiomyolipoma: A link between stemness and tumorigenesis in the kidney".
Dr. Sanjay K. Srivastava, Associate Dean for Office of Sciences, and his team's recent publication, "Penfloridol: An Antipsychotic Agent Suppresses Metastatic Tumor Growth in Triple-Negative Breast Cancer by Inhibiting Integrin Signaling Axis." Cancer Research, 76, 877-890, 2016. (Impact Factor 9.329) PMID: 26627008 Metastasis of breast cancer, especially to the brain, is the major cause of mortality. The inability of anticancer agents to cross the blood-brain-barrier represents a critical challenge for successful treatment. In the current study, Dr. Srivastava and his team investigated the antimetastatic potential of penfluridol, an antipsychotic drug frequently prescribed for schizophrenia with anticancer activity. His group demonstrated that penfluridol induced apoptosis and reduced the survival of several metastatic triple-negative breast cancer (TNBC) cell lines and suppressed tumor growth in various models.... READ ARTICLE