Texas Tech University Health Sciences Center is pleased to announce the creation of the Health Disparities Research Program (HDRP). This program will foster and financially support, wherever possible, research projects addressing health disparities in West Texas. HDRP is an initiative under the Clinical Affairs Council to transform health care through innovation and collaboration. Dr. Steven Berk, Executive Vice-President for Clinical Affairs, and chair of the Clinical Affairs Council, has graciously provided start-up funding to support this disparities research initiative. Up to $10,000 can be requested per project. In the first phase HDRP, seed grants will support research projects focusing on health disparities existing in West Texas. Special consideration will be given for cross departments, schools, and campuses teams promoting multidisciplinary collaboration. Interested investigators need to submit a paragraph in a Word document or PDF format describing the proposed study with the following required information:
1) Name of PI/Co-PI
2) School(s)/Department(s)/Campus(es) within TTUHSC represented by those performing the research
3) Brief, 1 to 2 paragraph, description of the disparities research project
4) Database to be used for data source
5) Budget and amount of funding support requested
Note: Six month and one year progress reports will be required for all funded projects.
Please submit projects and/or questions to John Griswold, MD at john.Griswold@ttuhsc.edu
Quality Staff Awardee
Congratulations to Sarah Wood, LVN, CCRC on being selected to receive a 2020 Quality Staff Award. Ms. Wood was nominated by her peers in the Clinical Research Institute for her contribution to the CRI and the Institution.
Congratulations Sarah Wood!
2022 Lorenz O. Lutherer Clinical Research Award
Congratulations to MS2 student Hannah Daniel for her work on "Association of Dynamic Motion of Cerebellar Tonsils in the Outcome in Pediatric Chiari I Malformation". The project was awarded during the 34th Annual Student Research Week, which was held March 8-11, 2022. Reagan Collins, Albin John, Laszlo Nagy, Roy Jacob
2021 Lorenz O. Lutherer Clinical Research Award
Congratulations to Asher K. George for his work on "Frailty is an independent predictor of any 90-day complication following Robot-Assisted Radical Prostatectomy for Prostate Cancer". The research abstract/presentation was awarded the Dr. Lorenz O. Lutherer Award during the 33rd Annual Student Research Week, which was held March 9-12, 2021.
Frailty is an independent predictor of any 90-day complication following robot-assisted radical prostatectomy for prostate cancer.
Asher K. George, Erin Choi, Silvia Jakubski, Hasan Almekdash, Pranav Sharma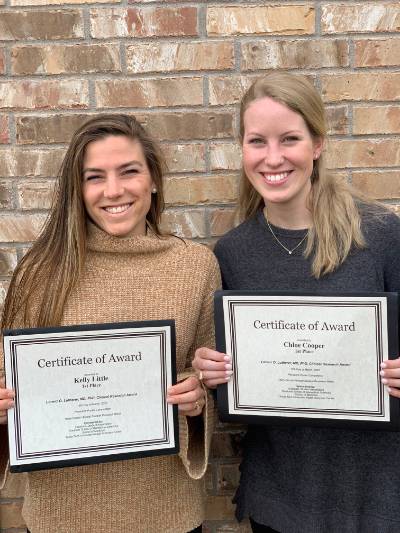 2020 Lorenz O. Lutherer Clinical Research Award
Congratulations to MS3-4 Students Kelly Little and Chloe Cooper for their work on "The Association Between Insurance Type and Patient Satisfaction Scores". The project was awarded the Dr. Lorenz O. Lutherer Award during the 2020 Student Research Week, which was held March 10-13, 2020
Jammie Holland
Congratulations to Jammie Holland, LVN, CCRC! She is the recipient of the 2021 CRI Service Excellence Award. Co-workers nominated Ms. Holland for her teamwork, hard work and dedication to the CRI and the Institution, as a whole.
Criteria the person should have exhibited in order to be nominated for the CRI Excellence Award:
Consistently seen having a positive helpful attitude
Demonstrate high standards of professionalism
Witnessed offering help* Witnessed accepting help.
Has been repeatedly "caught in the act" of delivering excellent customer service and going beyond the call of duty.
Professional/team building behavior and embodies CRI work ethic
Participation in CRI and other activities that help professional growth and contributes to the mission of the CRI
Demonstrated ability to exceed expectations while also working effectively and supporting each other as team members
Key Note Speaker: John Griswold, MD, FACS
Title: Evolution of Healthcare: The Transformation of Prehospital Response in Rural West Texas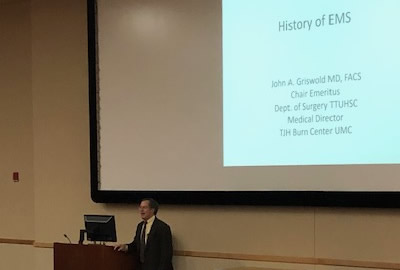 Announcement of new Executive Director for the Clinical Research Institute (CRI)
Dr. John A. Griswold
It is my pleasure to announce the appointment of John A. Griswold, M.D., as the new Executive Director of the Clinical Research Institute effective September 1, 2019. Dr. Griswold replaces Dr. Alan Peiris who is retiring August 31, 2019.
Click here to read the entire pdf announcement for Dr. Griswold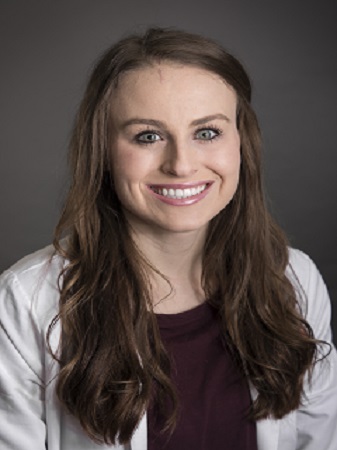 Congratulations to Meredith Gavin MS4 recipient
Congratulations to this year's recipients of the CRI Seed Grant!!
Dr. Courtney Queen, Department of Public Health and Dr. M Haris Nazim, Department of Surgery-Amarillo "Integrating and testing a point-of-care diagnostic tool for the early detection of melanoma"
Dr. Nadezhda German, Department of Pharmaceutical Sciences and Dr. Kendra Rumbaugh, Department of Surgery-Lubbock "Assessing the activity of selected inhibitors of quorum sensing in P. aeruginosa and S. aureus using in vitro polymicrobial infection models.
Viceral fat is associated with high-grade complications in patients undergoing laparoscopic or robotic-assisted partial nephrectomy for renal masses
Congratulations to Dr. Lindsay Penrose, Assistant Professor
Department of Obstetrics and Gynecology
Title of Research Project: Soft tissue mobilization for lumbopelvic pain in the third trimester of pregnancy
>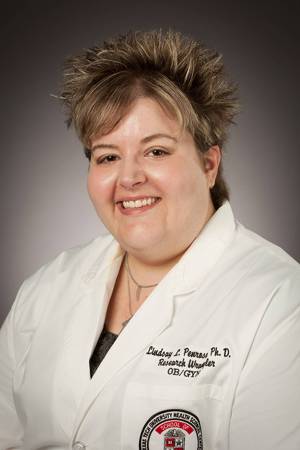 Congratulations to Dr. Ravindra M. Bharadwaj, MD, MPH, Division of Geriatric, School of Medicine Amarillo Campus
Title of Research Project: Glucose utilization and mitochondrial dysfunction in the blood cells of Alzheimer's Disease