Richard M. Jordan, M.D.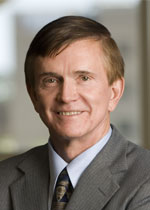 Richard M. Jordan, M.D., was appointed Regional Dean of the TTUHSC School of Medicine in Amarillo in September 2007. He earned his bachelor's degree from Depauw University in 1967 and his medical degree from Indiana University in 1971. Dr. Jordan did his internship at the Queen's Medical Center in Honolulu, Hawaii and completed his residency in internal medicine and a fellowship in endocrinology at the University of Oregon in Portland.
As regional dean, Dr. Jordan has responsibilities for the academic, research and clinical administration for the TTUHSC School of Medicine activities on the Amarillo campus. The school at present trains 82 residents, 72 medical students, employees more than 80 faculty and has an operating budget of $37 million.
He served as chief of medical services at James H. Quillen VA Medical Center, as well as chief of the Division of Endocrinology, James H. Quillen College of Medicine at East Tennessee State University at Johnson, City, Tennessee. Dr. Jordan was a professor, associate chairman for postgraduate education of the Department of Medicine and the department's residency program director. He has published over 60 articles and book chapters primarily about endocrine disease.
A recipient of six teaching awards, Dr. Jordon received the 2006 Health Care Hero Innovation Service Award from the Business Journal of Tri-Cities and King Pharmaceuticals in recognition of a health care provider whose inventive thinking furthered the cause of health care. He was also named as one of America's Top Physicians by the Consumers' Research Council of America in 2007. He is a member of Alpha Omega Alpha.
Outside of medicine, Dr. Jordan is interested in amateur astronomy and ancient history. He managed the World Champion U.S. National BMX Bicycle Racing Team in 1993 and 1994 and the Pro Cycles BMX Bicycle Racing Team that were National Champions in 1994, 1995 and 1996. His two sons, Dana and Erick, were members of those teams.
Travis Zinck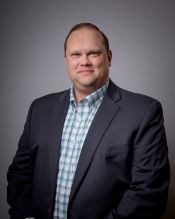 Travis Zinck serves as the Assistant Dean for Finance & Administration. Travis grew up in Texline, a small town in the northwest corner of the Texas panhandle, ten miles from Clayton, New Mexico and 36 miles northwest of Dalhart. After graduating in a class of eight students, he attended West Texas A&M University. Travis obtained his Bachelor of Business Administration degree in Computer Information Systems and later completed his Master of Business Administration through WTAMU as well.
Travis worked for five years in the Information Technology area of a large local employer, providing computer support and later project and finance management before changing career paths to ultimately work within healthcare administration.
His employment with TTUHSC began in the Correctional Managed Healthcare group, where he worked onsite at several local prisons in various roles, including Facility Health Administrator.
Travis joined the Amarillo campus as the Department Administrator for the Department of Internal Medicine, where he served over eight years. He then served as the Department Administrator for the Department of Pediatrics for another five and a half years.
Travis and his wife, Carrie, have been married over twenty years and raise their two daughters here in Amarillo. He enjoys spending time with his family, reading, and balancing out all that spreadsheet time by participating in some creative activities such as painting, woodburning, and throwing pottery.