Richard M. Jordan, M.D.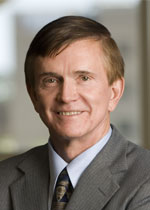 Richard M. Jordan, M.D., was appointed Regional Dean of the TTUHSC School of Medicine in Amarillo in September 2007. He earned his bachelor's degree from Depauw University in 1967 and his medical degree from Indiana University in 1971. Dr. Jordan did his internship at the Queen's Medical Center in Honolulu, Hawaii and completed his residency in internal medicine and a fellowship in endocrinology at the University of Oregon in Portland.
As regional dean, Dr. Jordan has responsibilities for the academic, research and clinical administration for the TTUHSC School of Medicine activities on the Amarillo campus. The school at present trains 82 residents, 72 medical students, employees more than 80 faculty and has an operating budget of $37 million.
He served as chief of medical services at James H. Quillen VA Medical Center, as well as chief of the Division of Endocrinology, James H. Quillen College of Medicine at East Tennessee State University at Johnson, City, Tennessee. Dr. Jordan was a professor, associate chairman for postgraduate education of the Department of Medicine and the department's residency program director. He has published over 60 articles and book chapters primarily about endocrine disease.
A recipient of six teaching awards, Dr. Jordon received the 2006 Health Care Hero Innovation Service Award from the Business Journal of Tri-Cities and King Pharmaceuticals in recognition of a health care provider whose inventive thinking furthered the cause of health care. He was also named as one of America's Top Physicians by the Consumers' Research Council of America in 2007. He is a member of Alpha Omega Alpha.
Outside of medicine, Dr. Jordan is interested in amateur astronomy and ancient history. He managed the World Champion U.S. National BMX Bicycle Racing Team in 1993 and 1994 and the Pro Cycles BMX Bicycle Racing Team that were National Champions in 1994, 1995 and 1996. His two sons, Dana and Erick, were members of those teams.
Deborah Lee Fitzpatrick Cain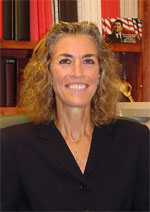 Deborah Cain serves as Assistant Dean for Finance & Administration. She was born and raised in Amarillo, Texas. She has been an avid athlete most of her life, dividing time between basketball, swimming, golf, horses, fitness walking (to name a few) and her studies. She was recognized by faculty as the top Marketing student at West Texas State University in Canyon, Texas, where she received a Bachelor of Business Administration degree.
Deborah spent years in California, Colorado and Montana before returning to her old home. The medical field captured her interest in Colorado where she managed the business office for a small rural hospital. Upon her return to Amarillo, she sought out a career in the medical field and proceeded to "grow up" with the Texas Tech University Health Sciences Center School of Medicine.
Her experiences began from the ground up, learning all facets of the business and spending several years as administrator for Psychiatry and then for Pediatrics. She then joined the Assistant Dean for Finance & Administration / Assistant Vice President for Fiscal Affairs as a Director and pursued, in quiet fashion, her goal to be the Assistant Dean. She is a lover of good health and healthy living and believes in TTUHSC. She has been employed with Texas Tech since 1982.
Deborah was presented Employee of the Month awards in 1983, 1986 and 1989, an Outstanding Achievement Award in 1989, and a Quality Service Award in 1999. She is currently a member of the Medical Group Management Association (MGMA) and the Academic Practice Assembly (APA). She was a member of Leadership Amarillo and Canyon. One of her special moments was, while in the Dale Carnegie Course, being awarded three personal progress awards and the Highest Award for Achievement. She's made the statement public speaking is a fear she felt was finally put to rest!
Deborah believes in the employees of Texas Tech and ranks them "top notch." Her philosophy on life is, "people don't care how much you know until they know how much you care."
Deborah married Rocky M. Cain in 1979 and they are the proud parents of a beautiful basset hound.