Clinical Research Unit (CRU) in Amarillo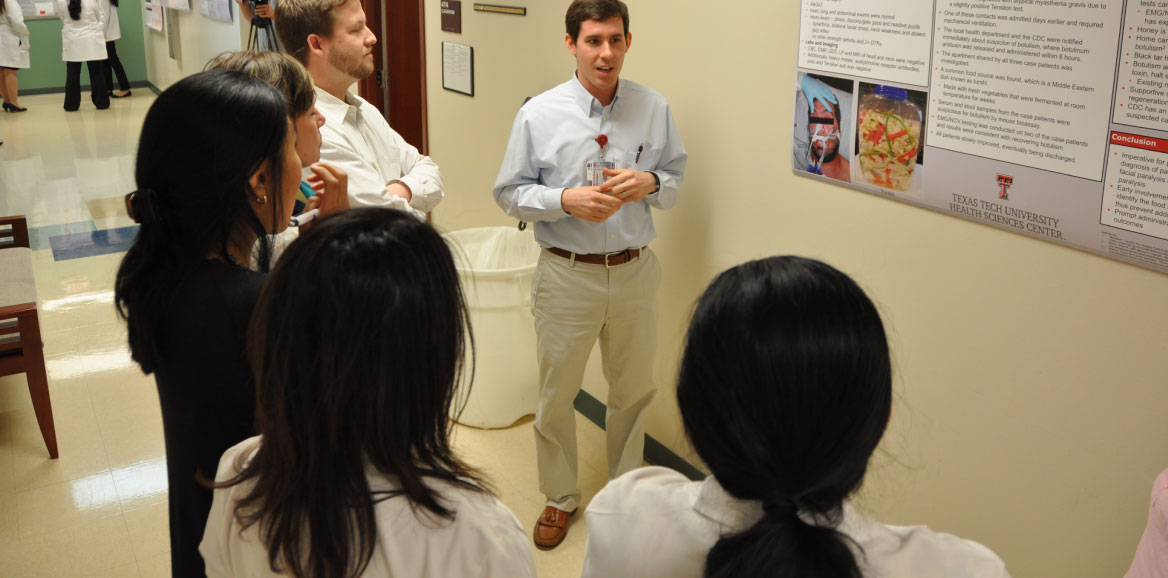 The Clinical Research Unit (CRU) facilitates the clinical research of TTUHSC investigators on the Amarillo campus by providing numerous services such as design support, IRB assistance, committee assistance, biostatistics, skilled nursing assistance, clinical space/exam rooms, and guidance with grant and publication submissions.
The CRU strives to help investigators as much as possible, to increase the likelihood that projects will be quickly approved by the IRB and that studies will be publishable in peer-reviewed journals. Faculty members interested in increasing their overall publications and becoming more competitive during reviews for tenure or promotion are highly encouraged to take advantage of the CRU. The CRU also provides assistance to students and residents interested in research.
Research Highlights:
InfantRisk Center:
The InfantRisk Center is currently recruiting for several research projects! For more information on the studies below, go to https://www.infantrisk.com/
1. Milk repository study: investigates the transfer of selected drugs from mothers into their mother's milk. Some of the drugs being reviewed are: Atomoxetine (Strattera), Brexpiprazole (Rexulti), Brivaracetam (Briviact), Buspirone (Buspar), Carprazine (Vraylar), Domperidone (Motilium) 120+ mg/day, Guanfacine (Intuniv), Ketamine, Lacosamide (Vimpat), Lisinopril, Lurasidone (Latuda), Promethazine (Phenergan)
2. Changes in breastmilk color survey: The InfantRisk Center is #researching #breastmilk color changes: what do you think causes it? Did it affect #breastfeeding? Pay it forward to future moms and their clinicians through this survey.
Maternal and Child Health Research Lab:
The Maternal and Child Health Research Lab is currently recruiting participants in Amarillo for the Maternal Well-Being Study. The goal of this study is to explore the ways that mothers' access to proper nutrition and social support can be enhanced using advances in health technology and healthcare delivery. To be eligible, participants must be able to speak English or Spanish, are between 28-36 weeks pregnancy, 18 years or older, and screen positively for food insecurity or qualify for Medicaid, WIC, SNAP, or TANF.
Please see the links below for more information:
Dr. Skye McLaurin-Jiang, MD, Assistant Professor, Department of Pediatrics, and Dr. Christine Garner, PhD, RD, CLC, Assistant VP of Research, Amarillo and Assistant Professor in the Department of Pediatrics and InfantRisk Center, have initiated the Maternal Well-Being Project, which is generously sponsored by The Don and Sybil Harrington Foundation, Amarillo Area Foundation, United Way, Laura W. Bush Institute for Women's Health, and the Department of Pediatrics, TTUHSC.
Recent Publications
2022
Al-Obaide MA, Al-Obaidi II, Vasylyeva TL. The potential consequences of bidirectional promoter methylation on <i>GLA</i> and <i>HNRNPH2</i> expression in Fabry disease phenotypes in a family of patients carrying a <i>GLA</i> deletion variant. Biomed Rep. 2022 Jun 24;17(2):71. doi: 10.3892/br.2022.1554. PMID: 35910704; PMCID: PMC9326966.
Baker TE, Croop R, Kamen L, Price P, Stock DA, Ivans A, Bhardwaj R, Anderson MS, Madonia J, Stringfellow J, Bertz R, Coric V, Hale TW. Human Milk and Plasma Pharmacokinetics of Single-Dose Rimegepant 75 mg in Healthy Lactating Women. Breastfeed Med. 2022 Mar;17(3):277-282. doi: 10.1089/bfm.2021.0250. Epub 2022 Jan 18. PMID: 35049333; PMCID: PMC8972016.
Constantinescu AR, Mattoo TK, Smoyer WE, Greenbaum LA, Niu J, Howard N, Muff- Luett M, Benoit EB, Traum A, Annaim AA, Wenderfer SE, Plautz E, Rheault MN, Myette RL, Twombley KE, Kamigaki Y, Wandique-Rapalo B, Kallash M, Vasylyeva TL. Clinical presentation and management of nephrotic syndrome in the first year of life: A report from the Pediatric Nephrology Research Consortium. Front Pediatr.
2022 Sep 14;10:988945. doi: 10.3389/fped.2022.988945. PMID: 36210940; PMCID:PMC9534228.Ebrahimzadeh Ardakani M, Mehrjardi AZ, Ghanei N, Heidarymeybodi Z, Dastjerdi G, Etaee F, Naguib T, Daveluy S. Assessment of quality of life and self-esteem in patients undergoing minor facial cosmetic procedures. J Cosmet Dermatol. 2022 Feb 4. doi: 10.1111/jocd.14827. Epub ahead of print. PMID: 35119188.
Etaee F, Naguib T, Daveluy S. Herpes zoster dermatitis in a COVID-19 vaccinated healthy man after 1 dose of varicella vaccine. JAAD Case Rep. 2022 Apr;22:102-103. doi: 10.1016/j.jdcr.2021.12.043. Epub 2022 Jan 21. PMID: 35079617; PMCID: PMC8776645.
Etaee F, Ghanei N, Naguib T, Daveluy S. Acute generalized exanthematous pustulosis: a complication of COVID-19 infection or therapy? J Cosmet Dermatol. 2022 May;21(5):1784-1787. doi: 10.1111/jocd.14930. Epub 2022 Apr 5. PMID: 35319163; PMCID: PMC9115192.
Etaee F, Eftekharian M, Naguib T, Daveluy S. Erythema multiforme in COVID-19 patients and following COVID-19 vaccination: manifestations, associations and outcomes. J Eur Acad Dermatol Venereol. 2022 Jul;36(7):e524-e530. doi: 10.1111/jdv.18063. Epub 2022 Mar 21. PMID: 35274375; PMCID: PMC9114911.
Garner CD, Kendall-Tackett K, Young C, Baker T, Hale TW. Mode of Cannabis Use and Factors Related to Frequency of Cannabis Use Among Breastfeeding Mothers: Results from an Online Survey. Breastfeed Med. 2021 Dec 3. doi: 10.1089/bfm.2021.0151. Epub ahead of print. PMID: 34870449.
Hunyadi L, Datta P, Rewers-Felkins K, Sundman E, Hale T, Fajt V, Wagner S. Pharmacokinetics of a single dose of oclacitinib maleate as a top dress in adult horses. J Vet Pharmacol Ther. 2022 May;45(3):320-324. doi: 10.1111/jvp.13043. Epub 2022 Jan 30. PMID: 35098559.
Jiang P, Tang S, Hudgins H, Smalligan T, Zhou X, Kamat A, Dharmarpandi J, Naguib T, Liu X, Dai Z. The Abl/Abi signaling links WAVE regulatory complex to Cbl E3 ubiquitin ligase and is essential for breast cancer cell metastasis. Neoplasia. 2022 Oct;32:100819. doi: 10.1016/j.neo.2022.100819. Epub 2022 Jul 12. PMID: 35839699; PMCID: PMC9287790.
Kharbat AF, Calles P, Ogle A, Vasylyeva TL, Pinkney K. A Case of Pediatric Posterior Reversible Encephalopathy Syndrome (PRES) Secondary to Post-streptococcal Glomerulonephritis: A Literature Review and Assessment of Treatment Modalities. Cureus. 2022 May 18;14(5):e25113. doi: 10.7759/cureus.25113. PMID: 35733462; PMCID: PMC9205275.
Krissberg JR, O'Shaughnessy MM, Smith AR, Helmuth ME, Almaani S, Aviles DH, Brathwaite KE, Cai Y, Cattran D, Gbadegesin R, Glenn DA, Greenbaum LA, Iragorri S, Jain K, Khalid M, Kidd J, Kopp J, Lafayette R, Lane JC, Lugani F, Nestor JG, Parekh RS, Reidy K, Selewski DT, Sethna CB, Sperati CJ, Katherine Tuttle, Twombley K, Vasylyeva TL, Weaver DJ Jr, Wenderfer SE, Gibson K; CureGN Consortium. Racial and Ethnic Disparities in Acute Care Utilization Among Patients With Glomerular Disease. Am J Kidney Dis. 2022 Sep 30:S0272-6386(22)00919-2. doi: 10.1053/j.ajkd.2022.08.010. Epub ahead of print. PMID: 36191724.
Tran TT, Linga VG, Al-Obaide MAI, Bello-Germino D, Hoda M, Adesanya O, Vasylyeva TL. Congenital nephrotic syndrome in a Hispanic Guatemalan newborn associated with a <i>NPHS1</i> variant: A case report. Biomed Rep. 2022 Jan;16(1):4. doi: 10.3892/br.2021.1487. Epub 2021 Nov 16. PMID: 34900253; PMCID: PMC8652645.
2021
Al-Obaide MAI, Al-Obaidi II, Vasylyeva TL. Unexplored regulatory sequences of divergently paired <i>GLA</i> and <i>HNRNPH2</i> loci pertinent to Fabry disease in human kidney and skin cells: Presence of an active bidirectional promoter. Exp Ther Med. 2021 Feb;21(2):154. doi: 10.3892/etm.2020.9586. Epub 2020 Dec 17. PMID: 33456521; PMCID: PMC7792484.Datta P, Bramnik A, Rewers-Felkins K, Krutsch K, Baker T, Hale TW. Transfer of Apixaban into Human Milk. Obstet Gynecol. 2021;137(6):1080-1082. doi:10.1097/AOG.0000000000004388. PMID: 33957661.
Datta P, Melkus MW, Rewers-Felkins K, Patel D, Bateman T, Baker T, Hale TW. Human Milk Endocannabinoid Levels as a Function of Obesity and Diurnal Rhythm. Nutrients. 2021 Jul 3;13(7):2297. doi: 10.3390/nu13072297. PMID: 34371807; PMCID: PMC8308542.
Dodd SE, Hunter Guevara LR, Datta P, Rewers-Felkins K, Baker T, Hale TW. Dexmedetomidine Levels in Breast Milk: Analysis of Breast Milk Expressed During and After Awake Craniotomy. [published online ahead of print, 2021 Jun 18]. Breastfeed Med. 2021;0(0). Doi:10.1089/bfm.2021.0138. PMID: 34143658.
Ebrahimzadeh Ardakani M, Azad M, Ghanei N, Etaee F, Naguib T, Daveluy S. Comparison of patient satisfaction with diode laser treatment of female hirsutism: low fluence or high fluence? J Cosmet Laser Ther. 2021 Aug;23(5-6):113-115. doi: 10.1080/14764172.2021.2001533. Epub 2021 Nov 11. PMID: 34763585.
Hale TW, Krutsch K. Opioid Use in Breastfeeding Mothers and Neonatal Risks. Clin Pharmacol Ther. 2021 Mar;109(3):573-575. PMID: 33314071.
Hallak A, Mohanakrishnan BPE, Dharmarpandi J, Ivyanskiy I, Patel S, Naguib T. Hold the Chemo! Leukostasis, a Presentation of Brown Recluse Spider Bite: A Case Report. J Investig Med High Impact Case Rep. 2021 Jan-Dec;9:23247096211039949. doi: 10.1177/23247096211039949. PMID: 34404267; PMCID: PMC8377316.
Marshall K, Datta P, Rewers-Felkins K, Krutsch K, Baker T, Hale TW. Transfer of the Serotonin Modulator Vortioxetine into Human Milk: A Case Series [published online ahead of print, 2021 Apr 16]. Breastfeed Med. 2021;10.1089/bfm.2021.0074. PMID: 33861632
McLaurin-Jiang S, Garner CD, Krutsch K, Hale TW. Maternal and Child Symptoms Following COVID-19 Vaccination Among Breastfeeding Mothers. Breastfeed Med. 2021 Sep;16(9):702-709. doi: 10.1089/bfm.2021.0079. Epub 2021 Jun 25. PMID: 34171971.
Mohammedzein A, Naguib T. Case in Point: Correction of Dialysis-Induced Metabolic Alkalosis. Fed Pract. 2021 Apr;38(4):190-194. doi: 10.12788/fp.0116. PMID: 34177224; PMCID: PMC8221916. Ivyanskiy I, Dave D, Dweik A, Yeary J, Naguib TM. Bullous Pemphigoid Mimicking Cellulitis. J Investig Med High Impact Case Rep. 2021 Jan-Dec;9:23247096211008585. doi: 10.1177/23247096211008585. PMID: 33847152; PMCID: PMC8059041.
Tahir D, Souliman M, Mola De La Rosa A, Al-Jobory O, Naguib T. Erythema Multiforme-Like Presentation in an Asymptomatic COVID-19 Patient. Cureus. 2021 Dec 29;13(12):e20814. doi: 10.7759/cureus.20814. PMID: 35141072; PMCID: PMC8799510.
Vasylyeva TL, Page-Hefley S, Almaani S, Ayoub I, Batson A, Hladunewich M, Howard N, Fernandez HE, O'Shaughnessy M, Reynolds ML, Wadhwani S, Zee J, Smoyer WE, Wenderfer SE, Twombley KE; Pediatric Nephrology Research Consortium. Evaluation of the Reproductive Care Provided to Adolescent Patients in Nephrology Clinics: A Pediatric Nephrology Research Consortium Study. Kidney Int Rep. 2021 Feb 13;6(5):1411-1415. doi: 10.1016/j.ekir.2021.02.007. PMID: 34013118; PMCID: PMC8116773.
Wilkerson H, Datta P, Rewers-Felkins K, Baker T, Hale TW. Maternal Transfer of Cetirizine Into Human Milk. J Hum Lact. 2021 Feb;37(1):135-138. PMID: 32853084.
Recent Grant Awards 2022
Professor Tetyana L. Vasylyeva, MD, Ph.D., received a prestigious PCORI grant. Working with colleague Dr. Alisa Khan, MD, MPH from Boston Children's Hospital, Harvard Medical School, Dr. Tetyana Vasylyeva has received a subcontract from the Patient-Centered Outcomes Research Institute for $438,756. The project entitled "Comparing Three Approaches to Communication with Hospitalized Children and Families with Limited English Proficiency" will be implemented in Amarillo, Texas. The goal of the project is to compare different translation approaches with families of patients in clinical care at the hospitals in West Texas to see how these approaches reduce the likelihood of adverse events in this vulnerable patient population.
Dr. Olu Adesanya, MD, Associate Professor of Pediatrics, received $15,000 from the Office of Diversity, Equity, and Inclusion as well as another $10,000 for the Health Disparities Research Program to initiate her projects entitled "Pediatric residency curriculum training for screening and addressing Social Determinants of Health (SDOH) for our pediatric population to improve health equity outcomes" and "Addressing Social Determinants of Health (SDOH) in the Pediatric outpatient setting at Texas Tech in Amarillo, Texas." These projects will help to understand how to break down barriers to healthcare access for West Texas pediatric patients and train our next generation of residents in this area to meet the needs of vulnerable patients.
Dr. Stephen Usala, MD, Associate Professor, Internal Medicine, received $10,000 from the TTUHSC Covid-19 Center of Excellence to develop a vertical flow assay (VFA) for fingerstick measurement of human inhibins. This has many translational applications in human medicine including the study of male gonadal dysfunction that occurs with Covid-19 infections. Dr. Usala is working with Harvinder Gill, Ph.D., Teresa Baker, MD, and Tarek Naguib, MD, to develop this project. Drs. Gill and Usala received an additional award of $10,000 through the Innovation HUB at Research Park, TTU and TTUHSC President's Innovative Start-up Award to help initiate this exciting project! The Innovative Start-up award will help their company, VerisBiomarkers, in developing a device and method for accurate determination of the time of ovulatory cycle in females and assess fertility status in males. Based on a vertical flow assay (VFA) technology, this product is a collaborative project between Texas Tech and TTUHSC-Amarillo.