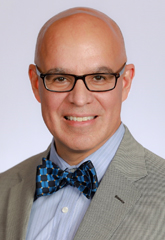 Dr. Joehassin Cordero, M.D., FACS
Professor and Chairman
Department of Otolaryngology
Welcome to the Department of Otolaryngology at Texas Tech University Health Sciences Center, Lubbock, Texas. We are pleased that you are taking the time to visit our website and to learn more about our institution and our city. Lubbock is located in West Texas and is the 11th largest city in Texas. In 2020, our population is approximately 260,000 people. We proudly boast of being the largest contiguous cotton growing region in the world along with having several major award-winning wineries located here.
We are known as the "Hub City", because it is the hub of the region in economics, healthcare, and education. Lubbock is a college town, home to Lubbock Christian University, South Plains College, Wayland Baptist University, TEXAS TECH UNIVERSITY, and TEXAS TECH UNIVERSITY HEALTH SCIENCES CENTER. An average of 52,000 college students per year call Lubbock their education home. This area is also known for having some of the best high schools in the country. Lubbock offers a low housing cost, as well as a plethora of restaurants, bars, parks, shopping, and golf courses. Anywhere you need to go, you can arrive there in less than 20 minutes!
Lubbock is the most accessible advanced healthcare hub for a large patient population from our rural communities from Lubbock to Dallas. Approximately 360,000 patients visit us each year through our Texas Tech Physicians Clinics. The ENT Clinic sees on average 13,235 patients per year, with a referral base of 2000+ per month. University Medical Center is our main inpatient hospital and the only West Texas Level 1 Trauma Center in the region.
The faculty of this department continues to expand. We were awarded our residency program in 2016. As well, a second clinic location has been added. Our excellent faculty members are not simply leaders in their fields, they are also educators, innovators, and mentors shaping the next generation of young physicians. Personally, I became Chairman of this department in 2015, upon its creation. Today, I could not be prouder the accomplishments this department has made in this short time. They have far exceeded my expectations, and I am so proud and grateful to every individual in our department. Our focus has and always will remain our access to excellent patient care.
Thank you again for your interest in our department. Please continue to review our website and should you have any questions, do not hesitate to contact our department.
Our vision is to provide excellent clinical care and training to the next generation of otolaryngologists.
Dr. Joehassin Cordero, M.D., FACS
Professor and Chairman Department of Otolaryngology