Congratulations Translational Neuroscience and Pharmacology Graduate Students
It is with great pleasure we announce the graduate students who have successfully passed the Translational Neuroscience and Pharmacology PhD Graduate Program Qualifying Examination.
All graduate students must pass this exam to continue in the PhD program, and it represents a major hurdle to advance to PhD candidacy.
Congratulations to Henry Blanton, Mariacristina Mazzitelli, Ismail Mohiuddin, Josh Willms, and Ryan Sweazey on your great achievement.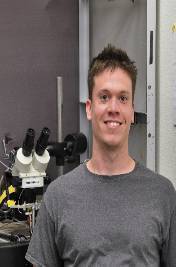 Ph.D. Graduate Student, Mariacristina Mazzitelli and Dr. Volker Neugebauer featured in EurkAlert and SciTechDaily
A recent article by Mariacristina Mazzitelli, PhD Student in Dr. Neugebauer's lab, was featured on the following websites:
"TTUHSC study shows brain mechanisms have potential to block arthritis pain". In: EurkAlert, a service of the American Association for the Advancement of Science. https://www.eurekalert.org/pub_releases/2019-10/ttuh-tss100919.php.
"Study Shows Brain Mechanisms Have Potential to Block Pain and Relieve Anxiety". In: SciTechDaily, an award winning webportal founded in 1998 for information about the latest in science and technology. https://scitechdaily.com/study-shows-brain-mechanisms-have-potential-to-block-pain-and-relieve-anxiety.
"New pain-blocking brain mechanism may relieve arthritis". In: Medical News Today – MNT, Healthline Media UK Ltd.
Faculty receive Dean's appreciation awards
Every year SOM Dean, Dr. Steven Berk gives appreciation awards for SOM faculty at TTUHSC. The Department of Pharmacology and Neursocience faculty member received award:
Dr. Volker Neugebauer, Professor & Chair, received the Dean's Douglas M. Stocco Scholarship/Research Award.
Dr. Michael Blanton, appointed
Co-Block Director
Congratulations to Dr. Michael Blanton who has been appointed Co-Block Director for the Structure and Function of Major Organ Systems block for the 2020 - 2021 academic year.