Division of Integrative Medicine (DIM)
About Division of Integrative Medicine
DIM was established in March 2013 upon receiving of Weil Foundation Grant. With School of Medicine Dean Berk's support, DIM successfully applied and was accepted to join Consortium of Academic Health Centers for Integrative Medicine (CAHCIM) in July 2013. Since then, DIM has made strikes in promoting IM education, research and clinical care at Texas Tech University Health Sciences Center (TTUHSC). The Division also collaborates with the Department of Medical Education at TTUHSC and the School of Medicine's Center for Excellence for Integrative Health Research.
Promoting wellness in mind, body and spirit across West Texas through education, clinical care and scholarship.
To promote educational opportunities for faculty, resident physicians, medical students and community health care providers;
To encourage ongoing and new integrative medicine research activities and collaborations;
To provide responsible leadership in the evidence-based advancement of integrative medicine in the primary care clinical setting.
To respect and foster a culture integrating complementary, alternative and conventional medicine in academia and community.
Core Faculty
Yan Zhang, Ph.D., L.AC., Founding Director
Betsy G. Jones, EdD, Medical Education
Leslie Shen, PhD, Pathology/ Associate Dean for Research
Eric Ehle, D.O., Integrative Medicine Residency Track Lead Faculty (Amarillo)
David Trotter, Ph.D. and onsite Behavioral Therapist
The faculty in the department of Family and Community Medicine have a track record of involvement in Integrative Medicine or Complementary and Alternative Medicine (CAM) in patient care.
Integrative Medicine Symposium 2019
Combating the Opioid Crisis: Integrative Approaches for Pain Management Texas Tech University Health Sciences Center, Lubbock, Texas April 12, 2019 IMS 2019 Program
Project Echo delivers Inter-professional Education to Remote Sites presented by Dr. Kelly Klein, Dr. John Culberson, and Dr. Louis Lux
Dry Needling presented by Dr. Gary Kearns a Physical Therapists in the Medical Model
The Pain Neuroscience Paradigm presented by Dr. Brad Allen
Integrative Inter-professional Pain Management: A Holistic Approach presented by Dr. Kathy Sridaromont
Integrative Pain Management-Where Can We Go From Here? presented by Dr. Phillip S. Sizer
Opioid Use Disorder: Medication Strategies for Prevention, Rescue and Treatment presented by Dr. Nakia Duncan
Mindfulness and Pain: Using Acceptance and Commitment Therapy as a tool to cope with Physiological and Psychological pain presented by Dr. David Trotter
Medical Student Education
Integrative Medicine Elective Courses:
In collaboration with the Office of Curriculum, DIM provides faculty mentoring and advising on the following electives:
Integrative, Complementary, and Alternative Medicine (ICAM) Elective
Texas Tech Apprenticeship Program (TTAP)
TTAP and MSIV CAM research/elective rotation.
Contact Dr. Betsy Jones for more information.
Leadership & Education Program for Students in IM (LEAPS):
LEAPS into IM is a CAHCIM program to enhance the leadership skills and knowledge base of future physician leaders in Integrative Medicine among medical student applicants nationwide. Four of our medical students have been selected as scholarship recipients of DIM scholarships since 2014.
Student scholarship winners:
2016 - Jasmin Aldridge and Jacquelyn Benner
2015 - Nevneet Khandelwal
2014 - Asha Kovelamudi MSI


Integrative Medicine Residency
Currently this is offered at the Amarillo campus site. The program offers additional education and training in the diagnosis and treatment of primary care patients using the tools and philosophies of integrative medicine. It addresses a number of key elements of holistic care that are often overlooked in traditional medical school curriculum, including nutrition, mind-body medicine, the evidence-based use of herbal medicine and supplements, acupuncture, a focus on patient-centered communication, self-care and the importance of healing environment. For more information and details please contact Dr. Eric Ehle.
Public Education
Integrative Medicine Lecture Series:
Since fall 2014, we have hosted a series of IM lectures and have successfully collaborated with Office of Global Health to provide two lectures in each spring and fall semesters since 2016. The lectures have been well-accepted and included topics such as: Tai Chi, Mindfulness, Performing Arts, etc. For more details about this serious, please contact Dr. Betsy Jones.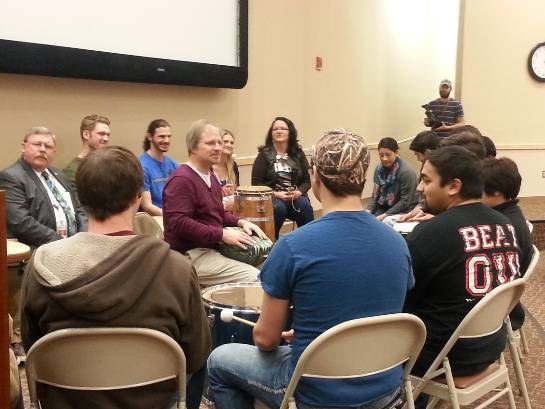 Dr. Alan Shinn Drum Circle
Studies show that drumming reduces stress, tension, and anxiety. In the lecture series outreach program participants were given the opportunity to experience the healing rhythms of playing percussion in a drum circle.
Lecture Series and IM Meetings
In the spring of 2015 DIM started to collaborate with the Office of Global Health to bring lectures to all.
Use of Performing Arts Methodologies by Patient Populations presented by Rachel Anne Hirshorn-Johnston, M.F.A. on December 6, 2017
Dry Needling presented by Gary Kearns, PT, ScD, OCS, FAAOMPT and Brad Allen, PT, ScD, COMT on November 15, 2017
Towards a Public Health of Complementary and Integrative Medicine: Current and Future Issues form the Field presented by Distinguished Professor Jon Adams, PhD on May 24, 2017
Integrative Medicine Symposium (IMS): Our first IMS with the theme of Mind-Body Wellness: the Science, Art and Practice was held on April 7, 2017. The symposium included two keynote speakers, one panel discussion and 10 interactive workshops on various Integrative and Complementary Medicine (IM/CM) approaches. It attracted about 100 attendees who highly appraised the symposium.
Healthcare Engineering: Inspiring Engineering Minds to Advance Human Health presented by Ming Chyu, PhD on March 1, 2017
Mindfulness and Life-Work Integration seminar series: This series was co-sponsored by the Office of Faculty Development in Spring 2014 featuring Dr. Sharmila Dissanaike who shared her expertise and knowledge of mindfulness techniques targeting physician and medical students.
Integrative Medicine Conference: This was the first Integrative Medicine Conference in conjunctions with Department of Family Medicine CME events held in Lubbock in September 2013. Dr. Arti Prasad from University of New Mexico was our keynote speaker.
Scholarships:
Collaborating with researchers and clinicians at Texas Tech University Health Sciences Center as well as colleagues nationwide and internationally, the faculty at DIM has had numerous conference presentations, peer-reviewed publications and funded projects. Below are some examples:
Zhang Y., Tochterman A., Willnauer C. (2016). Headache sufferers and their use of CAM: Preliminary findings from the National Health Interview Survey (NHIS) 2012. Poster presentation at International Congress on Integrative Medicine and Health (ICIMH) 2016, Las Vegas, May 17-20. Poster Link
Zhang Y., American Adult Acupuncture Use: Preliminary Findings from NHIS Data, poster presentation at The International Research Congress on Integrative Medicine and Health (IRCIMH), Florida, USA, on May 13-16, 2014. Poster Link
Zhang Y., Lauche R., Sibbritt D., Cook R., Adams J., Comparison of Health Information Technology Use Between American Adults With and Without Chronic Health Conditions: Findings From The National Health Interview Survey 2012, J Med Internet Res 2017:19(10):e335 URL: http://www.jmir.org/2017/10/e335 DOI: 10.2196/jmir.6989 PMID: 28982644 PMCID: 5649043
Zhang Y., Dennis J., Leach M., Biship F., Cramer H., Chung V., Moore C., Lauche R., Cook R., Sibbritt D., and Adams J., Complementary and Alternative Medicine Use Among US Adults with Headache or Migraine: Results from the 2012 National Health Interview Survey, Headache the Journal of Head and Face Pain, URL: https://doi.org/10.1111/head.13148, PMID: 28742215
Zhang Y., Phy J., Scott-Johnson C., Garos S., Orlando J., Prien S., Huang J-C., Effects of a Delphi Consensus Acupuncture Treatment Protocol on the Levels of Stress and Vascular Tone in Women Undergoing In-Vitro Fertilization: A Randomized Clinical Trail Protocol, BMC Complementary and Alternative Medicine. ---open, inclusive and trusted 2017 17:197, URL: https://doi.org/10.1186/s12906-017-1693-4
Zhang Y. (PI), Gender differences in 30-day mortality rates and unplanned readmission for patients treated for heart attack and stroke, Laure W. Bush Institute for Women's Health (LWBIWH) and University Medical Center (UMC) Women's Health Scholar Program. $20,000, 9/1/2017-8/31/2019 (ongoing).
Zhang Y. (Co-I), Phy J. (PI), Effect of Acupuncture on Vascular Biomarkers and Psychological Well-Being of Women Undergoing In Vitro Fertilization (IVF), LWBIWH and UMC Women's Health Research Scholar Program 2014-2018. $20,000 (ongoing).
Contact Information
Well Life Family Medicine
Dr. Eric Ehle
1926 Civic Circle
Amarillo, TX 79109
P: 806.355.9355
F: 806.340.7975
Department of Family & Community Medicine
Texas Tech University Health Sciences Center
First Floor Medical Pavilion
3601 4th Street
Lubbock, Texas 79430
P: 806.743.2757