Residency & Fellowship Programs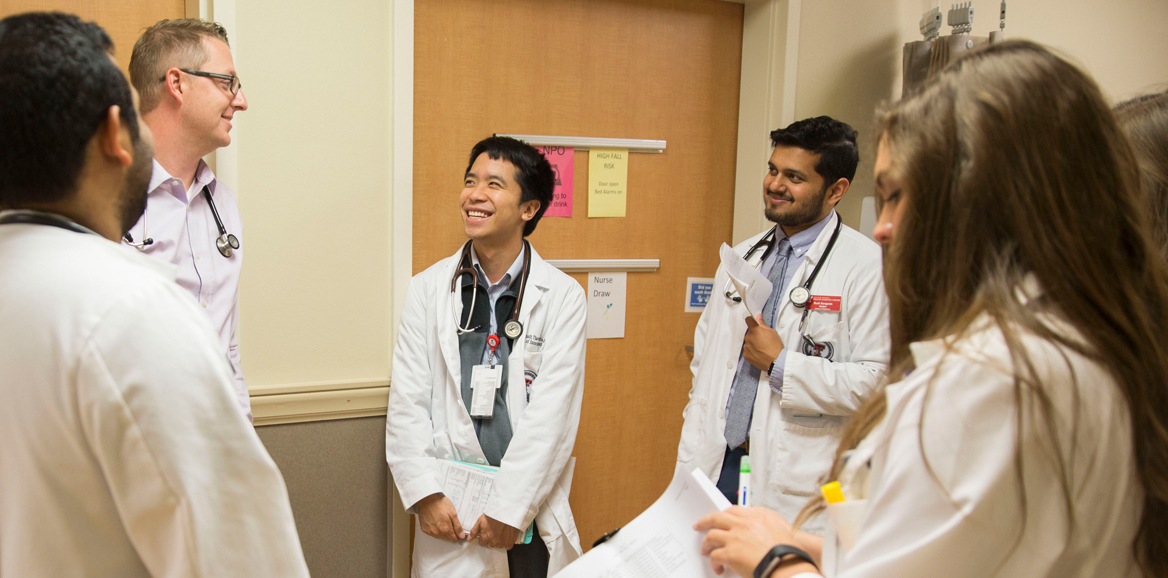 Our Programs
TTUHSC has a wealth of fellowships and residencies available. No matter which of our programs interest you, our faculty and staff are united in our pursuit of a common vision: to extend excellent, life-giving care to patients across the healthcare spectrum, especially in areas with the most critical needs and shortages.
What are Fellowship Programs?
Our specialty training programs have options in a wide range of specialties and locations all across Texas. When residents have completed their residencies, the next professional and educational opportunity is to seek out a fellowship that is most suited for their goals. Fellows at TTUHSC will develop tools for the highest quality patient care, practice-based learning and professionalism required for their specialty.
With our highly regarded faculty and rigorous learning experiences, the graduate medical education offered at TTUHSC provides fellowships and residency training that will prepare you for excellence as a physician in the medical specialty that most interests you.
Residencies and Fellowships by Campus
Pain Management

Through our Lubbock-based anesthesiology fellowship, the purpose of this esteemed training program is to provide in-depth pain medicine training in key areas of modern pain medicine, including acute pain, chronic pain, cancer pain, and hospice and palliative care.

Dermatology

Our residency in dermatology provides high-level training and rigorous studies, allowing for academic development through participation in clinical studies, clinical research projects, and laboratory research.

Emergency Medicine

Our residency strives to supply emergency physicians with a high level of clinical competence through training in a tertiary care teaching hospital and Level 1 trauma center, as well as other GME clinical learning environments.

Geriatric Medicine

As a fellow in the field of Geriatrics, your responsibilities include unique opportunities with clinical and academic programs to train residents and allied health professionals. Clinical activities in long-term care include hospital consultation, outpatient/ambulatory care, assisted living settings, hospice and home care.

Hospice/Palliative Care

This fellowship is specially designed to train fellows who will be competent in all areas of patient and family care, creating distinction among our graduates, who will build practices and adaptability that betters the hospice community.

Sports Medicine

This one-year fellowship provides the opportunity for fellows to see patients in sports medicine clinics both within family medicine practices and at Texas Tech University Student Wellness clinics. Evaluating patients and creating treatment plans will give fellows necessary tools for an exciting future in sports medicine.

Cardiovascular Disease

Our highly regarded cardiology fellowship is a three-year program. Fellows will dedicate part of each year to clinical or basic science research activities, create individual studies that will be sent for publication, and gain academic experience teaching residents in the field.

Hematology and Medical Oncology

This three-year, patient-oriented training program encompasses didactic and bedside instructions, analysis of current literature and both clinical and laboratory research.

Infectious Disease

Fellows develop a lifelong fascination with infectious diseases as members of this training program, as well as gaining unparalleled experience with our outstanding faculty, who have specialized knowledge in diseases that are endemic within the community

Interventional Cardiology

The interventional cardiology fellowship trains individuals in the diagnosis and treatment of endovascular intervention. Within this program, fellows work closely with our superior staff of interventional cardiologists and participate in invasive training.

Nephrology

This patient-oriented training program encompasses didactic and bedside instruction, analysis of current literature and both clinical and laboratory research. Positions for first and second year renal fellows are available, along with occasional additional research opportunities.

Pulmonary and Critical Care

The Pulmonary and Critical Care Fellowship is a rigorous three-year training program that qualifies the trainee for certification in both pulmonary and critical care medicine. Fellows spend significant time in the medical intensive care unit and on the pulmonary consultation service.

Neurology

Neurology's ultimate goal is to train competent specialists who will provide neurological care to people in need. Residents in this compelling program receive a minimum of 18 months of clinical adult neurology, six months of electives, three months in clinical child neurology and one month in clinical psychiatry.

Obstetrics and Gynecology

Residents trained in obstetrics and gynecology will access invaluable foundational structure for their subsequent career in the field. This educational experience includes an exceptional balance of both obstetrics and gynecology, along with appropriate exposure to the various subspecialties.

Ophthalmology

TTUHSC's ophthalmology residency aims to deliver unsurpassed patient care and to provide outstanding research and clinical training opportunities for future generations of our colleagues. There are opportunities to work with the highly respected researchers in our faculty and inside our clinics, which are staffed by full-time faculty physicians.

Orthopaedic Surgery

This residency provides competent orthopedic surgeons for the under-served rural areas of our community. Our faculty aims to recruit residents with connections to the region and provide tertiary care to support existing surgeons. This is a broad training program for graduates to become confident in their skills and work independently in this environment.

Otolaryngology

This five-year training program equips residents with the knowledge, experience, and technical skills to succeed professionally in both academic and private practice, with or without further fellowship training. Our graduates become respected and productive members of the surgical profession.

Pediatrics

TTUHSC's residency in pediatrics provides a combination of interactions between the physicians in academic medicine and community pediatrics, with an integrated exposure to rural health. Training emphasizes primary care and offers a balanced experience in outpatient and inpatient management.

Psychiatry

Within a progressive and contemporary series of clinical, educational and scholarly experiences designated to continuously enhance residents' abilities, residents in the psychiatry program are integrated into the didactic teaching, clinical educational experiences and practicing of the different areas of psychotherapy.

Breast Oncology

This is a one-year breast fellowship where fellows will gain extensive knowledge of breast loss conditions, complex wound management, breast cancer care practice and the most current, cutting-edge research in the field.

Burn and Wound

Participants in this fellowship will gain medical experience in managing critically ill burn patients, performing burn surgery and managing complex wounds. Fellows collaborate with experts in plastic surgical reconstruction, head and neck surgery, wound care and hyperbaric therapy.

Urology

This five-year residency program provides a necessary background of urology practice, plenty of sub-specialty training, and six months of experience with the Department of Surgery. We foster an environment of intellectual curiosity, promoting leadership at all levels.
Child and Adolescent Psychiatry

Striving for cultural awareness on multidisciplinary practice, this two-year fellowship provides the opportunity for our fellows to carefully integrate biological, psychological, and social aspects of children's psychiatric illnesses to deliver comprehensive treatment plans.

Geriatric Medicine

With practice in outpatient clinics, nursing homes and hospital consultations, Geriatric Medicine fellows assume the role of primary care provider for their patients and are given the opportunity to track their patients' progress over time.

Hospitalist

In this one-year fellowship, faculty and fellows are actively involved in our dynamic hospital processes, including leadership, guideline development and implementation, medical education, palliative care and information technology.

Rural Track

In this unique rural opportunity, residents work one-on-one with a family physician, practicing full-spectrum care. Experiences include general and preventative care, operative procedures, surgical obstetrics and Texas-Mexico "border medicine".

Endocrinology, Diabetes, and Metabolism

This two-year program is a fellowship where individuals are given the opportunity to learn about the outpatient evaluation and management of various endocrine disorders, all while delivering high-quality medical care to patients in an outpatient setting.

Obstetrics and Gynecology

TTUHSC offers a four year OB/GYN residency where—due to our hospital's mandated care for a large number of high-risk and seriously ill patients—residents receive advanced clinical exposure to a myriad of diseases and experiences, allowing for fuller, more complex learning opportunities.

Psychiatry

Within this program, individuals receive training in biological, psychotherapeutic and interventional treatment modalities, and our astute faculty educate residents about the biological, psychological and sociocultural aspects of psychiatry.

Surgery

The surgical department of TTUHSC's Permian Basin campus is dedicated to meeting the needs of communities in west Texas. This well-balanced, comprehensive, evidence-based residency utilizes the Surgical Council on Resident Education (SCORE) curriculum and includes didactic and self-directed learning activities.
Contact Your GME Office
TTUHSC Lubbock GME
3601 4th Street
Lubbock, TX 79430-6211
P: 806.743.2978
F: 806.743.1599
TTUHSC Permian Basin GME
800 West 4th Street
Odessa, TX 79763
P. 432.703.5124
F: 432.335.5332
TTUHSC Amarillo GME
1400 Coulter Street
Amarillo, TX 79106
P: 806.414.9666
F: 806.351.3787
34
Total GME Programs (Lubbock, Amarillo, Permian Basin)
487
Total House Staff (Lubbock, Amarillo, Permian Basin)
63%
Practicing in Texas two years after completing residency
Residencies and Fellowships by Program
(ACGME accredited unless otherwise noted)
Questions?
We are here to help. Feel free to call or email us if you have questions.
Graduate Medical Education
P: 806.743.2978
F: 806.743.1599